U.S. Slaps Sanctions On Top Russian Officials In "Most Comprehensive" List Since Cold War
The sanctions include big names but are unlikely to hit the Kremlin where it hurts.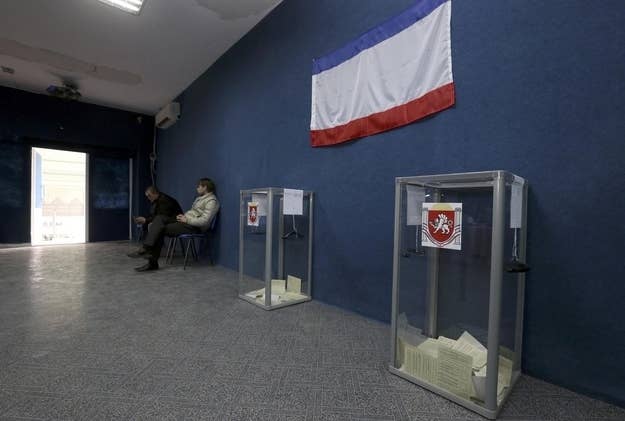 WASHINGTON — The United States imposed financial and visa sanctions on 11 Russian and Ukrainian officials Monday for their roles in the crisis in Ukraine the day after Crimeans, in a referendum full of electoral anomalies, voted to join Russia.
The White House announced that seven Russian officials, who include top political aides to Russian President Vladimir Putin and senior lawmakers, would face asset freezes. The Treasury Department also put sanctions on four Ukrainian officials under a previous executive order, including the former president, Viktor Yanukovych.
"These are by far the most comprehensive sanctions applied to Russia since the end of the Cold War," a senior administration official said on Monday on a call with reporters. The sanctions gradually escalate Western pressure on the Kremlin but are unlikely to deter Putin from annexing Crimea as he is widely expected to do in a speech Tuesday.
The seven Russian officials on the list, described by a U.S. official as the "key ideologists and architects" of the Kremlin's Ukraine policy, are politically prominent but are thought to be figureheads rather than power brokers personally close to Putin. The European Union released a separate list of 21 Russian and Ukrainian officials that failed to go even that far, limiting itself to mostly obscure lawmakers with no obvious influence on policy and four military officials. EU foreign policy chief Catherine Ashton said at a press conference that the bloc drew up its list independently from the U.S., Interfax-Ukraine reported.
A senior European official told BuzzFeed moves to place sanctions on higher-ranking Russian figures were halted by countries worried about losing business with Russia. "Money talks, values walk," the official said. "The Russians are laughing. So much for common foreign policy."
The Kremlin officials on the sanctions list are Sergei Glazev, a conservative politician officially running the Ukraine account, and Vladislav Surkov, Putin's master of the political dark arts, who began working on Ukraine around the time the political crisis began, according to Russian media reports.
Surkov told the Moskovsky Komsomolets newspaper that appearing on the sanctions list was an "honor." He added: "In the U.S. I care about Tupac Shakur, Jackson Pollock, and Allen Ginsburg. I don't need a visa to enjoy their works."
None of the officials on the sanctions list are believed to have significant assets or interests in the U.S. The White House did not publish the details of any assets the officials may have and did not put sanctions on their families, measures that would have struck a more substantial blow to Moscow.
Several senior figures believed to wield influence over Russia's Ukraine policy and who would have been hit harder by sanctions were conspicuous by their absence, including the chairs of Russian gas monopoly Gazprom and oil monopoly Rosneft. Putin's powerful chief of staff Sergei Ivanov also escaped sanctions, as did defense minister Sergei Shoigu.
Hawkish deputy prime minister Dmitry Rogozin was also hit by sanctions, officials said, for his role running Russia's arms trade, which went up 28% in the last five years, according to a report from the Stockholm International Peace Research Institute published Monday. He repeatedly laughed the sanctions off on Twitter.
"Comrade Obama, what should those of us who don't have accounts or property abroad do? Or didn't you think about that?"
"Feels like some clown wrote the U.S. president's order :)"
The most prominent lawmaker on the list was Valentina Matvienko, an associate of Putin's from his St. Petersburg days. She chairs the upper house of parliament, which approved Putin's request to deploy troops to Ukraine March 1, and is the only member of Putin's national security council to make the list.
Elena Mizulina, a member of the lower house of parliament best known for authoring last year's infamous "gay propaganda" bill, was added, presumably for drafting a law last month allowing Ukrainians to receive rush Russian passports. Mizulina and the other two lawmakers on the sanctions list, Leonid Slutsky and Andrei Klishas, are not thought to have significant influence on Ukraine policy, which is drafted at the highest level in the Kremlin.
Viktor Yanukovych, Ukraine's ousted president who sought refuge in Russia after fleeing Kiev on Feb. 22, was also on the sanctions list. He was joined by Crimean Prime Minister Sergei Aksyonov, appointed under the watch of masked men with machine guns on Feb. 28; Vladimir Konstantinov, the speaker of Crimea's parliament; and Viktor Medvechuk, a pro-Russian Ukrainian politician known as the "Prince of Darkness."
Putin is Medvechuk's daughter's godfather. A senior U.S. official called Medvedchuk the "leading Ukrainian connection between the Kremlin and Crimea and the most vocal and active ideologist on the Ukrainian side."
The administration announced these sanctions the same day that the European Union announced a more extensive list of 21 Russian and Ukrainian officials. Asked why the U.S. is not currently putting sanctions on as many people as Europe, a senior administration official said "no one should get hung up on perfect parity" between the lists.
"We have some categories they don't have and they have some categories we don't have," the official said.
"There is impact in Europe on the individuals we have sanctioned and impact in the U.S. on the individuals they have sanctioned," another official said.
A senior administration official said that U.S. sanctions on individuals often affect their ability to obtain financial services in Europe and the Gulf.
Officials are hinting that more sanctions could come if Russia continues to escalate its aggressive behavior.
"We have the ability to escalate our pressure in response to Russian actions," a senior administration official said. "This new EO gives us broader authority to respond to this so-called referendum that took place over the weekend."
Sunday's Crimea referendum included evidence of anomalies such as pre-marked ballots, multiple voting, and small children and Russian citizens voting. "There are massive anomalies in the vote even as it's recorded," a senior U.S. official said.
Seddon reported from Sevastopol, Ukraine.
Max Seddon is a correspondent for BuzzFeed World based in Berlin. He has reported from Russia, Ukraine, Azerbaijan and across the ex-Soviet Union and Europe. His secure PGP fingerprint is 6642 80FB 4059 E3F7 BEBE 94A5 242A E424 92E0 7B71

Contact Max Seddon at max.seddon@buzzfeed.com.

Got a confidential tip? Submit it here.