Ukrainian Troops Withdraw From Key Town In Humiliating Defeat
Ukrainian troops began pulling out of Debaltseve on Wednesday after Russian-backed rebels surrounded the strategic railway junction. The defeat is a massive setback for Ukrainian President Petro Poroshenko, who denied that the town was surrounded in the face of all evidence to the contrary.
KIEV — Ukrainian troops are withdrawing from a key frontline town in the east of the country, marking a crushing defeat at the hands of Russian-backed rebels and casting serious doubt on the viability of a new cease-fire plan.
About 80% of the several thousand troops stationed at the strategic railway junction of Debaltseve withdrew on Wednesday morning, Ukrainian President Petro Poroshenko said in a statement before flying out east, where parts of the region are controlled by two unrecognized separatist states. Rebels said on Tuesday that they had captured most of the town after a protracted siege that destroyed it beyond recognition, killed hundreds of people, and prompted most civilians to flee.
The admission is a humiliating setback for Poroshenko, who for weeks denied rebel claims that the town was surrounded, even as journalists on the ground — and some Ukrainian fighters — reported otherwise. Rebels had said they did not consider Debaltseve, home to a railway depot linking their territories, covered by a new cease-fire deal struck by Ukraine, Russia, France, and Germany last week, and continued their assault after the agreement came into effect on Sunday.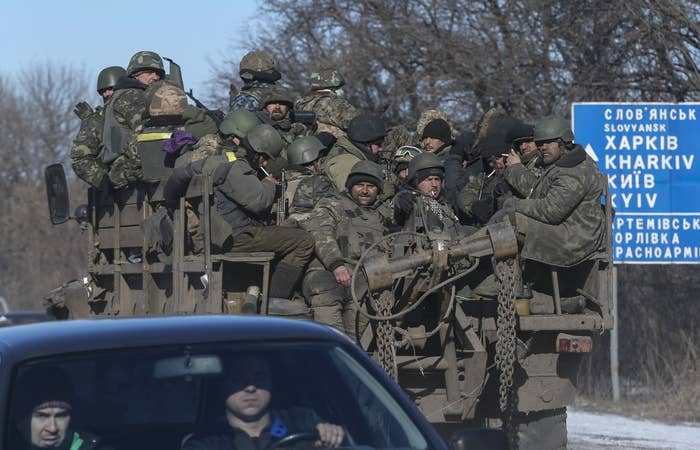 A Ukrainian journalist on the ground reported that some of the soldiers had made the 29-mile journey to the nearest Ukrainian town, Artemivsk, on foot after fighting their way out of Debaltseve.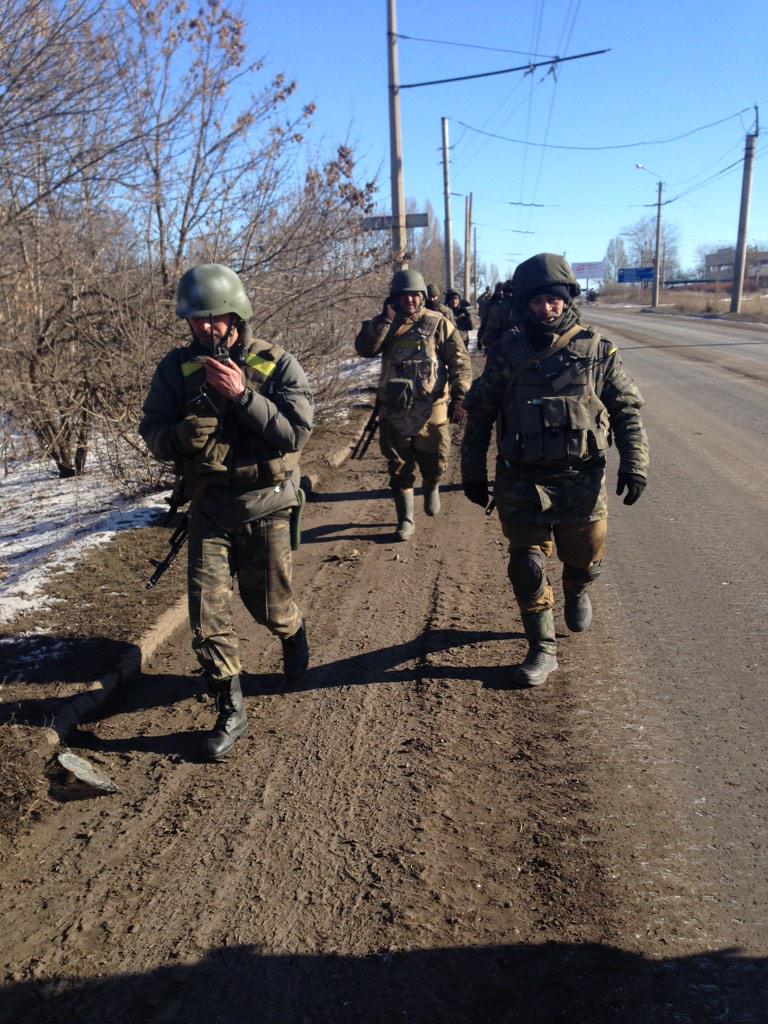 Poroshenko insisted the withdrawal was planned. Rebels claimed on Russian television, however, that they had taken 300 Ukrainian prisoners and said a further 3,000 Ukrainian troops still remained, AFP reported.
Ukraine and its Western allies accuse Russian President Vladimir Putin of directing the assault in spite of the deal reached in the Belarusian capital of Minsk after marathon negotiations last week. A BuzzFeed News photographer embedded with rebels in the nearby town of Logvinove over the weekend saw sophisticated Russian tanks and Russian military officers directing a force of mostly local volunteer fighters who appeared to have been given significant professional military training.
Rebels said they did not consider the town, home to a railway depot linking their territories, covered by a new cease-fire deal struck by Ukraine, Russia, France, and Germany last week and continued their assault after it came into effect on Sunday.
"It's a big diplomatic game," Dmytro Kuleba, a senior Ukrainian foreign ministry official, told BuzzFeed News. "Russia's right hand is involved in diplomatic negotiations, and the left hand is sending arms to the terrorists and directing them to attack," he added, using Ukraine's term for the rebels.
Putin continues to deny that Russia is a party to the conflict, but could barely restrain his pleasure after rebels took most of the town on Tuesday. Speaking in Hungary, Putin called upon Ukrainian soldiers to surrender Debaltseve unconditionally and lay down their arms, which he said would help implement the cease-fire.
"Of course, it's always bad to lose, of course, it's always a pain for the loser, especially if you're losing to yesterday's miners or yesterday's tractor drivers," Putin said, according to a Kremlin transcript of his remarks. "But life is life, it'll go on for sure."
Putin and rebel leaders have indicated that they will largely stick to the 13-point cease-fire deal after capturing Debaltseve. Russia endorsed a United Nations Security Council resolution on Tuesday that expressed "grave concern at the tragic events and violence in eastern regions of Ukraine" and called on all sides to implement the deal.
The self-proclaimed Donetsk People's Republic said on Wednesday that it had begun withdrawing its heavy artillery from the front line as required by the Minsk deal, following claims by its sister republic in Luhansk to have done so at the start of the week. Ukraine missed the Tuesday deadline to start withdrawing its artillery, citing the need to fight back against rebels. Fighting has dramatically decreased across the rest of the front since the deal came into effect.
Kiev's government is calling on Western countries to pass further sanctions against Russia as punishment for violating the agreement. In a phone conversation on Tuesday, Poroshenko told German Chancellor Angela Merkel, who brokered the Minsk talks, that the assault was a "cynical attack on the Minsk agreement" and called for a "harsh reaction" against Russia and the rebels. U.S. Vice President Joe Biden told Poroshenko in a phone conversation later that Moscow was responsible for the cease-fire violations and vowed that "the costs against Russia will rise" if they continued, according to the White House.
Privately, however, some of Kiev's allies admit that there is no clear plan for increasing pressure on Russia. The White House has publicly mulled sending lethal aid to Ukraine, but remains quiet on concrete measures. Putin, in Hungary, said that he believes the U.S. is already sending Kiev weapons.
Many of the European Union's 28 member states are reluctant to pass new sanctions on Russia that are more than symbolic. The most prominent new name among 19 individuals added to the sanctions list on Monday was Iosif Kobzon, an aging Soviet crooner and Donetsk native who performed for rapt audiences of pensioners and gunmen in rebel-held territory last fall.
A Western diplomat from a country that supports new sanctions said Kiev's constant denials about Debaltseve being surrounded – in the face of all evidence – made it difficult to win over other countries. "You spend all your time telling the other member states that the Ukrainians are the good guys and the Russians are the bad guys, and then they go and do idiotic things like this," the diplomat told BuzzFeed News, speaking anonymously in line with protocol.
Russian Foreign Minister Sergey Lavrov blamed the violence on Kiev's refusal to surrender Debaltseve in the Minsk negotiations, where Poroshenko and Putin reportedly spent eight hours arguing about whether it was surrounded or not. "Poroshenko said then that there was no cauldron," Lavrov said, using the Russian term for a military encirclement, the TASS news agency reported. "In the end, what happened happened."
Max Seddon is a correspondent for BuzzFeed World based in Berlin. He has reported from Russia, Ukraine, Azerbaijan and across the ex-Soviet Union and Europe. His secure PGP fingerprint is 6642 80FB 4059 E3F7 BEBE 94A5 242A E424 92E0 7B71

Contact Max Seddon at max.seddon@buzzfeed.com.

Got a confidential tip? Submit it here.