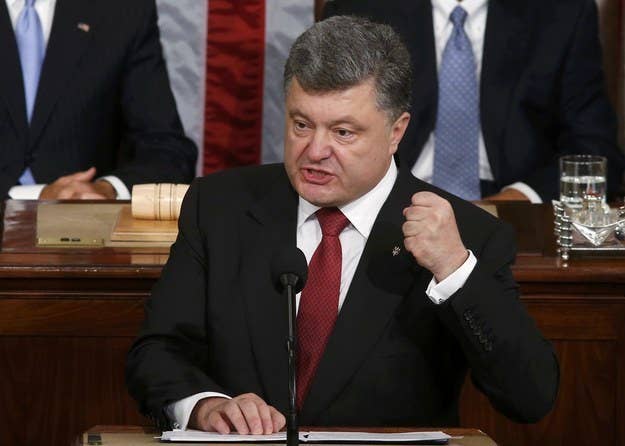 KIEV, Ukraine — Speaking before a rare joint session of Congress on Thursday, Ukrainian President Petro Poroshenko made an emotional appeal to the U.S. to support Kiev in its struggle against Russia, which he said was "a war of the free world — and for the free world."
Poroshenko, in Washington to ask U.S. President Barack Obama to provide Ukraine with weapons and other assistance for its troubled army fighting Moscow-backed separatists in the southeast, said the U.S. had a responsibility to support Ukraine's democratic aspirations against Russian aspiration.
"The war that these young men are fighting today is not only Ukraine's war," Poroshenko said. "It is Europe's, and it is America's war too."
At about the same time, the White House announced it would give Ukraine a further $46 million in non-lethal security aid and $7 million in humanitarian assistance, Reuters reported. The aid includes counter-mortar detection equipment to guard against artillery fire for the first time, as well as engineering equipment, surveillance equipment, body armor, and military vehicles.
"Blankets and night-vision goggles are important. But one cannot win a war with blankets," Poroshenko said. "Just like Israel, Ukraine has the right to defend her territory — and it will do so, with all the courage of her heart and dedication of her soul."
Poroshenko's speech contained several rhetorical flourishes that were clearly intended to appeal to an American audience and earned him several standing ovations, though they were at times lost in his heavy Slavic diction. He quoted Abraham Lincoln and John F. Kennedy. He repeatedly emphasized a link between the revolution in Kiev in February that ousted pro-Russian president Viktor Yanukovych and the American values of freedom and democracy, which he said had inspired it. He likened Vladimir Putin's Russia to a "a neo-Stalinist dictatorship" — a decisive break from his conciliatory rhetoric since the two leaders brokered a shaky cease-fire Sept. 5. He said the choice of whether to support Ukraine was a choice between "civilization or barbarism" that affected the whole world — an implicit rebuke of Obama's comments that "geopolitically, what happens in Ukraine doesn't pose a great threat to us," made to donors last week.
Whether that convinces a reluctant, skeptical, and distracted administration to back Kiev militarily, however, is another matter. The U.S. stopped short yet again of giving Ukraine the lethal weaponry it has long asked for, on the basis that no amount of supplies could help Kiev avert a full-blown attack from the vastly more advanced Russian military. The Senate Foreign Relations Committee is set to vote on a bill later on Thursday that would give Ukraine $350 million in lethal aid, though its chances of becoming law are seen as remote.