Ukraine's One Step Forward To Europe May Mean Two Steps Back To Russia
"No nation has ever paid such a high price to be Europeans," Ukrainian President Petro Poroshenko said.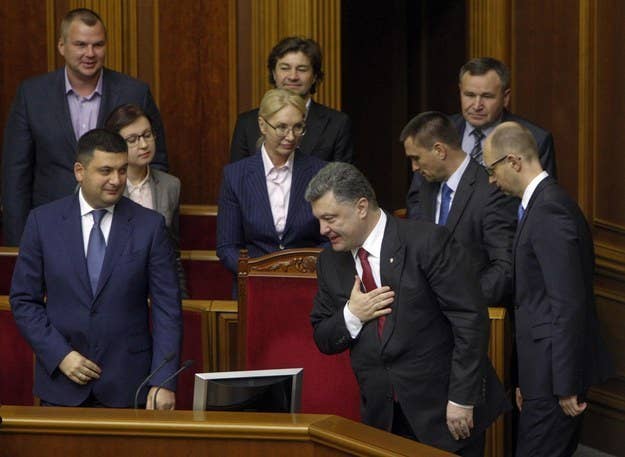 KIEV, Ukraine — "Ukraine is Europe," Arseny Yatsenyuk, the country's prime minister, told lawmakers as they finally prepared to ratify a much-troubled deal with the European Union on Tuesday. "We are correcting a mistake we made 350 years ago," he added, referring to the time when Ukraine came under the control of the Russian empire. But has Kiev's step forward towards Brussels come at the price of two back towards Moscow?
Concluding the deal that set off a revolution in Kiev (which, in turn, prompted Russia to annex Crimea and launch a war in the east) when the country abruptly refused to sign it late last year is, undoubtedly, a major achievement. Ukraine will now implement much-needed reforms to bring its political and judicial systems in line with requirements in the association agreement with the EU, the first step on what its leadership hopes is the path to eventual membership in the bloc.
"No nation has ever paid such a high price for the right to be Europeans," Petro Poroshenko, the country's president, said in a thunderous speech in parliament. "Who will dare to close the door to Europe to us now?"
Ukraine has certainly suffered much. The United Nations estimates that more than 3,000 people have died in the conflict with Russia-backed rebels since April, and says the true figure could be much higher. The crisis has also brought Ukraine's already fragile economy to the precipice: Gross domestic product is on track to contract by 10% this year, inflation could spiral to 19%, and the country needs $19 billion to avoid defaulting on its debt.
Paradoxically, however, the shaky cease-fire Poroshenko struck with rebels on Sep. 5 — which has been more fire than cease, with Ukraine's security council reporting shelling in 19 different towns on Monday — and the deal with the EU may have both come at the expense of surrendering some sovereignty to Vladimir Putin, whose reluctance to let Ukraine out of his grip precipitated the crisis last year. On Friday, Kiev and the EU suddenly announced that they were suspending the other half of the deal, known as a "Deep and Comprehensive Free Trade Agreement," until the end of 2015. Officially, this was a cop to Moscow's threats to retaliate against Ukraine on the grounds that tariff-free entry to Ukrainian markets for European goods would somehow hurt Russia. Many in Kiev, however, see the last-minute backtrack as a political concession to safeguard the cease-fire by giving Russia a veto over a Ukrainian issue.
"Even the Russians I've spoken to, when they're being honest, admit that they don't really have economic concerns, but political concerns," a European diplomat in Kiev told BuzzFeed News. "There are no guarantees this'll work, but what's the alternative?"
Though Poroshenko insisted that "not a single comma or full stop has been changed" in the EU agreement and that its political components will be implemented at once, other measures passed an hour earlier raise doubts over his ability to do that in the whole country. With almost no debate, parliament held a special closed-door session to vote on measures introduced the same day — in violation of procedure, according to lawmakers who said they voted against them — that seem to advance the prospect of a frozen conflict in the rebel-held parts of Donetsk and Lugansk provinces. The vote gave the areas "special status" for three years that grants broad autonomy from Kiev, which is widely despised by locals for its role in the conflict, and calls for local elections that would presumably legitimize anti-government candidates to be held on Dec. 7. Another law grants broad amnesty to the rebels, who are referred to as "participants in events" despite Ukraine's attempts to get Western governments and media to call them "Russian terrorists."
Poroshenko appears to have got the necessary votes to pass from pro-Russian lawmakers from the east, many of whom have been accused by Ukrainian officials of starting the rebellion in the east. Of the 381 lawmakers present in the 450-seat parliament, 277 voted for the "special status" law and 287 voted for the amnesty, according to pro-European lawmakers who said they voted against both bills. The bellicose former Prime Minister Yulia Tymoshenko told reporters after the vote that it was a "complete surrender of Ukraine's interests in the Donbass," using a common term for the region, according to the independent Ukrainska Pravda news site.
Poroshenko, however, has had little room for maneuver since a heavy defeat at the hands of Russian forces last month underscored the impossibility of winning the conflict by military means. He will have to live with the facts on the ground. The self-proclaimed Donetsk and Luhansk People's Republics see the laws as a step towards independence from Ukraine, and are working to move to a new currency and the Russian ruble respectively. Putin, for his part, has essentially gained what he wanted at the start of the crisis — a de facto veto over Ukraine's Western-oriented foreign policy and the economic reins to ensure it.
With parliamentary elections set for Oct. 26, Poroshenko has little time left to keep the east stable and satisfy Ukrainians furious both at Putin and Russia — whom he has stopped mentioning in public entirely — and at the slow pace of reforms.
Outside parliament on Tuesday, protesters angry at the stalled passage of a bill to weed out Ukraine's corrupt old order grabbed a passing lawmaker and unceremoniously threw him into a dumpster.
The peace must hold for Poroshenko to avoid the same fate. And that, ultimately, is Moscow's choice.
"You hear the same thing from both sides — 'It's different this time, he really means it, the peace is for real,'" a Ukrainian source with high-level connections in Kiev and Moscow told BuzzFeed News. "I just hope that they're right."
Max Seddon is a correspondent for BuzzFeed World based in Berlin. He has reported from Russia, Ukraine, Azerbaijan and across the ex-Soviet Union and Europe. His secure PGP fingerprint is 6642 80FB 4059 E3F7 BEBE 94A5 242A E424 92E0 7B71

Contact Max Seddon at max.seddon@buzzfeed.com.

Got a confidential tip? Submit it here.