Ukraine Says New Tapes Prove Russia Finances Rebels Who Shot Down Malaysian Plane
"Sasha, don't burden me with this crap."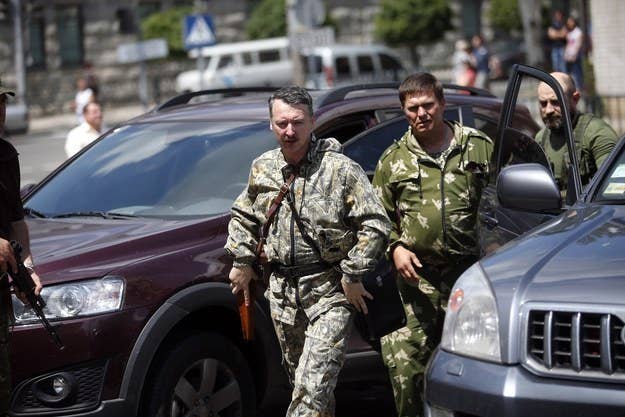 DONETSK, Ukraine — Ukraine says it has unearthed new evidence that the separatist militia in the country's east shot down a Malaysian airliner last week and is funded from Russia, after releasing recordings of rebels discussing strategy and military movements.
Ukraine's security service, the SBU, posted three recordings to YouTube on Friday that it said were phone taps of the separatists' political leader, military commander, and the loose cannon rebel it alleges shot down Malaysia Airlines Flight 17, killing all 298 on board. The new tapes could not be independently verified, though the content of some other conversations previously leaked by the SBU — some of which involve the same men — has been proven genuine.
The first tape purports to be a leaked phone conversation between Alexander Borodai, a Russian citizen and prime minister of the self-proclaimed "Donetsk People's Republic," and Alexei Chesnakov, a former senior figure in the Kremlin administration and deputy secretary of President Vladimir Putin's party, United Russia. During the conversation, which has been edited, the men discuss financing the revolt against Kiev's government with cash from Moscow and debate how to rein in the militia's mercurial Russian commander, Igor Strelkov.
"The military situation sucks. You know and understand that," says the man alleged to be Borodai. "The DNR [Donetsk People's Republic] looks like a dick with Donetsk as the head and it's not looking promising."
The man alleged to be Borodai then discusses difficulties implementing a 5% tax on local business that he says is part of a plan prepared by the Russian presidential administration, and then asks the other man for more money.
"The biggest problem I have now is that I'm running out of dough," he says. "Out of the 150 I took with me, they're basically all gone, because I gave 50 to Zakhar, a million hryvnia [$85,000] to Igor [Strelkov], plus all the other expenses." It is not clear what currency the rest of the money discussed is in.
"The money's in place, but we'll actually have it in two weeks," the man continues. "We'll have it if this situation holds out for two weeks. You see, if nothing changes militarily, this situation isn't going to hold out those two weeks."
"If it doesn't hold out, it doesn't hold out," the other man says. "Sasha, don't burden me with this crap. We agreed about the 180 — take it. The rest we're going to have to try and work out. If there's not going to be a flow, then we'll organize more through the same channel."
The man alleged to be Chesnakov then conveys what he says is a request from Archmandrite Tikhon, a senior priest in the Russian Orthodox Church widely rumored to be Putin's confessor, to help rein in Strelkov, who is lionized in pro-Kremlin quarters but widely seen as a loose cannon after he abandoned his stronghold of Slovyansk for Donetsk, the provincial capital, earlier this month.
The man says that Strelkov should give an interview to make clear that his "commander-in-chief" is Putin to dispel notions of a split between the rebels on the ground and their ostensible patrons in Moscow. "'At the present time I'm understandably not carrying out his direct orders, because I'm in a different country, but I have the utmost respect for him and believe him to be the most brilliant leader of modern times, thanks to whom Russia rose from its knees, and we all look at him with hope,'" the man says, putting words in Strelkov's mouth.
"'But not in the sense of "come on already, how long can this go on," but in the sense that we love him, believe in him, he is our ideal and whatever decisions he takes, we'll carry out any decisions he takes. Because we think that he is the wise and experienced leader of the Russian world.'"
Though Ukrainian and European Union officials claim Strelkov is an acting Russian military intelligence officer, he has demonstrated at least a certain degree of autonomy since he appeared to lead the Slovyansk uprising in April. He has shot people for looting in summary military tribunals held under World War II-era decrees issued by Josef Stalin; he is not shy from criticizing Putin publicly, a line no Russian official has dared cross for many years. Some separatist sympathizers in Moscow worry that the public lionization of Strelkov — a wan man with a pencil mustache and an antique wooden revolver holster whose likeness is plastered on billboards throughout separatist territory — may hamper the Kremlin's goals in eastern Ukraine, where Putin has not taken the direct military action Strelkov calls for.
In a second tape released by the SBU, a man whose voice resembles Strelkov's is heard directing coordinates for Russian artillery to fire at Ukrainian positions across the border.
In another conversation released on the first tape, a man said to be a senior leader in the Donetsk People's Republic laments to an ally that Strelkov has lost control.
"He's Colonel Batshit Crazy, let's be honest," says the man, who the SBU claim is rebel deputy prime minister Andrei Purgin. "His concept of war in a city with a million and a half people in the metropolitan area… When he summons the mayor and says, 'Let's stop public transport and blow up nine-story buildings on the outskirts of the city,'... what the fuck is up with that?"
"So what if he's a talented commander? We're all fucked! He's going to bury a city of a million people to kill 10,000 Ukies," the man continues.
The third tape purports to show another militia leader, Igor Bezler, discussing intercepting an aircraft two minutes before the Malaysian plane was shot down.
Max Seddon is a correspondent for BuzzFeed World based in Berlin. He has reported from Russia, Ukraine, Azerbaijan and across the ex-Soviet Union and Europe. His secure PGP fingerprint is 6642 80FB 4059 E3F7 BEBE 94A5 242A E424 92E0 7B71

Contact Max Seddon at max.seddon@buzzfeed.com.

Got a confidential tip? Submit it here.