Ukraine Is The New Georgia
John McCain and other Western politicians are turning Kiev's protests into a democratic battleground on Russia's doorstep. But are they prepared to see things through?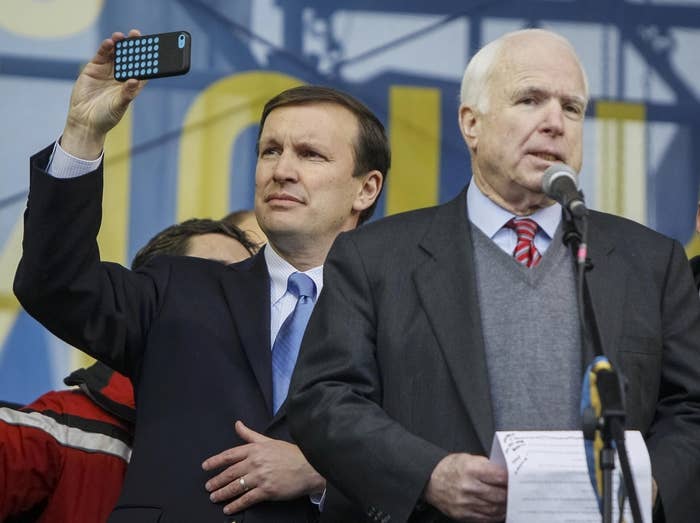 KIEV, Ukraine — The massive protests against President Viktor Yanukovych in Kiev have made Ukraine a battleground between Russia, which wants to retain its economic dominance over it, and U.S. and European politicians who see it as the latest showcase for Western democratic ideals. Almost every figure from the Kremlin's most paranoid nightmares has put in an appearance, including former Georgian president Mikheil Saakashvili, whom Russian officials regularly denounce as a lunatic; infamous "State Department biscuits" literally out of pro-Kremlin propaganda; and now McCain, who was the closest Western politician to Saakashvili and has repeatedly called Putin a tyrant. About the only thing the U.S. could do to freak out Russia more would be to install a missile defense shield on the border by the eastern city of Donetsk.
Western governments have stopped just short of calling for Yanukovych's resignation outright. But by stressing, as McCain did, "the sovereign right of Ukraine to seek its own freedom and independence" by moving toward Europe and simultaneously denouncing Russian interference in Ukraine's internal affairs, they have turned a deeply divided country where only half at most support European integration into the new Georgia, that "beacon of liberty," as George W. Bush called it, used as a staging ground for politicians to preen against Putin. This is fine fodder for Russia, always keen to accuse the West of double standards.
"Imagine if I went to Germany… [and] walked among protesters who support parties calling for Germany to change its relationship toward the EU," Russian Foreign Minister Sergey Lavrov said Saturday in an interview on Russian state television. "I think the European Parliament, NATO, the Council of Europe, and the OSCE would pass a resolution on how outrageous it is for Russia to involve itself in sovereign Germany's internal affairs."
As the West and Russia pull Yanukovych in different directions and protesters call for his ouster, European officials seem intent on forcing his hand. Shortly before McCain spoke on Sunday, Stefan Füle, the EU's point man on Ukraine, tweeted that Europe was suspending negotiations over a deal until Yanukovych said he would sign it:


The risk this runs is creating a conflict with Russia while pushing Yanukovych toward the Kremlin. Though few in Ukraine believe Yanukovych has any affinity with Putin other than a desire for a lower gas price, loans, and trade deals, the EU's attempt to call the Ukrainian president's bluff comes just as he prepares to head to Moscow Tuesday to sign a series of economic agreements. Opposition figures fear he will sign a "road map" that would put Ukraine on the path toward joining a customs union with several post-Soviet states that will become the basis for a "Eurasian Union" that Putin envisions as a counterweight to Europe.
"He might as well stay in Moscow and not come back to Kiev if a customs union agreement is signed," opposition leader and former economy and foreign minister Arseny Yatsenyuk said at Sunday's rally. "We'll give him a really warm welcome if he sells out Ukraine."
More dangerously, the Western politicians basking in the adulation of the protesters risk giving pro-European Ukrainians false hope. For all the caveats McCain and his colleague, Sen. Chris Murphy, dropped into their speeches, telling the crowd that, "if you are successful, the U.S. Senate will stand with you every step of the way," as Murphy did, leads ordinary Ukrainians to assume they have the backing of Western governments while raising the ominous question of what happens if the protests fail.
For now, Ukraine remains a fine photo opportunity for politicians keen to wave their fist at Putin on his doorstep, as Georgia did in the early years of Saakashvili's rule. But few who have tested the Russian president's mettle have come off the better for it. And given its catastrophic debt and volatile political scene, those keen to draw Ukraine into the Western fold will have to be in for the long haul. Real proof of commitment will come only when photo opportunities are long gone.
Max Seddon is a correspondent for BuzzFeed World based in Berlin. He has reported from Russia, Ukraine, Azerbaijan and across the ex-Soviet Union and Europe. His secure PGP fingerprint is 6642 80FB 4059 E3F7 BEBE 94A5 242A E424 92E0 7B71

Contact Max Seddon at max.seddon@buzzfeed.com.

Got a confidential tip? Submit it here.