Ukraine Cease-Fire In Tatters As Rebels Claim To Capture Key Town
Rebels claimed on Tuesday to have taken control of "about 80%" of Debaltseve, a strategic railway junction that has been the scene of fierce fighting despite a cease-fire deal struck last week.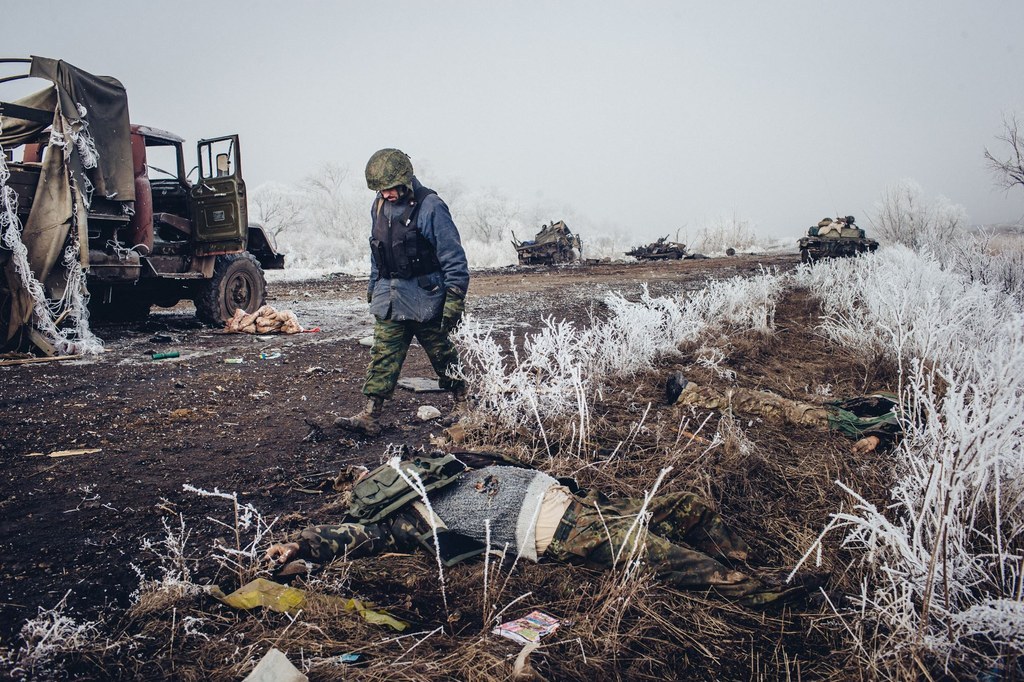 KIEV, Ukraine — A new deal to end the 10-month war in east Ukraine looks dead in the water after Russian-backed rebels claimed to have captured a key strategic town from Ukrainian government forces on Tuesday.
Vladimir Kononov, defense minister for the self-proclaimed Donetsk People's Republic, said that the frontline railway junction of Debaltseve was "about 80% under our control" after rebel forces entered the town, Russian TV channel LifeNews reported. Kononov claimed that the remaining Ukrainian soldiers were surrendering en masse and predicted rebels would have full control of the town within a day.
The presumed rebel victory appeared to shatter a cease-fire deal Ukraine and the rebels agreed to last Thursday and that has yet to be fully adhered to by either side. A deadline to remove heavy weaponry from the area came and went on Tuesday, with both sides accusing the other of violations.
Though combat activities have dramatically decreased across most of the battle front, no side has actually ceased firing since the deadline to do so passed on Sunday. Rebels said they did not consider Debaltseve, which links Donetsk with its sister "people's republic" in Luhansk, covered by the cease-fire and said they "did not have the right" to stop fighting for it, Reuters reported.
Ukraine's defense ministry, which had denied rebel claims to have surrounded Debaltseve for days, admitted they had lost partial control of the town. "Street fighting is continuing, rebels are attacking the town with assault groups backed by artillery and armored vehicles," the ministry said. "Part of the town has been seized by the bandits."
Rebels had likely been on the verge of capturing Debaltseve for days despite Ukraine's denials. A BuzzFeed News photographer who visited the nearby town of Logvinove on Sunday saw a well-equipped rebel force clearly in control of the road and shelling the several thousand Ukrainian soldiers believed to be in Debaltseve. Ukrainian volunteers from the Kievska Rus battalion said they only had enough supplies to hold out for another 12 hours, the UNIAN news service reported. Russian media cited various rebel claims of having taken between 15 and 300 Ukrainian soldiers captive.
Ukraine and NATO accuse Russia of sending in sophisticated weaponry to help the rebels take control of Debaltseve — claims Moscow denies. The frontline units BuzzFeed News saw in Logvinove were all commanded by Russian officers and included several tanks driven by soldiers who appeared to be ethnic natives of the Asian part of Russia, east of Lake Baikal.
On Monday, State Department spokeswoman Jen Psaki said the U.S. was "gravely concerned by the deteriorating situation in and around Debaltseve in eastern Ukraine," calling on "Russia and the separatists it backs to halt all attacks." Ukrainian President Petro Poroshenko said that he and U.S. Secretary of State John Kerry were discussing the text of a future United Nations Security Council resolution on the conflict, but did not divulge its contents.
German Chancellor Angela Merkel, who helped broker the cease-fire, on Monday urged Russian President Vladimir Putin to influence the separatists to lay down their arms during a conference phone call with him and Poroshenko, the Wall Street Journal reported.
Rebels have denied monitors from the Organization for Security and Cooperation in Europe access to Debaltseve for days, citing security risks.
Max Seddon is a correspondent for BuzzFeed World based in Berlin. He has reported from Russia, Ukraine, Azerbaijan and across the ex-Soviet Union and Europe. His secure PGP fingerprint is 6642 80FB 4059 E3F7 BEBE 94A5 242A E424 92E0 7B71

Contact Max Seddon at max.seddon@buzzfeed.com.

Got a confidential tip? Submit it here.