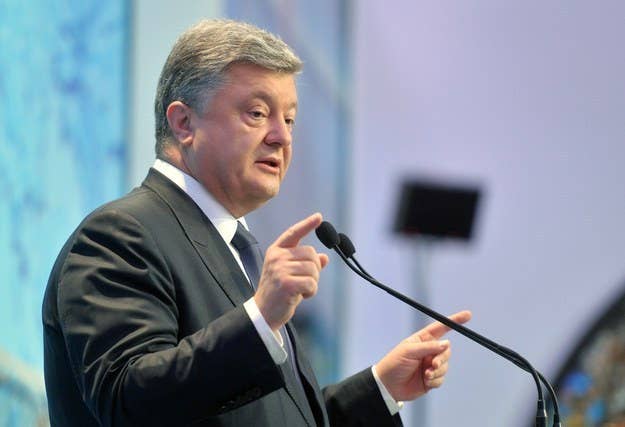 KIEV, Ukraine — Ukrainian President Petro Poroshenko signed a decree on Wednesday banning hundreds of people Kiev says took part in the annexation of Crimea and war in the country's eastern provinces — including three reporters for the BBC.
BBC reporter Steve Rosenberg, producer Emma Wells, and cameraman Anton Chicherov are barred from Ukraine for posing a "real and/or potential threat to the national interests, national security, sovereignty, and territorial unity of Ukraine," according to a decree published on Poroshenko's website.
It was not immediately clear why the three BBC reporters, or any of the other journalists listed, were included. The list itself suggests they committed a long list of crimes, potentially including terrorism. Two Spanish journalists were also on the list — including one, Angel Sastre, who was reported missing while working in Syria in July — and a journalist for Germany's Die Zeit. A spokesperson for Poroshenko told BuzzFeed News that Ukraine's security services had made the decision, then passed the list on to the president.
"This is a shameful attack on media freedom," BBC foreign editor Andrew Roy said in a statement. "These sanctions are completely inappropriate and inexplicable measures to take against BBC journalists who are reporting the situation in Ukraine impartially and objectively and we call on the Ukrainian Government to remove their names from this list immediately."
Most of the other people on the list are Russian officials, separatist leaders, and journalists for pro-separatist publications. In August, Ukraine banned 13 performing artists who backed Russia's annexation of Crimea and support for the separatists, including French-born Russian actor and tax exile Gérard Depardieu. The country has arrested two Ukrainian journalists critical of the government on charges of treason, deported several foreign reporters, and barred entry to many Russian journalists.
On Thursday, Poroshenko's spokesman posted a photo of him with British ambassado Judith Gough, and said the president had removed the BBC reporters from the sanctions list. "Freedom of speech is an absolute value for me," he quoted Poroshenko as saying.
The Spanish and German reporters were also removed from the list.