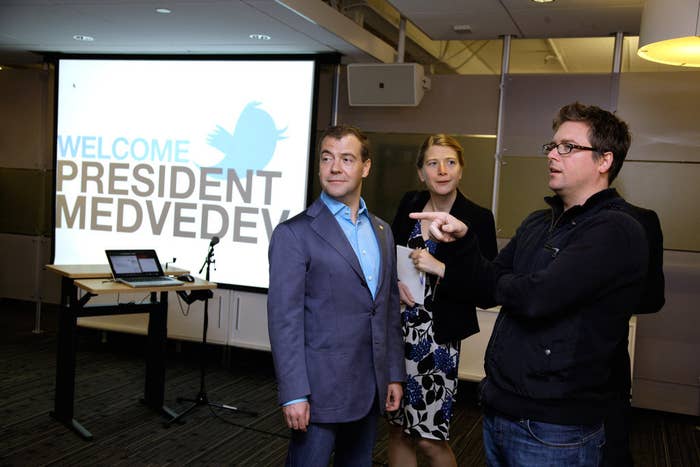 TBILISI, Georgia — Senior representatives from Twitter and the Russian government are to meet in Moscow next week in an apparent effort to mend ties strained during the Kremlin's recent crackdown on social media.
Colin Crowell, Twitter's head of global public policy, is flying into Moscow to meet Alexander Zharov, who heads government communications agency Roskomnadzor, spokesman Vadim Ampelonsky told BuzzFeed. Twitter declined to comment.
Though Roskomnadzor refused to say what the meeting would be about, Crowell's visit appears to be in response to Russian attempts to control and, as some officials have threatened, block the service during its recent crackdown on opposition and free speech. The agency's deputy head, Maxim Ksenzov, threatened in an interview to block Twitter "in a few minutes" last month for "harming Russian society" by not responding to requests to remove content or complying with new legislation mandating messaging services to store servers in Russia and provide six months' worth of data to the government. Though officials quickly walked back his statement — which earned him a reprimand and a tongue-lashing on Facebook from Prime Minister Dmitry Medvedev — the threat was widely seen as an attempt to test the waters for increased censorship.
Twitter banned an account belonging to a Ukrainian far-right nationalist group on the agency's request a few days later. Users can still easily circumvent the ban by changing the country in their settings, however.
Ksenzov also said in the interview, published in pro-Kremlin newspaper Izvestia, that Twitter was a tool of the U.S. government, citing Crowell's previous work on Capitol Hill. "The employee who answers for cooperation with other countries is a former adviser to the U.S. energy minister," Ksenzov said of Crowell, mistakenly referring to the latter's work as a staffer to Sen. Ed Markey (D-Mass.), who chaired the House Energy Committee's internet subcommittee while a congressman. "That appointment itself suggests something. I have the firm impression that Twitter is a global instrument for promoting political information," Ksenzov continued. "During interaction with us, they use their audience as a means to achieve a goal."
Crowell previously led a Twitter delegation to Turkey after the country blocked the service for 10 days in March when tapes alleging vast government corruption were leaked there. Turkish officials said Twitter agreed to act "meticulously" and "quickly" to remove content at the government's request after Crowell met with officials in April, and said after a subsequent meeting in May that "in some cases even a court order will not be required." Like Russia, Turkey also wants Twitter to open an office in the country.
Russian President Vladimir Putin has long been suspicious of the internet, which he said was a "CIA project" at a conference April and that he believes the U.S. government used it to organize protests against him. Net freedom activists openly worry the Kremlin intends to "destroy" the country's vibrant online culture — the only moderately reliable source of independent information there — after taking a recent series of repressive measures against it.
Several opposition websites were blocked without a court order for ostensibly promoting "rioting, racial hatred, or extremism." Parliament passed a law mandating that all bloggers with more than 3,000 followers comply with media regulations, denying them anonymity and making them legally liable for the content they post. The founder of wildly popular Facebook clone VK left the country in April after Kremlin-linked shareholders forced him out following pressure over his efforts to resist similar censorship.
Putin met with Russian internet executives last week in an attempt to reassure them the new legislation would not cause them to lose business to Western companies, though none of them actually asked him about any of the measures directly.