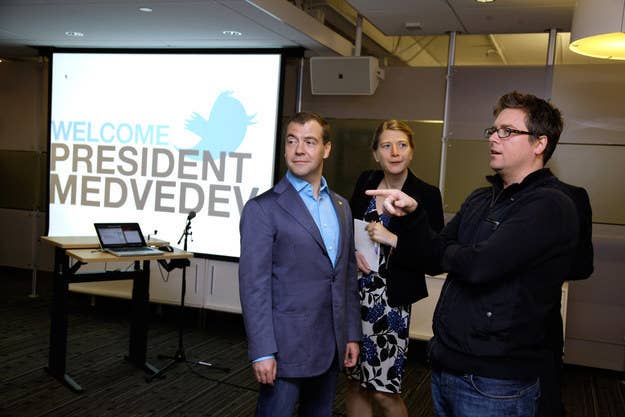 KIEV, Ukraine — Twitter is denying a senior Russian official's claim that the service will block accounts on the government's request, made after he met a senior Twitter executive in Moscow on Monday.
Alexander Zharov, head of Russian communications watchdog Roskomnadzor, said that Colin Crowell, Twitter's vice president for global public policy, had agreed to block "about ten" accounts on the government's request that prosecutors deemed "extremist," Russian news agencies reported.
"That claim is inaccurate, as we did not agree to remove the accounts," a Twitter spokesperson told BuzzFeed. Twitter also denied Zharov's claim that the company had agreed to hire a special representative in Dublin to deal with Russian legal compliance.
Recent months have seen Twitter come under threat as Russia cracks down on the internet, which President Vladimir Putin has called a "CIA project." In May, Zharov's deputy Maxim Ksenzov threatened in an interview to block the service "within a few minutes" if it did not comply with a series of new laws that allow the government to ban sites without a court order and implied that Crowell was a U.S. government agent sent to Twitter to harness it as a nefarious tool for regime change abroad. Though Russian officials, including Prime Minister Dmitry Medvedev, quickly walked back the claim, most observers saw it as a trial balloon for creeping censorship.
Russia appears to believe it has the right to police all online content it sees as affecting its state interests, regardless of where it is made. A new law that comes into effect Aug. 1 requires companies to store user data on Russian servers for six months and make them available to the government. Zharov said that Twitter would have to provide user logs — data identifying whom users communicate with and when they use the service — but not the content of the messages, according to Bloomberg.
The new law also requires bloggers with more than 3,000 followers to register as media outlets, making them liable for the content they post and denying them anonymity. Net freedom activists and rights groups have widely condemned the law, which they see as hastening the demise of open expression online.
In comments to reporters Monday, Zharov implied that Russia has the right to police anything "in a language understandable to residents of Russia and on the territory of the Russian Federation," which could encompass almost any content in a number of languages.
"It doesn't matter where the blog is registered," Zharov said. "This isn't just about Russian users. Even if the account is registered on the territory of Ukraine, this information is still extremist. Twitter's leadership listened to us and, I hope, in the coming days these accounts will be deleted," Zharov continued.
A statement on Roskomnadzor's website said that Zharov gave Crowell a list of 12 accounts to be either deleted entirely or banned from viewing in Russia after Russia's prosecutor general's office deemed them "extremist." Rozkomnadzor spokesman Vadim Ampelonsky would not say what the accounts were for fear of "advertising" them, but said they wrote about "Islamist radicalism."
Twitter made an account affiliated with the far-right Ukrainian group Pravy Sektor unavailable in Russia on the agency's request a few days after Ksenzov's interview in May. Users in Russia can still see the account by changing the country in their settings.
Russia has blocked 185 sites this year after prosecutors found them to be "extremist," according to an unofficial online database. Though officials claim the main targets are neo-Nazi and radical Islamist sites, the majority of sites are linked to political opposition figures who tried to organize protests against Russia's annexation of Crimea. Other legislation gives Russia the power to block sites it says promote child pornography, suicide, and drug use.