Russian President Vladimir Putin turned 62 on Tuesday and took the day off. This was his first day off on his birthday since coming to power nearly 15 years ago, state media pointed out.
Kremlin Press Secretary Dmitry Peskov said Putin would spend his birthday alone, in the Siberian wilderness.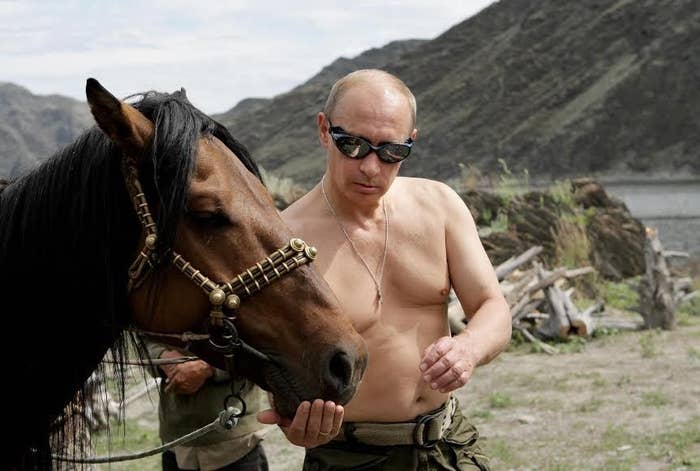 The biggest festivites were thousands of miles away, in Chechnya. Strongman leader Ramzan Kadyrov organized a giant parade in the shape of a Russian flag.
The Siberian town of Tolmachevo celebrated more modestly.
People stood in line for over two hours at a Moscow department store to buy Putin T-shirts.
This Expendables job could be yours for just 1,200 rubles ($30).
Most of Putin's celebrity well-wishers were athletes. Olympic pole-vaulting champion Elena Isinbayeva posted a photo of herself wearing one of the T-shirts.
Some messages were just obsequious, like this one from TV personality Tina Kandelaki.
"I think we got lucky," cheesy pro-Putin pop singer Oleg Gazmanov wrote in a post of an old picture with Putin. "A powerful and reliable leader appeared in a difficult period for Russia."
This children's choir from Putin's native St. Petersburg sang a tribute that depicts Putin as a benevolent, quasi-mystical figure: "Let him rule for many more years, like before."
Nikolai Drodzov, Russia's equivalent of David Attenborough, gave Putin a stuffed Siberian tiger.
Pro-Kremlin youth groups put up graffiti tributes. This one depicts Putin as a Russian soldier annexing Crimea.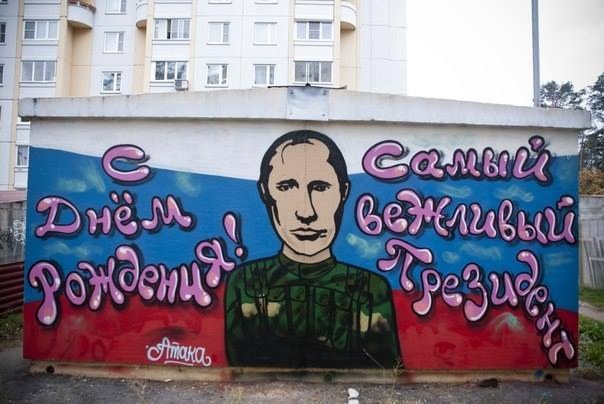 Another group spelled out "thank you" in graffiti on the sides of buildings across the country, with each letter devoted to Putin's various achievements.
This banner shows President Obama wearing a mock-up of a Putin T-shirt. It says "Happy Birthday Global Daddy."
The administrator of a Putin fan page on Facebook organized an art exhibition depicting Putin as Hercules. Here he is slaying the hydra of sanctions.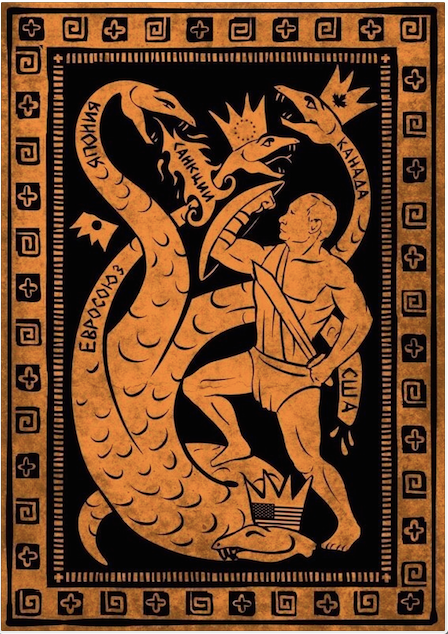 And here he is taming the Cretan (or Crimean) bull.
Celebrations were also held overseas. In Geneva, Switzerland, he was depicted in a statue saving the world from military aggression.
The recently opened Putin cafe in Belgrade, Serbia, baked a cake.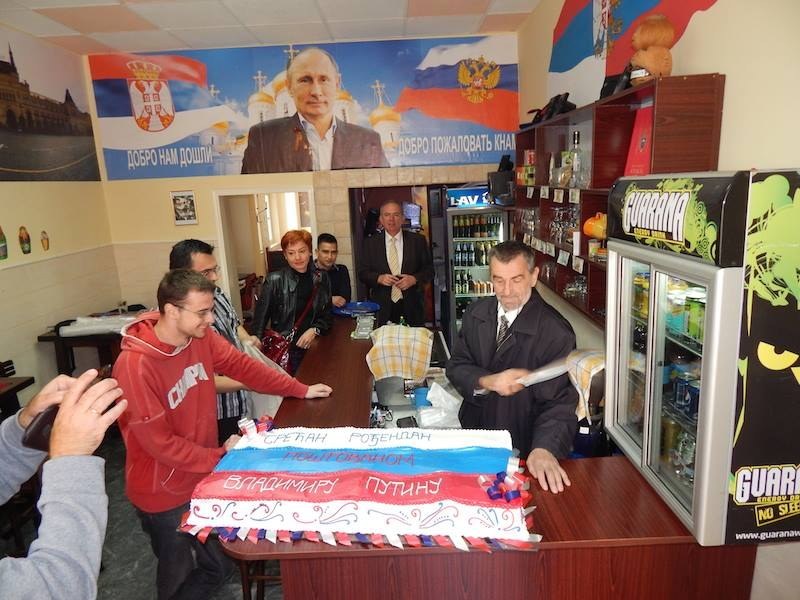 Tributes flooded in on social media. Some of them were retro.
Very retro.
Others were simply bizarre.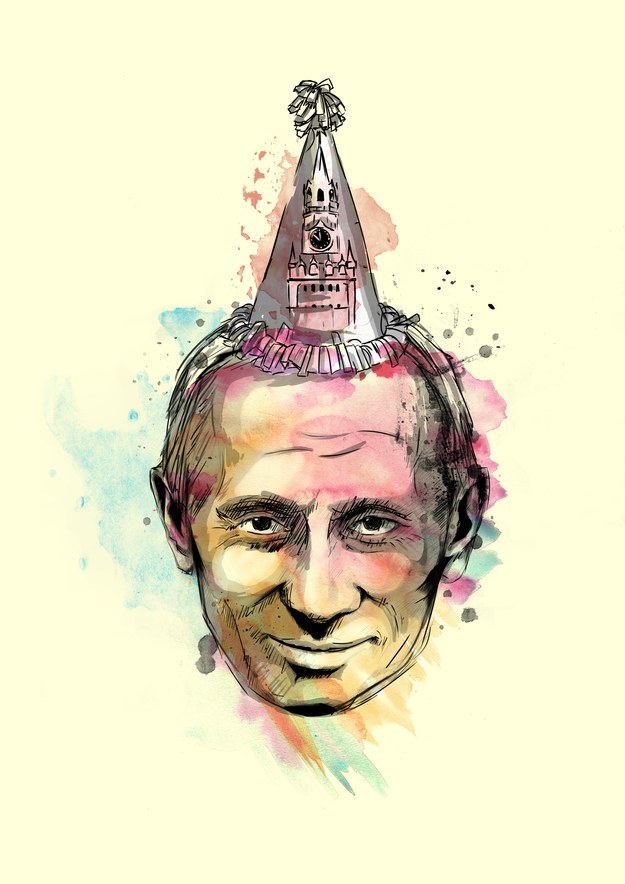 This is from a pro-Kremlin parody account that depicts the anti-Putin opposition as jihadis from Chechnya and Dagestan.
Not everyone was so complimentary. This tweet from a popular blog network that creates many of Russia's memes refers to the rapid devaluation of the ruble. "The dollar's 40, the euro's 50, and Putin's 62. Happy birthday!"
But there was no mistaking who's No. 1.