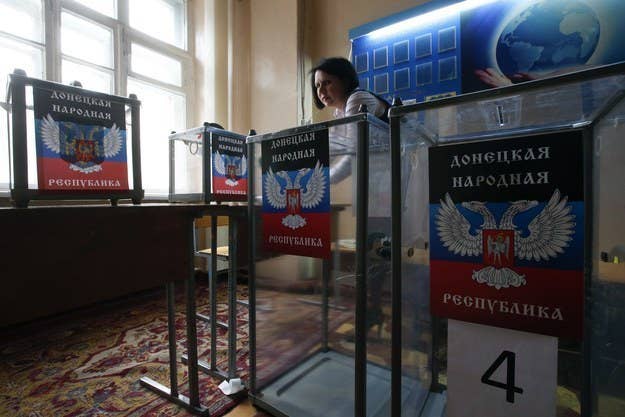 DONETSK, Ukraine — More than half a year after armed men seized buildings across Ukraine's two easternmost provinces and declared their intent to join Russia, rebels are facing a task they never planned for — becoming a fully fledged independent state, starting with elections set for Sunday. With Kiev's central government and its Western allies powerless to stop them, the vote appears to underscore that the Donetsk People's Republic is, for now, here to stay.
"These elections on Nov. 2 will be the breakthrough moment when our state becomes legitimate," Alexander Zakharchenko, the republic's leader, told a crowded student auditorium in Donetsk, the rebel and provincial capital, on Friday. "The people [in power] now, I'll say honestly, just showed up — they were activists and fervent revolutionaries, but basically, they were self-appointed," Zakharchenko said. "After Nov. 2 the government and the parliament will be responsible for their obligations."
Rebel-controlled parts of Donetsk and Luhansk provinces have essentially become a frozen conflict zone since a Russian offensive rolled back government forces and forced Kiev to sign a ceasefire in early September. Ukrainian officials insist suspending hostilities is just a temporary step toward regaining full control of the territory. Moscow, however, has decided to recognize the elections, which it says were provided for in a secret addendum to the ceasefire.
Rebels are trying to take advantage of that vacuum to show that they are capable of governing. Though hatred of the pro-Western government in Kiev is widespread, many locals remain skeptical of the republic's leadership, which depended heavily on Russian military support to beat back Kiev's forces and was run by Muscovite transplants until Zakharchenko became leader in August.
It's a steep task. With winter fast approaching, rebels are scrambling to provide residents with heat and repair the infrastructure damaged by months of shelling. Losing funds from Kiev has essentially destroyed the region's already stagnant industry- and mining-based economy, which depended on huge subsidies to stay afloat. Many residents line up daily outside government buildings for emergency supplies delivered from Russia by truck.
"The Donetsk People's Republic is just three words on paper," Artem Podorozhko, a militiaman running for Zakharchenko's position as a no-hope opposition candidate, told BuzzFeed News. "They've managed to stop it from collapsing and that's it. We're on a brink — either we become a country or we go to jail."
Provincial government buildings are now home to rebel "ministries" where newly minted bureaucrats mingle among ubiquitous gun-toting militiamen in camouflage. Police patrol the city in repainted squad cars. Though ATMs ran out of cash as long ago as May, the republic even has its own bank. The sign outside its central office, a former branch of Ukraine's Ukreksimbank, now simply reads "BANK" after the first part was removed.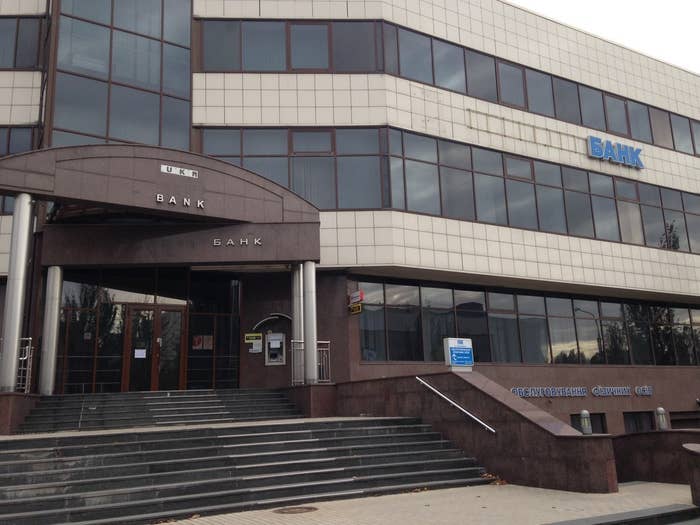 Despite the republic's unrecognized status, many locals are still taking part in it out of a simple desire to get on with their lives. Local entrepreneurs line up at the tax office to reregister their businesses under the republic's laws. Student athletes competed in the republic's first "international" wrestling tournament on Thursday against representatives from Crimea, the neighboring Luhansk People's Republic, and Cossacks.
Building a functioning state is also important for the rebels' image after the republic's turbulent initial months. Impromptu military-style tribunals — one of which saw a man shot under the orders of a rebel nicknamed Baloo for stealing a pair of pants under a Stalin-era wartime decree — are being replaced by a legal system complete with prosecutors, a justice ministry, and a supreme court.
"A court should be a court: The case should be examined, a conclusion should be reached, and a sentence should be carried out," Eduard Yakubovsky, the supreme court's chief justice, told BuzzFeed News. "You can't just get together, put your hands up, and shoot someone just like that."
Rebel officials are keen to stress a degree of continuity for the region, which was peaceful throughout Ukraine's 23 years of post-Soviet independence until former president Viktor Yanukovych, a Donetsk native, fled the country in February. Rebel lawmakers say they intend to keep the parts of Ukrainian law that do not contradict Russian law. Most of the judges currently undergoing selection worked in Ukrainian courts either as judges or as clerks, Yakubovsky said.
Nonetheless, Sunday's vote has captured little of the enthusiasm that greeted a slapdash referendum for the republic's independence in May, inspired by the referendum that preceded Russia's annexation of Crimea. Though some refugees have returned, Donetsk — once home to over a million people — is still half-empty after months of war.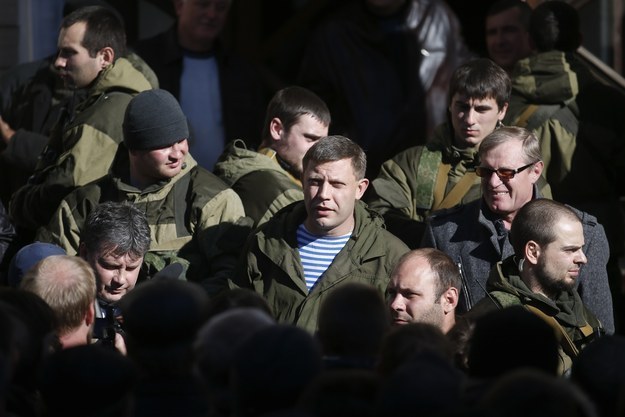 Rebels seem more taken with the appearance of a democratic process rather than actually encouraging one. Zakharchenko arrives at his campaign events in a fleet of seven luxury cars evidently appropriated from the previous government, trailed by Russian TV crews and mobile artillery turrets. He hugs grandmothers and kisses icons in churches. He takes questions apparently written in advance and handed to audience members by his staff. An elderly man at a coke factory in the town of Makiyivka who plaintively asked when pension payments would resume turned out at the end of the event to be one of the factory bosses, and hastily ushered a reporter out of the room.
The election itself clearly takes after similar votes in the Soviet Union, which substituted patriotic spirit for actual political competition. Zakharchenko, a burly 38-year-old former mining electrician and commander of the feared Oplot battalion, stares down from billboards in green military fatigues with what appear to be World War II victory medals pinned to them.
His victory seems assured if only because of the obscurity of the two other candidates. Despite only having two parties to choose from, 41 percent of respondents to a rebel-conducted poll said last week that they were not sure who they wanted to see in the 100-seat legislature, the People's Council.
Roman Lyagin, head of the election commission, admits that he does not actually have access to voter rolls. Voters can appear at any polling station and cast a ballot after showing ID. Those who fled to Russia or live in the Kiev-controlled parts of Donetsk province that the rebels lay claim to can vote online; Lyagin says that 30,000 have already done so.
Nobody running has offered anything resembling a coherent political program, or clashed with their ostensible opponents. In his campaign appearances, which have numbered in the single digits, Zakharchenko spends almost no time actually telling people to vote for him. Instead, he promises the republic's aging, mostly working-class population that a flourishing future awaits them.
Pensions, he told a group of coke plant workers on Wednesday, would be "higher than in Poland" and allow every senior to "travel to Australia at least once a year to shoot a dozen kangaroos on safari." The republic's coal reserves, he told students on Friday, were "equal to the oil reserves of the United Arab Emirates."
With many residents dependent on handouts and bank machines on the blink, attaining those riches seems far off. But as the region's future remains hostage to a diplomatic struggle fast approaching stalemate, there seems to be little immediate alternative.
"Look at Northern Cyprus," Yakubovsky, the supreme court justice, said. "Nobody recognizes them except for Turkey, and they're getting on just fine."