The War In Ukraine Is Back On
At least 30 civilians are dead after rocket fire rained down on a new front in eastern Ukraine. Moscow appears to be using the offensive to extract a new settlement from Kiev and the West.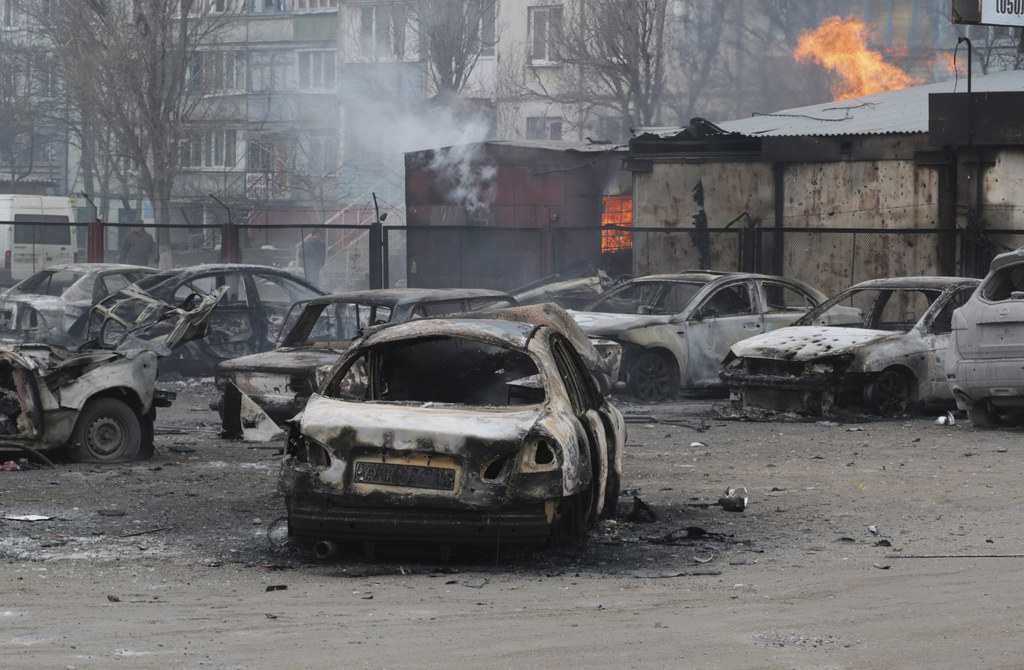 The fragile five-month peace in eastern Ukraine looked to be in tatters on Saturday after a rain of rocket fire killed scores of civilians, seemingly opening a new front in the Russian-backed rebel offensive.
At least 30 people, including two children, died and 93 were injured in a barrage of shelling from three rebel-controlled Grad rocket launchers on the eastern outskirts of the strategically vital port city of Mariupol, local Ukrainian health authorities said. The rockets hit a market, residential buildings, and a toy store, scattering fire across the area.
Ukrainian President Petro Poroshenko said that the rocket attack was "not just a terrorist act, but a crime against humanity." Observers on the scene from the Organization for Security and Cooperation in Europe and Human Rights Watch said the rockets had come from separatist-held territory to the city's east.
"The attack on Mariupol has begun. It will be the best monument to all our dead," rebel leader Alexander Zakharchenko said in comments carried by Russian state media. As horrific details of the attack emerged, however, Zakharchenko denied his own statement a few hours later and claimed that Kiev was trying to "dump the responsibility on us."
U.S. Secretary of State John Kerry and European Union foreign affairs chief Federica Mogherini blamed the rebels for the attack and threatened further repercussions for Russia, though they stopped short of vowing to pass new sanctions. Russia's foreign ministry, normally quick to apportion blame for most civilian deaths to Ukrainian forces, was conspicuously silent.
Russian-backed rebels controlling parts of Ukraine's two easternmost provinces have gone on an offensive in recent days across the tenuous border established in a September ceasefire deal and since punctuated by near-constant shelling. Zakharchenko and other top rebels have said they will refuse to participate in further peace talks and take no prisoners.
"Over the last 24 hours the situation has seriously worsened across the entire line of conduct of combat operations," Ukrainian defense minister Stepan Poltorak said. "Illegal military divisions are going on the offensive everywhere."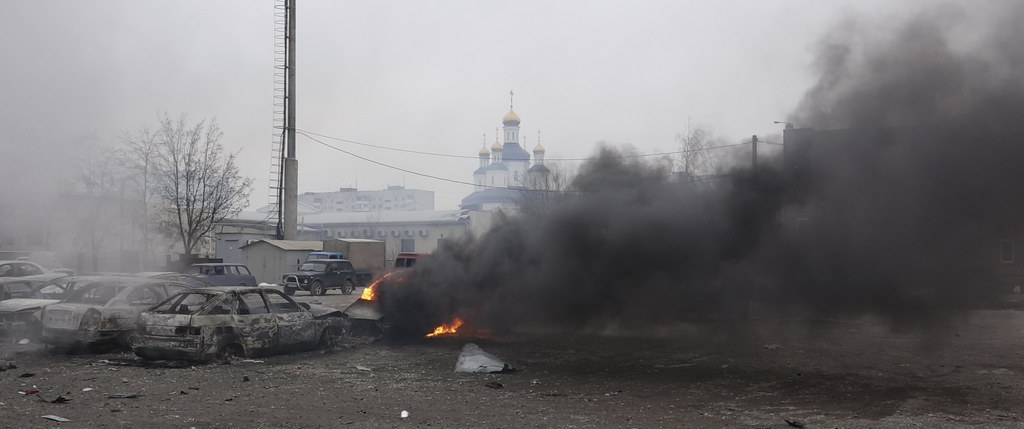 Russian President Vladimir Putin essentially gave public blessing to the offensive at a security council session on Friday, when he blamed the uptick in violence on Ukraine's "criminal orders." Ukrainian security council chairman Oleksandr Turchynov claimed to have evidence that Putin personally authorized the offensive.
"This is a crime against peaceful citizens, against humanity, and the blood of these people lies directy on the president of the Russain Federation," Turchynov said.
The United Nations said on Friday that at least 262 people have died since fighting broke out in earnest on Jan. 13, including two horrifying attacks on civilian buses. Ukraine and the rebels blame each other for the attacks.
Capturing Mariupol, a dreary industrial town of 500,000 about 70 miles south of the rebel stronghold of Donetsk, would be a major step in opening a land corridor to Crimea, which Russia has struggled to supply since annexing it last March. The city is the only major population center on the highway along the Sea of Azov linking the peninsula with southwest Russia, where Ukraine says Russia has stationed 50,000 troops.
Rebels have also vowed to retake the entirety of Donetsk and Luhansk provinces, whose Ukrainian-controlled parts contain infrastructure vital to sustaining rebel territory.
Ukrainian officials say that the new wave of fighting was carried out by up to 9,000 Russian soldiers. The recent conflict has also seen rebels dislodge government forces from their redoubt in the remains of Donetsk's airport and come close to surrounding the Ukrainian staging post of Debalsteve,
Though Kiev has provided no evidence to support that figure, the rapid advance of the ragtag rebel army suggests at the very least a strong helping hand from Moscow. Russian troops poured across the border to beat back Ukraine's poorly equipped, incompetently managed forces in August, saving the rebels from certain defeat.
The fighting has coincided with the postponement of further peace talks originally set for last week and all but abrogates the existing settlement signed in the Belarusian capital, Minsk. It was a ceasefire in name only. None of its 12 provisions were carried out in full, while over 1,500 people, many of them civilians, were killed in the months after it was signed.
With the Minsk deal dead in the water, the fresh fighting raises the urgency for the postponed Russia-Ukraine summit, to be mediated by France and Germany, in the Kazakh capital of Astana.
Russia's hand now looks considerably stronger since German Chancellor Angela Merkel scrapped the meeting in anger at the rebels' failure to uphold the earlier ceasefire provisions.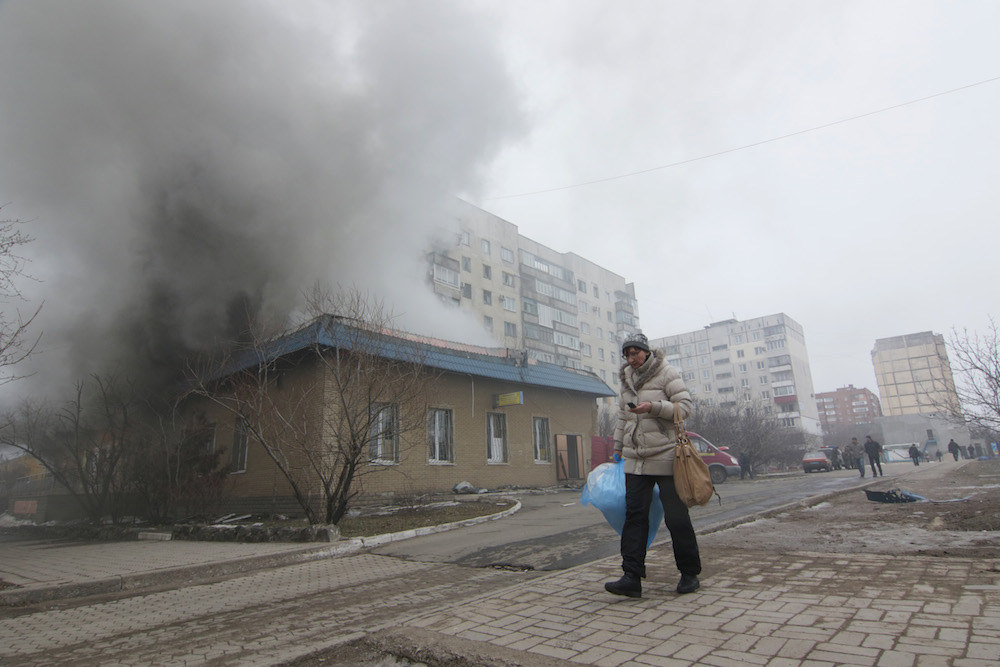 Western countries are divided on how to further rein in Russia's behavior. Some European leaders proposed rolling back sanctions earlier this month, shortly after the U.S. Congress passed a bill mandating more. Though President Obama boasted in his State of the Union speech that the sanctions had left Russia's economy in "tatters," they appear to have only increased support for Putin at home and convinced him that he is locked in a titanic geopolitical showdown with the West.
The White House itself has shown little appetite for "nuclear options" proposed in hawkish circles. Kicking Russia out of the SWIFT banking system, which a top Russian banker recently said would amount to "the verge of war," would likely nix Russian co-operation over key strategic objectives like the Iranian nuclear talks.
"The diplomatic thread is basically running out and the West doesn't have a clear plan B," Andrew Weiss, vice president for studies at the Carnegie Endowment for International Peace, told BuzzFeed News.
"In the past people could say Minsk provides this framework for freezing the conflict so Ukraine can focus on getting the domestic house in order and deal with problems in the east later," Weiss said. "That framework seems to be shattered."
Putin has attempted to style Russia as an arbiter of peace, upbraiding Poroshenko for rejecting a "peace plan" he proposed last week. In the face of all evidence to the contrary, the Russian leader continues to deny that his troops are party to the conflict.
An alleged copy of Putin's proposal published by the Ukrainian newspaper Zerkalo Nedeli on Saturday, however, demands that Ukrainians formally cede territory lost to the rebels since the ceasefire. Most analysts believe that Putin wants to formalize the de facto retention of Ukraine in Moscow's sphere of influence, stopping the country's drive to the West since protests overthrew the country's pro-Russian president a year ago. Russian officials regularly bemoan that the West has failed to take Moscow's interests into account, which they say is the real reason for the crisis.
"Now, if both the West and Russia don't start talking like equal leaders on how to find a way to solve the problem, and if they're going to show Russia her place, 'You sit in the corner, and we're going to teach you a lesson with sanctions,' then no positive solution for Ukraine will ever come out of that," Igor Shuvalov, Russia's first deputy prime minister, said at the World Economic Forum in Davos on Friday. "It'll be a sore wound for decades."
Update: U.S. Vice President Joe Biden condemned the violence Saturday during a conversation with Ukrainian President Petro Poroshenko.
According to a statement from Biden's office, he "expressed grave concern over Russia's blatant disregard for its commitments" during his conversation with Poroshenko. Biden also "agreed to work with international partners to ensure that the costs continue to rise on Russia for its aggressive actions against Ukraine."
Update: U.N. Secretary-General Ban Ki-moon condemned the violence in Ukraine in a statement Saturday.
The Secretary-General strongly condemns today's rocket attack on the city of Mariupol, which reportedly killed dozens of civilians and left over one hundred injured. He notes that rockets appear to have been launched indiscriminately into civilian areas, which would constitute a violation of international humanitarian law.

The Secretary-General further denounces yesterday's unilateral withdrawal from the cease-fire by rebel leadership, and particularly their provocative statements about claiming further territory. This constitutes a violation of their commitments under the Minsk accords.

The Secretary-General urges all concerned to redouble their efforts to revive the Minsk accords. Ukraine's peace, territorial integrity and stability, intrinsically linked to that of the broader region, must be urgently restored.
Max Seddon is a correspondent for BuzzFeed World based in Berlin. He has reported from Russia, Ukraine, Azerbaijan and across the ex-Soviet Union and Europe. His secure PGP fingerprint is 6642 80FB 4059 E3F7 BEBE 94A5 242A E424 92E0 7B71

Contact Max Seddon at max.seddon@buzzfeed.com.

Got a confidential tip? Submit it here.