This Is The Best Photoshop The U.S. Government Has Ever Produced
The U.S. embassy in Moscow made Ambassador John Tefft a meme on Monday in response to a doctored photo of him attending a protest.
On Sunday, a local TV channel in Moscow claimed that John Tefft, U.S. ambassador to Russia, attended an opposition demonstration. The accusations are serious in Russia, where pro-government media frequently accuse activists of being U.S. puppets.
The photo, the embassy replied, was a crude fake. "Ambassador Tefft spent his day off yesterday at home," it tweeted. "But thanks to Photoshop, he could be anywhere." Like attending the moon landing...
Or landing in the Philippines with Douglas MacArthur.
Other Russian Twitter users posted memes of Tefft attending random Russian people's weddings...
And surrounded by cats.
The memes racked up nearly 600 retweets, making it an extremely rare instance of the U.S. government using memes successfully. Most of its forays into social media are... less than good.
The State Department has taken a particularly hard beating on Russia's vibrant internet. The embassy runs a Russian-language account, @UkrProgress, that tweets about Ukraine under the portentous hashtag #HourOfTruth, to widespread mockery.
Tefft's predecessor, Michael McFaul, frequently ran into trouble over his obsessive tweeting. He still argues with Russians who troll him on an almost daily basis, often in barely grammatical Russian.
Tefft, a veteran diplomat who takes pride in his collection of unusual hats, has taken a different approach — he's not even on social media at all.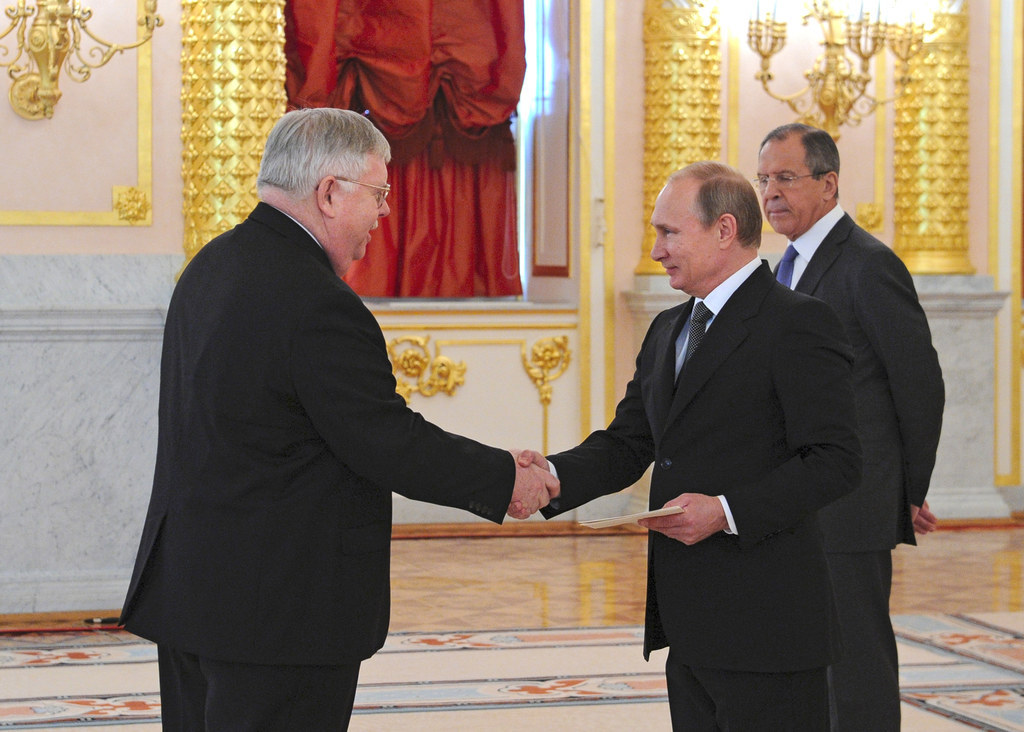 Moral of the story: ~never tweet.~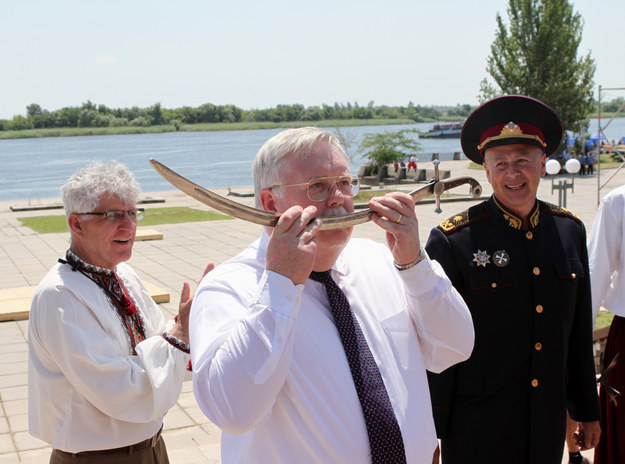 Correction
One of the memes depicts Tefft landing in the Philippines with Douglas MacArthur in 1945. An earlier version of this post described it as the D-Day landing in Normandy a year earlier.
Max Seddon is a correspondent for BuzzFeed World based in Berlin. He has reported from Russia, Ukraine, Azerbaijan and across the ex-Soviet Union and Europe. His secure PGP fingerprint is 6642 80FB 4059 E3F7 BEBE 94A5 242A E424 92E0 7B71

Contact Max Seddon at max.seddon@buzzfeed.com.

Got a confidential tip? Submit it here.