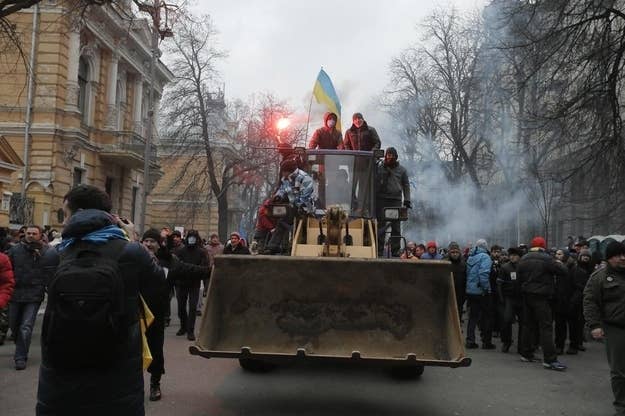 KIEV, Ukraine — Clutching lit flares aloft and driving a bulldozer straight at a phalanx of riot police, half a dozen young men in surgical masks became the enduring image of huge protests when they tried to storm Ukraine's presidential administration building on Dec 1. The demonstration on Bankova Street became Ukraine's most violent in living memory. Protesters hurled rocks, bricks, and themselves at riot police. Police responded by violently dispersing the crowd and injuring over a hundred people.
Weeks later, with Kiev's Independence Square, known as the Maidan, occupied by opposition activists, the bulldozer remains the greatest symbol of the protests' enigmatic, spontaneous nature. It is different things to different people. Some see it as the moment opposition politicians saw events slip out of their control. Others celebrate it as the embodiment of Ukrainians' primal anger against President Viktor Yanukovych. Pro-government forces have used it to argue that the demonstrations are inherently violent — and used it as a pretext for a crackdown.
Nobody in Kiev can agree on how the bulldozer got to Bankova Street in the first place. Some think pro-government thugs were paid to pretend to protest in order to start the clashes. Others say the bulldozer simply wound up there by chance and was seized on the spur of the moment.
Nor does anyone agree who drove it. Police immediately blamed the Brotherhood, a notorious far-right organization that dubs itself an "Orthodox Hezbollah" and is widely believed to carry out special operations for Ukraine's security services. That same day, however, police arrested nine protesters with no connection to the group who had been brutally beaten and hospitalized during the riot, while ignoring the Brotherhood.
Later that week, Andrei Dzindzia, a well-known journalist and activist from a drivers' rights group, was abducted by police, beaten up, and then jailed for two months for being behind the bulldozer assault. After considerable pressure from protesters and western governments, the nine arrested on the day of the riot were bailed last week, but Dzindzia remains behind bars. (He was subsequently joined by his lawyer, arrested for allegedly attacking a judge during his bail hearing.)
Dzindzia, a 37-year-old printer repair shop owner from Ivano-Frankivsk province in western Ukraine, shot to fame in recent years as a member of Road Control, an activist group that campaigns against widespread corruption in Ukraine's traffic police. Dzindzia's impulsiveness and devotion to the cause quickly marked him out as Road Control's star when he posted videos of traffic police soliciting bribes online. Several officers were fired as a direct result of Dzindzia's work, making him public enemy number one for large contingents in Ukraine's interior ministry.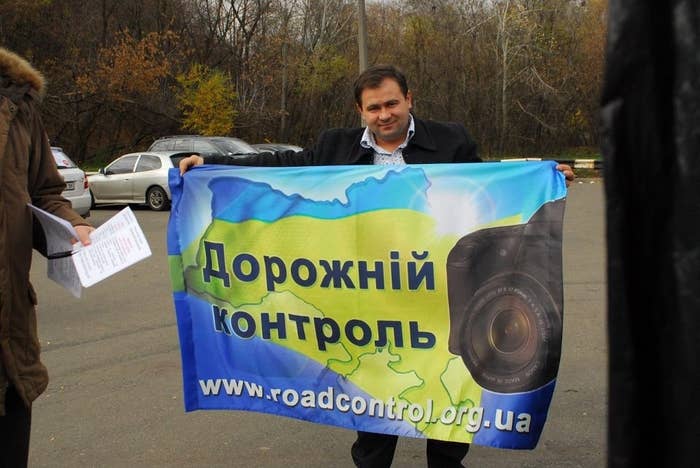 In November last year, when Dzindzia went to film officers at a pound allegedly extorting bribes from drivers in exchange for returning their impounded cars, the police summoned a gang of hooligans who beat him and two of his colleagues so severely they had to be hospitalized, fellow activists say. The alleged attackers got off scott free — prosecutors later filed charges against Dzindzia for allegedly attacking security at the pound and claimed that he had beaten himself up by bashing his head against the door.
Dzindia's supporters have published several videos that clearly show him filming the bulldozer as it moved in on the wave of police. They say Ukrainian authorities are using the bulldozer attack as a pretext to punish him for his activism. BuzzFeed attempted to reconstruct the day's events by speaking to activists at the scene and reviewing videos of the assault — which suggest the real culprits are still at large.
"People are looking for any excuse to shut us down," Rostislav Shapozhnikov, the leader of Road Control. "The Maidan can come and go — but we'll still be here."
Founded in 2008, Road Control say they are apolitical and are simply looking out for drivers' rights: two of their oldest enemies, former interior minister Yuri Lutsenko and former parliament speaker Arseny Yatsenyuk, are now major opposition leaders. Their involvement in the Maidan movement, they say, is less about specific dissatisfaction with Yanukovych than frustration at long-rooted corruption and lawlessness dating back decades. "Imagine if cops could just stop you at the gas station in New York and beat you up for no reason," one of them told BuzzFeed. "That's what happens all the time in Ukraine."
If their accusations against police and prosecutors are right, the case against the Road Control activists has little to do with Yanukovych's crackdown on the protests either. Parliament passed an amnesty bill Thursday to release the other protesters; Dzindzia and his lawyer's supporters doubt it will help them. Instead, the story speaks to something far older, they say. Dzindzia simply found himself in the wrong place at the wrong time and gave his enemies in the police a chance to get even.
On Sunday, Dec 1, the bulldozer was one of several pieces of heavy machinery city employees were using for construction work on the Maidan, including putting up a giant Christmas tree. Police had violently dispersed the square the day before, provoking widespread fury and the country's largest protest in nine years. Despite a court order banning further protests on the square, hundreds of thousands of people stormed the square to reclaim it. They have yet to leave.
"It's a tradition — whenever there's a protest, they start repairing things. It's a way to shut us down," said one activist who was among the first to storm the square and gave only his first name, Igor. The first wave of activists to reach the square told the city employees to leave. Terrified and unprotected — police had already simply run away — the city employees drove their vehicles away from the Maidan and up Institutska Street into Kiev's government district.
By that point, activists from AutoMaidan, a group that organizes runs around Kiev in support of the pro-European protest movement, had driven up the government district and blocked large sections of it off. The bulldozer driver had nowhere to go. Eventually, people present said, the unknown driver simply wandered off, leaving the keys inside the cabin.
Meanwhile, journalists and drivers' rights activists were joined by protesters from the square, including large contingents from right-wing groups and soccer fans. "There were too many people I know there," said a leader of one of Kiev's major soccer hooligan groups, who spoke on condition of anonymity to avoid prosecution. "[The groups] all hate each other, but they seemed too well organized. I didn't ask how they got there."
Riot police massed opposite the protesters as some of them attempted to work out how to drive the bulldozer. Dzindzia, meanwhile, filmed the incident.
As Dzindzia filmed the bulldozer driving into the first cordon of riot police, right-wing activists and soccer hooligans escalated the violence by hurling projectiles. One of them lashed out at police with a chain. Dzindzia's supporters say they left Bankova before serious clashes broke out later in the afternoon.
Opposition leaders later claimed that the violence had been staged by thugs paid by the government to discredit the protest. In subsequent days, one Ukrainian media outlet published video and photos of a man who it said was a deputy commander of a special forces police unit leading the bulldozer up the hill. Police denied this and said the officer, Sergei Kusyuk, had been one block away.
Then a TV channel released a video showing several men, including one in a distinctive purple jacket, who first appeared among protesters when fighting started and then wound up safely on the other side of the barricades, indicating potential collusion with security forces.
Members of right-wing groups interviewed by BuzzFeed said that the bulldozer attack was spontaneous and denied that provocateurs had started it. Most of the men there, they said, were eager for revenge against riot police for the violent dispersal of the Maidan the day before.
"Ukrainians are very peaceful people, so people always blame aggression on their enemies or provocateurs," one said. "Provocateurs or no, there still would have been clashes. People were just so angry."
By the evening, police blamed the Brotherhood for starting the violence, but did not move against its leader, Dmitro Korchinsky, for another four days, and instead arrested nine people with no connection to him. Korchinsky denied starting the riot, but endorsed the violence on Bankova, and subsequently disappeared. Police believe he has fled the country.
The same day that charges against Korchinksy were announced, Dzindzia and two other activists from AutoMaidan were refueling at a gas station on the outskirts of Kiev when they were suddenly attacked by masked men and thrown into the back of a bus, where they were beaten savagely.
"I thought they were going to kill us," Sergei Khadzhinov, one of the men, told BuzzFeed. "They wouldn't say anything the whole way, and every time we said they wouldn't get away with it, they just kicked us."
The men took them to the offices of Ukraine's organized crime unit, where a crowd soon gathered in protest. Khadzhinov was eventually released, but Dzindzia and the third man were held overnight. The next day, the men learned that they were being charged with stealing the bulldozer, and held for two months without bail — even though, according to Road Control, court documents did not mention any of the defendants by name and the judge did not call any of the witnesses who allegedly saw Dzindzia steal the bulldozer. When the judge announced his decision, a scuffle broke out in court; Dzindzia's lawyer, Viktor Smaliy, was arrested a few days later for attempting to murder the judge. He denied all the charges and went on hunger strike.
Dzindzia's friends and supporters are convinced police used the videos of Dzindzia standing near the bulldozer as an excuse to get back at him for his activism. "There's nothing to suggest he did it. He was never in the cabin," Road Control's Shapozhnikov said. "If they can't get him for this, they'll say he's an agent for the CIA or Mossad."
Road Control believe the police are out to get them. Fearing he would be next, Shapozhnikov has fled to Poland.
Another activist, Vladimir Moralov, was driving through Kiev last weekend when two unknown assailants in a car with no license plates blocked off the road, broke into his car, and dragged him into the backseat. A gunfight ensued; one bullet just missed Moralov's heart. The men set his car on fire and ran away.
Dzindzia's friends believe the men were looking for copies of the videos he filmed on Dec. 1. After police seized Dzindzia's recording equipment during his arrest, clips apparently filmed by him have appeared on YouTube with descriptions intimating his guilt in organizing the Bankova riot. (Some of them appear to have been edited.)
The identities of the men riding the bulldozer and attacking riot police remain a mystery to this day. Last week, police released all the protesters charged with participating in the riots on Bankova after Yanukovych intervened and offered them an amnesty, widely interpreted as a concession to the opposition movement. Dzindzia remains in detention.