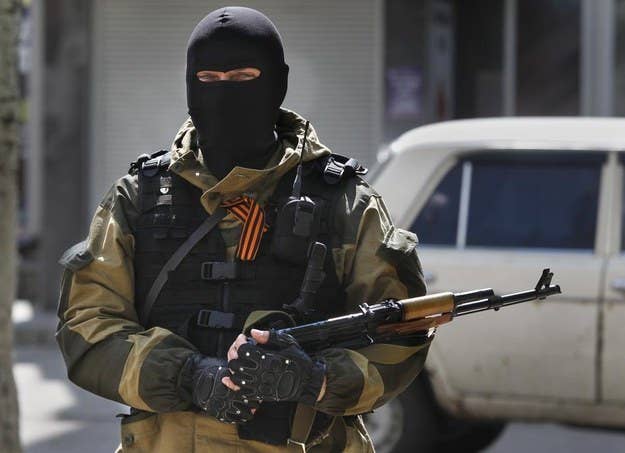 ANDRIIVKA, Ukraine — When people in this eastern Ukrainian town turned on their main television channel on Sunday, they heard the eerie strains of a Bach fugue and saw a shot of the Earth twirling in space.
"This broadcast has taken over the enemy channel INTER, and finally people can learn the truth about how they are controlled — starting with global control and ending with local control," said one man, a separatist activist from the nearby town of Slovyansk. He introduced a man named Konstantin Petrov, "a major general of space rocket forces and the supreme commander of the informational front in Rus," using the name for ancient Slavic lands in modern-day Russia, Ukraine, and Belarus.
Petrov, a stocky, balding man dressed in Russian military uniform, was onscreen reading a lecture about his "Somewhat General Theory of Control," part of a bizarre political program known as "Dead Water" that mixes Soviet nostalgia with Russian nationalism and belief in conspiracies that would make Alex Jones blush. Before his death in 2009, Petrov was the leader of Unity, an obscure Russian political party that got fewer than 1 million votes in a 2003 parliamentary election based on a program vowing to continue what it said was Stalin's fight against the priesthood of the ancient Egyptian sun god Ra, which supposedly runs the world from a base in Switzerland.
Petrov's return from the lunatic fringe underscores the bizarre atmosphere in the nearby town of Slovyansk, the center of unrest in eastern Ukraine's Donetsk province since anti-government rebels took it over as part of a surge of government building seizures. On Thursday, the television tower in Andriivka was the next to go. Rebels replaced Ukraine's main TV channels with repeat broadcasts of Russian President Vladimir Putin's marathon four-hour phone-in. Masked men guard it to this day. Other militiamen stand guard on Slovyansk's central square as children play in playgrounds nearby.
The weird spot on rebel-held television mirrors the insanity on the ground. In just 10 days, Slovyansk has transformed from a standard-issue depressed post-Soviet industrial town into a hotspot of anarchy and paranoia. Now, militants empowered by Russian support and Ukraine's failure to disarm them are using their newfound power to spout conspiracy theories and target journalists. Russia's state propaganda machine backs the separatists, whom it refers to merely as "supporters of federalization," and eagerly reports their claims despite obvious logical inconsistencies or outright falsehoods.
The interim government in Kiev banned Russian TV from broadcasting in Ukraine in March but has made almost no effort to reach out to the Russian-speaking southeast of Ukraine. In the information vacuum, rumors and theories spread like wildfire. Ordinary people who quietly supported former president Viktor Yanukovych until he fled anti-government protests in February have suddenly discovered a hardline strain of separatism with almost no presence in the region until Russian TV first promoted it; the majority of pro-separatist protesters to whom BuzzFeed spoke repeated Kremlin talking points about "federalization" and the "illegitimate Kiev junta" word for word.
The first few days of Slovyansk's independence were marked with a giddy euphoria as local residents posed for selfies in front of seized government buildings and masked militiamen. Recently, however, it has taken a dark turn recalling Lord of the Flies, only with automatic weapons. So far this week, militant leaders have captured nine reporters, including Vice News' Simon Ostrovsky, who was detained under the "laws of war" for what a separatist told The Daily Beast was "not reporting in a correct way." (Six of the reporters, including three arrested alongside Ostrovsky, were subsequently released.)
Vyacheslav Ponomaryov, Slovyansk's self-appointed "people's mayor," told Russian-language media Wednesday that Ostrovsky was a spy for the far-right Ukrainian nationalist group Pravy Sektor ("Right Sector"), while simultaneously highlighting his dual American–Israeli citizenship. Russian state news channel NTV then ran his claims unchallenged under the headline, "A journalist with dual citizenship turned out to be a Right Sector informant."
The bizarre implication that Ostrovsky could simultaneously be an agent for the CIA, Mossad, and for a Ukrainian militant group that is widely perceived as anti-Semitic fits in the general line on Russian TV, which often goes beyond simply parroting militants' statements by actually attempting to reinforce them. One of Ostrovsky's last tweets before his capture, sent from a press conference Monday, noted that Ponomaryov was threatening to expel a journalist for asking if militants were holding the town's de jure mayor, Nelya Stepa, under armed guard. The next day, Stepa, a Dolly Parton lookalike who had previously claimed her support for the separatists was a ruse to help free hundreds of hostages she said the separatists had taken, appeared on pro-Kremlin site LifeNews to praise Putin and the pro-Russia movement before showing off her collection of fake shoes. Ponomaryov told reporters in Slovyansk Wednesday that Stepa was "safe," though many local residents believe she is still being held captive.
On Sunday night, LifeNews also published a video from the scene of a deadly gun battle that militants say was the result of a Pravy Sektor attack — several hours before the militants said it had happened, at 2 a.m. on Monday. Though the two cars militants said the Pravy Sektor fighters drove up in had burned to a crisp, Russian state media broadcast footage of dollars and maps supposedly found inside in immaculate condition, as well as what they said was Pravy Sektor leader Dmytro Yarosh's business card. The business card in particular provoked widespread mockery on Ukrainian-language Twitter, where users photoshopped the Joker and Vladimir Putin proffering it and added it to Michelangelo's "The Creation of Adam."
"The tensions and deeply buried problems in society are so easily manipulated," Dunja Mijatovic, who monitors press freedom for the Organization for Security and Cooperation in Europe, told BuzzFeed. "I go back to the Balkans and the role the media played before, during, and after the war, and I'm still trying to find an answer — we are living in a digital era but you still have people who believe what the TV screen is telling them."
After 10 days of militia control in Slovyansk, Russia's role in the occupations remains unclear: Ukraine and the U.S. say Russian special forces led the building seizures, but have failed to provide conclusive proof. With Kiev unable to dislodge the rebels, however, Russia's victory over the town's hearts and minds seems at least half the battle. Asked in an interview with pro-Kremlin website Gazeta.ru what his message for Putin was, Ponomaryov said that he was "grateful for your moral support. I don't hear words, but at a distance I understand that you are with us in your soul. We don't need to talk a lot. It'll all work out for us."