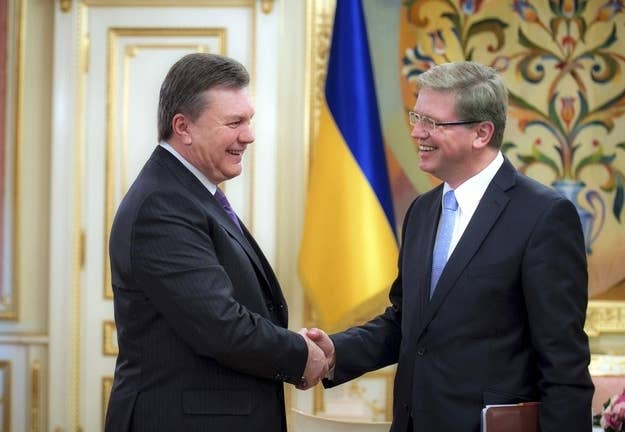 KIEV, Ukraine — Ukraine said Thursday it does not plan to sign a long-mooted agreement with the European Union and wants to deepen ties with Vladimir Putin's Russia, ending months of speculation and scoring a huge foreign policy win for the Kremlin ahead of a crucial EU summit next week.
A decree published on the website of Prime Minister Nikolai Azarov's cabinet announced Kiev had ceased preparations for signing an association agreement in Lithuania next week. The decree instructs Ukrainian ministries to propose a trilateral commission with the EU and Russia to discuss measures to improve the country's ailing economy and deepen trade ties with a Moscow-backed bloc.
If it holds, the decision is a major victory for Putin's project, which currently includes the former Soviet nations of Belarus, Kazakhstan and Armenia and is planned to expand into a greater Eurasian Union, and a crushing defeat for the EU's Eastern Partnership project, aimed at drawing those countries into Brussels' orbit. Though Georgia and Moldova are intent on moving away from Moscow at the summit in the Lithuanian capital, Vilnius, next week, Ukraine is by far the greatest prize, with a population of 46 million and a geopolitical significance that makes Putin's union inconceivable without it.
Both sides spent months wooing President Viktor Yanukovych, who repeatedly said he intended to sign the association agreement but dithered over the EU's stipulation that he release his arch-rival, jailed former prime minister Yulia Tymoshenko. The EU has repeatedly said that Tymoshenko's 2011 conviction on abuse of office charges was politically motivated.
Yanukovych dashed EU hopes in recent weeks, however, by missing several deadlines to pardon Tymoshenko and reportedly telling diplomats Ukraine would not sign the agreement. A delegation visited Kiev 27 times attempting to secure Tymoshenko's release, but had to watch from the sidelines Thursday as parliament failed to pass six separate bills that would have allowed her to receive medical treatment in Germany for a back complaint. Stefan Fuele, the EU's point man on the Eastern Partnership, was reported to be flying back to Kiev Thursday, his second trip this week, but then cancelled his visit.
Opposition lawmakers cried "Shame!" after members of Yanukovych's governing Party of Regions abstained from voting on the bills. Arseny Yatsenyuk, leader of Tymoshenko's Fatherland opposition party, accused Yanukovych of "personally blocking Ukraine's movement toward the European Union." After the decree was published, Yatsenyuk accused Yanukovych and Azarov of treason and demanded they appear before parliament on Friday, when he had planned to vote on the Tymoshenko law again.
Though European leaders have repeatedly said failing to sign the agreement in Vilnius would delay Ukraine's European integration for years, Brussels appears keen to bring Kiev out of the Kremlin's shadow even if Yanukovych does not meet all of its requirements. The deadline for freeing Tymoshenko was extended until "the last seconds" of the Vilnius summit after Ukraine missed it on Monday.
Putin said Thursday that Russia was prepared to participate in the trilateral commission and denied that Moscow had been "aggressive" towards Ukraine.
Most analysts believe Yanukovych is attempting to buy time ahead of 2015's presidential election by striking the best deal for Ukraine's faltering economy. The agreement with the EU includes a free trade deal and is viewed as part of the path to eventual membership, but Yanukovych is said to fear Russian retaliation and superior European goods flooding Ukraine's market and made a secret visit to Moscow earlier this month.
Russian pressure has raised the specter of the winters of 2006 and 2009, when bickering prompted Moscow to cut off supplies, plunging Ukraine into cold and darkness. Russia threatened Ukraine over a $1 billion unpaid gas bill earlier this month, prompting Kiev to announce it would suspend buying gas from Moscow. Ukraine and the EU are working on a deal to supply the country with cheaper gas from Slovakia, reducing its reliance on Russia, the Wall Street Journal reported this week.
But Yanukovych seems aware that no decisions need be irreversible before any documents are signed. A decision to stop buying Russian gas was reversed within days. While the governmental decree was being drafted, he told journalists on a trip to Vienna that Ukraine "would continue along the path of European integration." The decree does not explicitly say that Ukraine will not sign the EU agreement in Vilnius.
Swedish foreign minister Carl Bildt, an EU foreign policy heavyweight and avid tweeter, took an increasingly gloomy tone in the run-up to the decision:
Russia's parliamentary foreign affairs committee chair, Alexey Pushkov, was thrilled:
"Kiev wants partner relations with the EU at the same time that the EU wants submission from Ukraine. But the EU needs to understand: diktat is the politics of the past."

"The EU clearly overplayed its hand by pressuring Ukraine: an agreement of dubious value had political conditions tied to it as well. A massive blunder."

"All the more that NOBODY'S TALKING ABOUT EU membership. Just about association, under which Ukraine owes the EU everything, and the EU owes it almost nothing!"

But not everyone was so quick to write off Ukraine's European hopes: