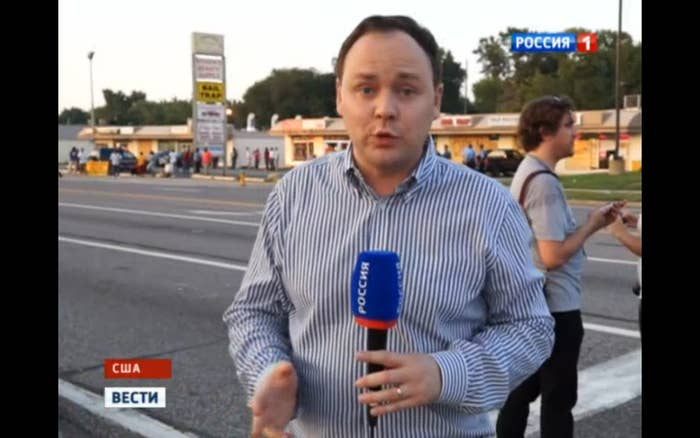 As America stays transfixed in horror to images of heavily militarized police in gassing and arresting protesters in Ferguson, Mo., over in Russia supporters of the Kremlin — long accustomed to similar footage from Moscow and Kiev — can barely conceal their delight.
The brutal crackdown has exposed what Russian officials have long complained is an American tendency to criticize human rights abuses abroad while turning a blind eye to the same thing at home.
"U.S. authorities should take care of [their] large-scale internal problems and take effective measures to resolve them," Russian deputy foreign minister Konstantin Dolgov said on Tuesday, the second time in a few days that Moscow has spoken out on the turmoil. "This is a more constructive way corresponding the requirements and realities of the 21st century, interventions in the internal affairs of other countries and replacing disfavoured regimes on the false pretext of protecting democracy and human rights - a practice inherited from last century."
Stung by criticism over his human rights record and violations of international law, Vladimir Putin has come to believe those principles and institutions are empty, inherently valueless concepts used to berate Russia and callously advance Western interests. U.S. and European support for protests in Ukraine last winter that overthrew a pro-Russian government and replaced it with a pro-Western one was the last straw. Since then, Russia has been emboldened to do as it pleases while citing Western counter-examples — not so much as to justify or excuse its actions as stick its tongue out at its critics. The Crimean referendum was kosher because the West backed the one in Kosovo; intervention in Ukraine is nothing compared to the American invasion of Iraq.
That Russia vigorously opposed both is beside the point: it's simply an exercise in political points-scoring known as "whataboutism" used to shut down criticism since the days of the Soviet Union. All criticism of Russia is invalid, the idea goes, because problems exist in other countries too. Dolgov's main job is to preside over lengthy annual reports that berate Western countries for human rights abuses at home — heavily drawing on material from groups like Amnesty International and Human Rights Watch who face increasing pressure for doing the same thing in Russia.
During the Cold War, Moscow was particularly fond of playing the race card. Mass arrests of dissidents were swatted away with references to the crackdown on the civil rights movement in the U.S. This became so mundane that it even begat a tongue-in-cheek conversation-killer applicable to any situation: "Well, you guys are lynching Negroes."
Ferguson has been a gift to Russia's propagandists, who have largely ignored the myriad other attendant issues to paint it as a race war between rich whites and poor blacks. The Kremlin's normally myopic media has featured it heavily on newscasts and sent several reporters to the scene, including Russia Today correspondent Anastasia Churkina, whose father is Russia's ambassador to the U.N.
One anchor warned "the situation is all the more reminiscent of civil war" as the screen showed Russians laying flowers at a memorial for Michael Brown, the unarmed 18-year-old whose shooting sparked the protests.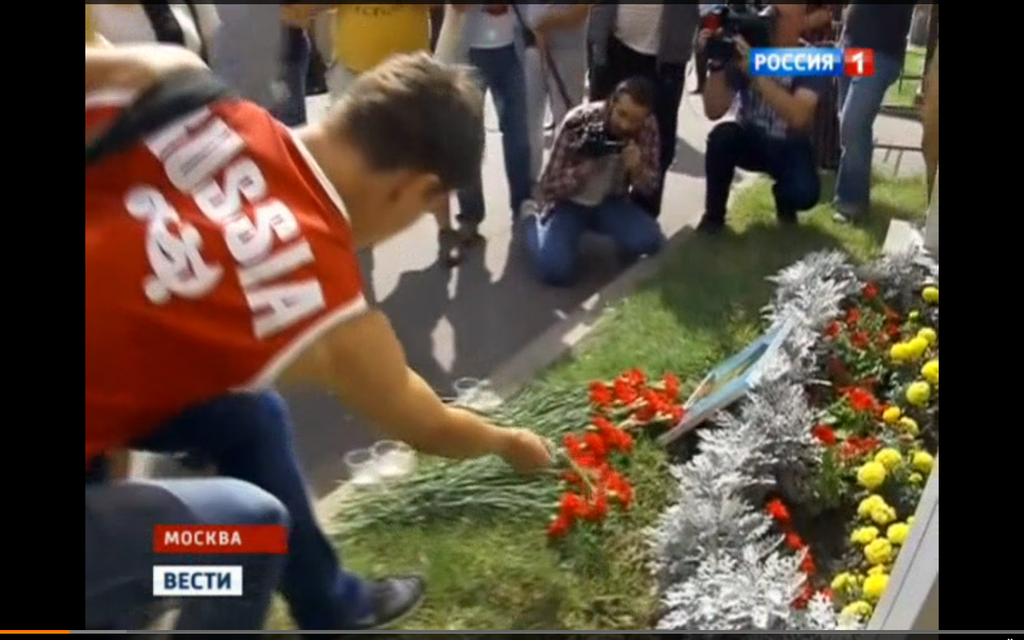 Pundits have suggested that Russian officials travel to Missouri and make a show of support, a strike back at a senior State Department official who angered Moscow by handing out biscuits to protesters in Kiev and Senators John McCain (R-AZ) and Chris Murphy (D-CT), who addressed them from a stage.
Igor Korotchenko, a hawkish defense analyst who frequently appears on TV, has been particularly outspoken. "Why don't our senators go to Ferguson and speak out in support of the rights of negroes, and give them biscuits?"
"Russia must support the protests of progressive African-Americans who are speaking out against the totalitarian regime in the U.S."
It's doubtful whether the crackdown in Ferguson will have any lasting effect on the Russian government, which has needed little invitation to do what it likes anyway. The last major clashes between police and protesters in Moscow two years ago — and the subsequent wave of repressive legislation that followed — were explained away as mere analogies to America's moves against the Occupy movement. And, now in Ferguson, seeing American police go further than Russia's ever has in arresting journalists, deploying tear gas, and firing rubber bullets at protesters, will cause greater damage in the longer term to the U.S.' soft power as an arbiter of justice and peace. And the Kremlin knows that only too well.