Staredown At The Barricades In Kiev
Thousands of riot troops closed in Monday as the standoff continues. "If they storm it, we'll defend it."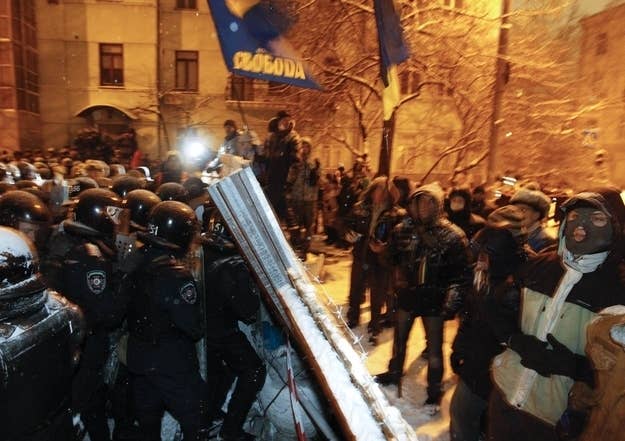 KIEV, Ukraine — Riot police moved in towards protest encampments in the capital Monday and began to dismantle barricades near government buildings — but stopped short of trying to clear this city's central square as a national standoff with broad international consequences enters its third week.
Many feared President Viktor Yanukovych had decided to violently break up the protests after a massive rally Sunday ended in protesters toppling a statue of Lenin and smashing it to bits while police stood idly by. After a week in which law enforcement was almost completely nonexistent in central Kiev, Monday's events were a clear attempt by the government to reassert its authority. Officers from Berkut, Ukraine's feared special forces unit, and regular police faced off against protesters in and around Independence Square and shut the three nearest metro stations for much of the day over apparent bomb threats. Secret service agents armed with machine guns raided the office of the largest opposition party, Fatherland, and seized its servers.
By evening, however, they remained more staredown than crackdown. Police did not attempt to clear the square, known as the Maidan, or the nearby City Hall, which protesters are occupying in anger at President Viktor Yanukovych's U-turn from the EU towards Russia and the violent dispersal of a tent city there last month. Several hundred linked arms to form a barrier staring down Berkut troops in the government district, chanting "The police are with the people!" Outside City Hall, priests chanted prayers to a group of obviously terrified police.
Yanukovych reportedly met with his security council Monday to discuss clearing the square, although police later denied they had been ordered to do so.
But the standoff made it clear the protesters are in for the long haul. Ukraine's government issues near-daily ultimatums to the opposition to clear the center, but has not followed through on a single one, mindful of how the excessive use of force has already turned a tepid pro-EU campaign into a massive, virulent movement to overthrow it. The opposition issued its own ultimatums over the weekend, chiefly that Yanukovych fire Prime Minister Nikolai Azarov's government in 48 hours, and said it would march to his palatial residence if its demands were not met.
Yanukovych announced he would hold a "round table" Tuesday with Ukraine's three former presidents and invited the opposition to attend in an attempt to defuse the crisis. But the opposition says it will stay until the bitter end, vowing not to negotiate or leave the Maidan until the government resigns. Ukraine's security service announced late Sunday that it was investigating unspecified politicians for attempts to seize state power. Arseny Yatsenyuk, leader of the Fatherland opposition party, said Monday that he had been summoned for questioning in the case.
As news trickled in that buses carrying special forces had broken opposition blockades and made it into Kiev, the Maidan looked and felt like a war zone. Vitali Klitschko, a world heavyweight boxing champion and opposition leader, asked all women and children to leave the square and implored police not to fulfill "criminal orders" to attack protesters.
Protesters rallied to defend their territory, though police dismantled barricades they had set up during a huge rally the day before by the presidential administration and government building in mere minutes, with scarcely any opposition. Some demonstrators, who have been training all week to resist any potential attacks, formed phalanxes by metro exits in response to rumors that riot police would swarm out of the closed metro stations en masse.
At City Hall, protesters checked booby traps set up to guard against a raid and outfitted themselves with makeshift weapons. Vladimir Savchenko, 35, wearing a construction helmet and wielding a wooden table leg with a rusty nail protruding from it, said he would fight any Berkut officers who attempted to remove people from the building.
"This is how we all feel — if they storm it, we'll defend it," he said. "We're descended from Cossacks. We're not going to give in just like that."
Western diplomats have urged all sides to reach a compromise, though this looks increasingly unlikely as battle lines — both political and physical — are drawn. Vice President Joe Biden told Yanukovych by phone Monday to "immediately de-escalate the situation" and negotiate with the opposition, adding that "violence has no place in a democratic society and is incompatible with our strategic relationship." U.S. Assistant Secretary of State Victoria Nuland told Russian officials that the White House supports Ukraine moving away from the Kremlin towards Europe and the IMF, and returned to Kiev Monday for a late-night meeting with the opposition. Catherine Ashton, the EU's foreign policy chief, is to visit Yanukovych tomorrow.
European officials have made little secret of their hopes the protests will force Yanukovych to reverse his decision, which has essentially doomed its years-long Eastern Partnership project to bring former Soviet nations closer to the West. European Commission president Jose Manuel Barroso said Monday that protesters were writing a "new narrative for Europe." Swedish Foreign Minister Carl Bildt, the project's architect, has essentially cheered the demonstrations along on Twitter.
Ultimately, however, it seems implausible that Ukraine's political crisis can be resolved, at least in the short term, through any means other than the street. Opposition leaders are demanding snap parliamentary and presidential elections, but would not necessarily win even if they were held. Many protesters BuzzFeed spoke to over the last week vehemently denied being influenced by the three major opposition parties at all, and proudly declared the protests had been organized independently.
"Nobody is controlling these protests," Igor, a nationalist activist from the city of Volyn, who declined to give his last name for fear of being prosecuted for taking part in violent clashes last Sunday, said. "It's a wave and the politicians are just trying to surf it."
For now, at least, Ukraine's standoff feels like a game of chicken, with both sides still too wary of losing to test the balance. Officials know that further violence will only provoke more popular anger. Opposition figures know the movement still does not have enough support to overthrow the government. Neither the EU nor Russia expected protests to break out; neither has enough leverage over Yanukovych to force him into a final decision.
That made for an eerie, surreal scene Monday as the snow enveloped Kiev. Some people made snowmen near the barricades and dressed them in riot gear. Priests held church services from the stage at the center of the Maidan and police moved in. Klitschko spent his evening wandering around and trying to talk to riot police, above almost all of whom he towers at 6'4".
"If they take away our tents, we'll put new ones up. If they take away our cordons of people, we'll set new ones up," Yatsenyuk, the opposition leader, said. "Ten thousand Berkut troops can't solve the problems facing a country of 45 million."
Max Seddon is a correspondent for BuzzFeed World based in Berlin. He has reported from Russia, Ukraine, Azerbaijan and across the ex-Soviet Union and Europe. His secure PGP fingerprint is 6642 80FB 4059 E3F7 BEBE 94A5 242A E424 92E0 7B71

Contact Max Seddon at max.seddon@buzzfeed.com.

Got a confidential tip? Submit it here.