Russia's Only Independent TV Channel Seeks A New Lease On Life
Dozhd appeals to viewers to help it resist government pressure.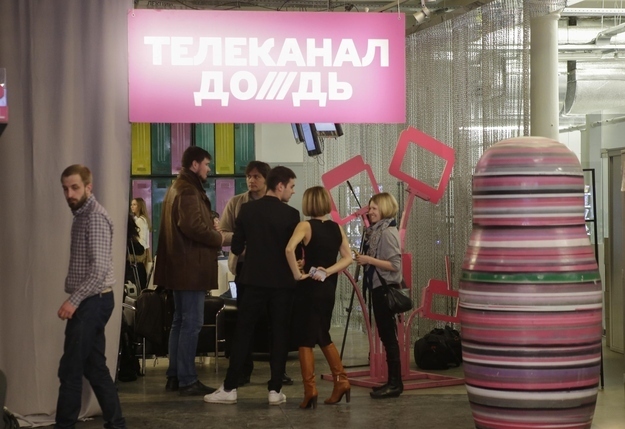 As the Kremlin moves to muzzle what remains of the country's free media, Russia's only independent TV channel may have found a new lease on life after turning to viewers for help.
Cable providers forced Dozhd TV (which translates as "Rain TV") off the air last month under heavy government pressure, but the channel announced on Monday it had found enough funding for two more months of broadcasting online after raising about 40 million rubles ($1.13 million) in a week-long, PBS-style viewer marathon — the first of its kind in Russia. Natalia Sindeeva, the channel's director, wrote on her blog that over 20,000 viewers had given money to the channel, allowing it to broadcast for another 51 days, 7 hours, and 8 minutes.
The channel is one of the few remaining independent media outlets still working in Russia. Cable operators dropped it en masse, depriving it of its main source of revenue, last month, ostensibly because of a poll the channel ran about the blockade of Leningrad during World War II. Dozhd's owner, Alexander Vinokurov, told BuzzFeed he believed the channel was being sought out for its independent coverage of Russian politics and the protest movement in Kiev.
Max Seddon is a correspondent for BuzzFeed World based in Berlin. He has reported from Russia, Ukraine, Azerbaijan and across the ex-Soviet Union and Europe. His secure PGP fingerprint is 6642 80FB 4059 E3F7 BEBE 94A5 242A E424 92E0 7B71

Contact Max Seddon at max.seddon@buzzfeed.com.

Got a confidential tip? Submit it here.