Russia's Only Independent News Channel Faces Closure Under Kremlin Pressure
Several cable networks abruptly dropped Dozhd TV under apparent orders from powerful figures. "There's only one way things happen that quickly in this country," the channel's owner says.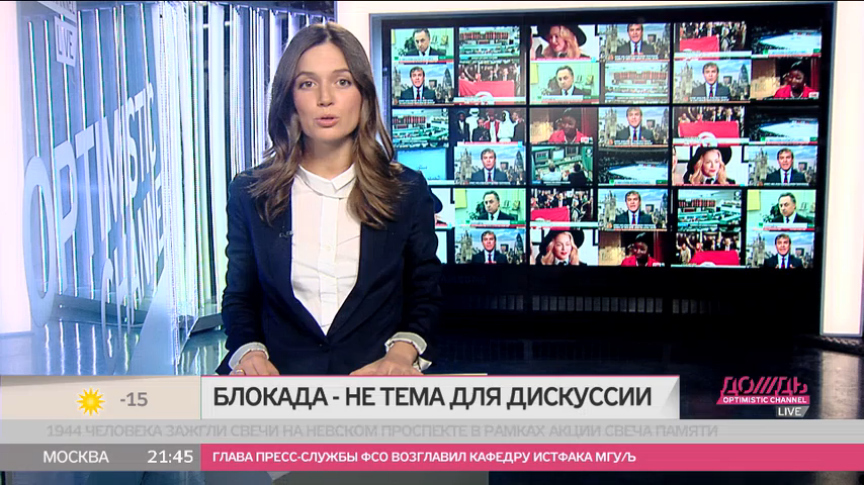 KIEV, Ukraine — Russia's only independent television news channel faced extinction Wednesday after cable providers stopped broadcasting it under pressure from Kremlin-linked forces, though a flurry of outrage on social media raised late hopes of saving it.
Every cable provider carrying Dozhd ("Rain") TV told the channel they had received orders from a powerful figure they refused to name to find any excuse to remove it from the airwaves, the channel's owner, financier Alexander Vinokurov, told BuzzFeed by telephone from Moscow. The channel now faces being forced to close within two months after losing its main sources of revenue, Vinokurov said.
By Wednesday evening, four major providers — Rostelekom, Akado, Dom.ru, and NTV+ — had announced plans to drop the channel, ostensibly over a controversial poll the channel ran over the weekend asking whether the Soviet Union should have surrendered the besieged city of Leningrad during World War II. Lawmakers demanded official action against Dozhd. The head of Russia's association of cable providers called on networks to drop it and said he "wanted to just go and turn that information off by taking on some censorship functions."
Vinokurov said, however, that he thought the call had come directly from President Vladimir Putin's administration as punishment for covering an investigative report on administration officials' luxury real estate worth far more than their declared incomes.
"There's only one way things happen that quickly in this country," Vinokurov added.
The public attack on Dozhd comes as the Kremlin, wary of its image as controversy threatens to overshadow the Winter Olympics in Sochi and spooked by the recent protests in Ukraine, takes major steps to tighten Russia's already narrow space for independent media further still. Putin abruptly "liquidated" Russia's stodgy but respected state news agency last month to replace it with an unabashed propaganda outlet headed up by news anchor Dmitry Kiselyov, a frothy pro-Kremlin answer to America's Glenn Beck.
Publicly, however, cable providers and officials calling for action against Dozhd claimed the channel needed to be punished for holding the poll, which they claimed was unpatriotic. Putin's press secretary, Dmitry Peskov, said in an interview on the channel Wednesday evening that Dozhd had "broken more than the law" and that "tolerating surveys like that would lead to the erosion of the nation." Peskov declined to call for the channel to be closed, but effectively endorsed the pressure on it, saying: "The more sources of information there are, the better. The more talented people work [there], the better. But the most important thing is that these people's talent worked for creation, for positive and objective creative work."
Attacks on Dozhd began Sunday, the eve of the anniversary of the end of the Leningrad siege, when the channel asked viewers whether the Soviet Union should have surrendered the city "to save the lives of hundreds of thousands of people" who died, mostly of starvation, during the Nazi blockade — including Putin's older brother. Though Dozhd quickly retracted the poll and apologized for it amid a storm of patriotic outrage, the campaign against it rolled on. Members of parliament accused the channel of trying to "rehabilitate Nazism" and promoting unrest in Ukraine.
Many observers, however, suspected motives ulterior to sympathy for Leningrad victims was behind the attacks. State channel Rossiya 24 ran a quotation from Nazi propaganda chief Joseph Goebbels — "Lenin was the greatest among the Russians" — as part of a collage of famous lines marking the 90th anniversary of the Soviet leader's death on its Facebook page this week; after being soundly mocked, the channel fired its entire social media team but escaped the firestorm of official browbeating engulfing Dozhd.
The campaign, the first of its kind since Putin wrested control of then-independent NTV in 2001 and effectively established state control of the press, angered numerous Russians who, according to messages on Facebook and Twitter, canceled their cable subscriptions in disgust. Russia's human rights council said dropping the networks amounted to censorship and violated Russian law, under which a channel can be taken off air only after a warning from the state watchdog and a court decision, Russian media reported. The Union of Journalists of Russia also condemned the decision in Russian media. Several cable providers condemned the poll, but said they would not be dropping the channel.
Pressure on the press has increased noticeably since Putin returned to the presidency on the heels of protests against him in 2012. Dozens of journalists quit leading outlets like the business newspaper Kommersant and the news website Gazeta.ru last year after their Kremlin-linked owners allegedly pressured them to kill articles unflattering of officials. When Alexei Navalny, Russia's leading opposition politician, published photographs of luxury country houses owned by top officials and accused them of not declaring them, Gazeta.ru ran a story in which a former colleague of Volodin's was cited as an "expert" playing down the news; Kommersant ran a short item on its site, then hurriedly deleted it without explanation.
The crackdown of recent months is a shift from Putin's longtime strategy of dominating the airwaves indirectly rather than through pressure and censorship. He is omnipresent on television news programs, which cover his every move in breathless detail while excluding viewpoints from outside the tightly Kremlin-controlled mainstream almost entirely. Opposition figures were confined to upmarket newspapers with circulation at 100,000 or less.
It was that stifling atmosphere that made Dozhd a breath of fresh air when it began life as a lo-fi internet network in 2010. Founded by TV producers who quit state networks when Putin asserted control in the early 2000s, the channel positioned itself as an "optimistic" antidote for the disillusioned by eschewing the Kremlin-dictated news cycle and focusing coverage at a small circle of liberally minded Muscovites. It didn't just sound fringe, but looked it too. Reporters worked as one-man bands filming on handheld cameras and smartphones. Hosts, some of whom were still in college, compensated for their often painfully apparent lack of professional experience by mastering Twitter, Skype, and YouTube.
Things changed considerably, however, when hundreds of thousands of middle-class Russians — essentially Dozhd's core audience — took to the streets in winter 2011 to protest Putin's return for a third presidential term. Considered safe enough to warrant a friendly visit from Putin's seat-warmer Dmitry Medvedev months earlier, Dozhd essentially became the opposition's official parallel broadcaster, placing a white ribbon on-screen in support of the protests. As discontent with Putin grew, so did its audience. Until providers dropped the channel Wednesday, the channel reached 10 million viewers a month and an additional 3 to 4 million online, operating on a budget of just $10.3 million. Vinokurov had expected Dozhd to break even for the first time this year as recently as Tuesday, but said that losing Rostelekom, which controls 21% of the Russian cable market, was "curtains."
On Wednesday evening, Dozhd was half fundraising marathon, half round-the-clock disaster coverage, with much regularly scheduled coverage shelved for plaintive appeals asking viewers to buy branded clothing and yearlong subscriptions to the channel's website for $30. By late evening, however, numerous Russians on Facebook and Twitter reported seeing the channel return on NTV+, Rostelekom, and Dom.ru in several cities nationwide after having gone off the air for several hours. Other channels that had announced they would drop Dozhd starting Thursday reportedly collected data on the number of people canceling their subscriptions in protest, raising hopes that a public outcry could still save the channel.
"We're not panicking," one host said. "The worst is already past us — either it'll stay like this or it'll get better."
Max Seddon is a correspondent for BuzzFeed World based in Berlin. He has reported from Russia, Ukraine, Azerbaijan and across the ex-Soviet Union and Europe. His secure PGP fingerprint is 6642 80FB 4059 E3F7 BEBE 94A5 242A E424 92E0 7B71

Contact Max Seddon at max.seddon@buzzfeed.com.

Got a confidential tip? Submit it here.