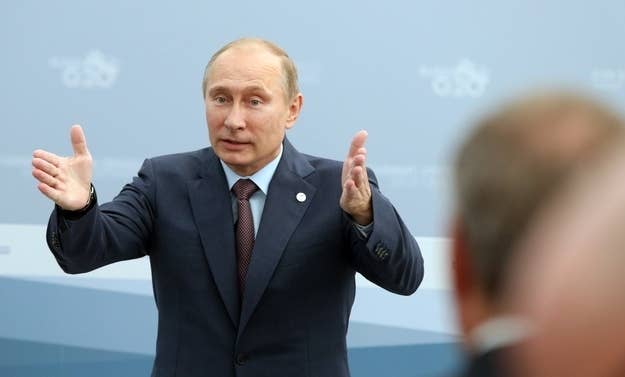 Russian officials are hailing Foreign Minister Sergei Lavrov's plan to put Syria's chemical weapons under international control as a major tactical victory.
Lavrov said Tuesday that Russia and Syria were preparing a "clear, workable plan" to dispose of the weapons and would present them to United Nations Secretary-General Ban Ki-Moon shortly. President Barack Obama said in a series of interviews last night that he was open to the Russian proposal, which has caught the administration's faltering push for Congress to authorize a strike flat-footed.
"If a way to solve the problem diplomatically appears, then that's more preferable for him," Lavrov said of Obama in comments carried by Russian news agencies. "Then Obama added that if a clear, workable mechanism can be created, he's all for it, but he needs specifics," Lavrov said.
Though Lavrov gave the United States partial credit for developing the plan, which Obama discussed with Putin on the sidelines of the Group of 20 economic summit last Friday, leading Russian officials were quick to hail the move as an unabashed triumph.
The plan "knocks the ground out from under Obama's plans for a military strike," wrote parliamentary foreign affairs committee chair Alexei Pushkov
Even though Russia's plan acknowledges that Syria has a chemical weapons stockpile, it continued to deny that President Bashar al-Assad's government authorized an apparent chemical attack in the Damascus suburb of Gouta on Aug. 21, which the U.S. has taken as pretext for a strike. Lavrov's ministry said in a statement Tuesday that it had organized a presentation for the U.N. Human Rights Council insisting that footage of the attack was "falsified in advance" and featuring Syrian witnesses unanimously blaming rebel groups for the attack.
Russian lawmakers spent the first day of Parliament's autumn session backing the plan and preparing a statement in favor of it. "Russia, and we see this, constantly, including from what the president and the foreign minister say, is making a clear stand to solve the situation peacefully," Vladimir Vasiliev, majority leader of the Putin-backed United Russia party, said.
Lawmakers from Russia's three officially sanctioned opposition parties lined up to hail the plan. "Barack Obama's doing the right thing, he decided to wait," ultranationalist firebrand Vladimir Zhirinovsky said.
"It's a very timely initiative, even if after this Congress debates it and authorizes holding aggression, let's call things as they are, then, of course, it'll be on the conscience" of Obama and the U.S., Just Russia leader Sergei Mironov said. "But, I hope, today a chance has appeared for the international community and especially the long-suffering Syria people that no aggression will happen," he added.
Meanwhile, a Russian lawyer filed an appeal for the Investigative Committee, Russia's rough, highly politicized equivalent of the FBI, to begin criminal proceedings against Obama under a Russian law against "preparing to unleash and conduct an aggressive war." Obama would face up to 20 years in a remote Russian prison colony if convicted.
Dismayed that Obama handed Putin the initiative, opposition figure and former chess champion Garry Kasparov slammed the decision in a series of tweets.