UPDATE: 1:20 p.m. ET:
KIEV, Ukraine — The man whose email was used as proof that Ukraine shot down MH17 told BuzzFeed News that he had found the image on a forum and was upset that it had been used so widely on Russian TV.
George Bilt—who said he is an MIT graduate and aviation expert with 26 years experience, but would not provide further biographical details—said that he had come across an earlier report by the Russian Union of Engineers (RUE) blaming a Ukrainian fighter jet for the crash, and thought that it concurred with his own amateur findings. When he saw the picture online, Bilt wrote to Andreyevsky, the "expert" from the broadcast, with a link to the forum where the image was posted, clearly stating that he had found it there.
"I had no knowledge or means of proving and researching if this was an authentic satellite photo or not (it was clearly available online since mid October – not really such a new discovery too)," Bilt said. "RUE seemed to possess such research means and resources. I do not know if this was my mistake in evaluation."
Bilt said that he was shocked to see his email, which he thought that he had written to Andreyevsky in confidence, used on Russian TV as proof of the Kremlin's claims, citing him as a source. "I am quite unhappy that my bona fide informal attempt possibly became a source of yet another battle in a media war," he said. "This was definitely not my intention. I am also not looking for a cheap fame. This tragedy is simply too awful to gain from it.
"I am sorry for all those people I might have indirectly and unintentionally misled or disappointed by this unexpected mess in anyway," Bilt added. "Personally and professionally, I will not continue with this amateurish investigation effort due to the rather insane highly confrontational situation prone to escalation and with the elements of media war.
"Those folks are either desperate or totally unprofessional," he said.
On Friday, Russia's Channel 1 published what it said were satellite photos proving that a Ukrainian government fighter jet shot down Malaysia Airlines Flight 17 in July.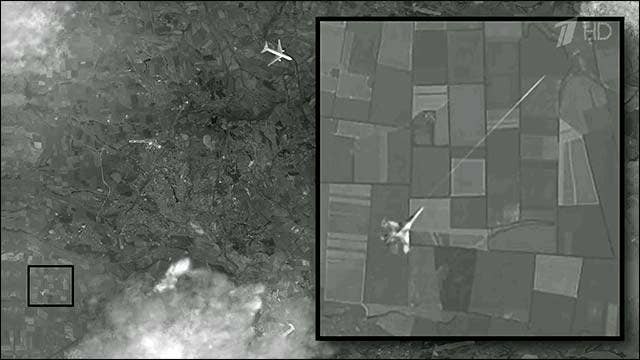 Host Mikhail Leontiev, who is also a vice-president at state oil giant Rosneft, said that the pictures were sent to the Russian Union of Engineers by an MIT graduate named George Bilt.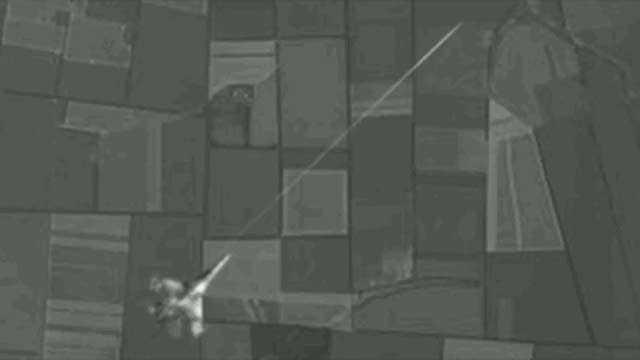 Leontiev quoted an email from Bilt in which he said that the plane "was shot down in a classic jet fighter attack from the rear semi-sphere."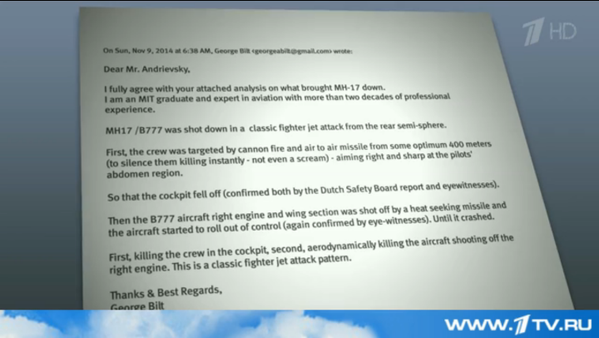 The Kremlin has suggested a Ukrainian Su-25 could have shot down the plane — despite a wealth of evidence rebels shot it down with a Russian-supplied Buk missile system, most likely by mistake.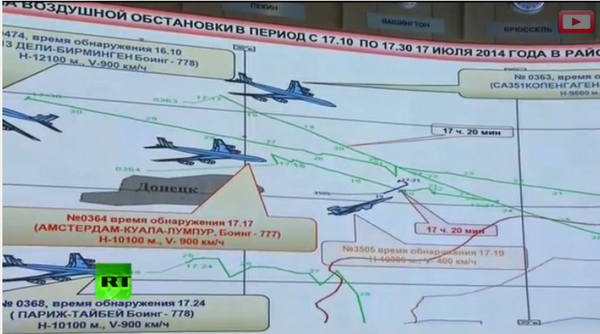 There are numerous inconsistencies with the Russian official versions of the downing of the MH17, even without taking into account the evidence to the contrary.
Russia's defense ministry claimed simultaneously that the Boeing could also have been shot down by a Ukrainian Buk, even though Kiev denies having any active systems within range.
A list of 10, mostly rhetorical questions the ministry prepared for Ukraine included references to tweets by a Spanish air traffic controller in Kiev who quickly turned out not to exist.
Russian bloggers, however, quickly took the claim to pieces. Photographer Rustem Adagamov found that part of the image came from the Google Images cache dating back to August 2012.
Another Russian photographer, Ilya Varlamov, pointed out that the fighter in the picture appeared to be a MiG-29 — and not an Su-27.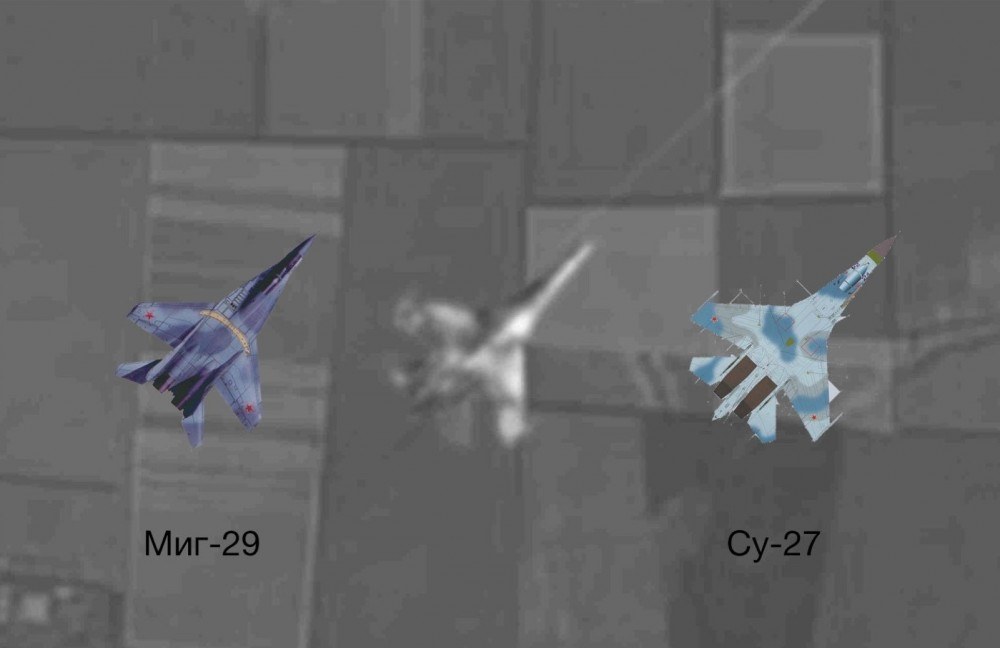 The Boeing in the picture turned out to bear a suspicious resemblance to the first Russian-language Google Images result for "Boeing view from above."
It had the Malaysia Airlines logo in the wrong place.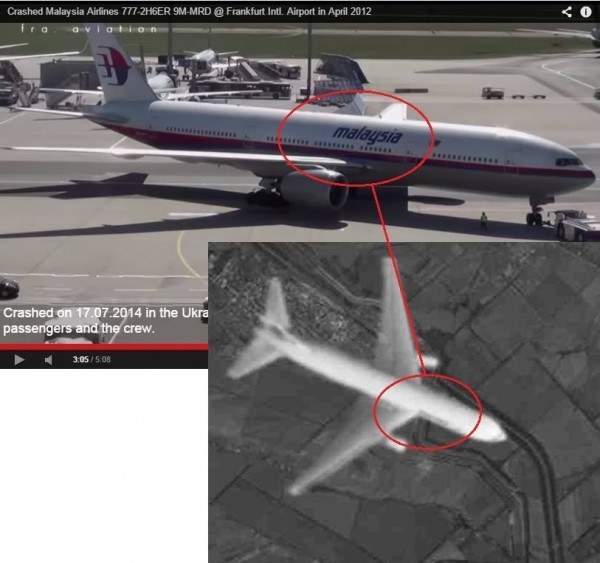 In fact, it just looked like an ordinary Boeing 777 with the company's own logo.
And it was shown at a distance of 31 miles from MH17 — not 250 miles, as Bilt claimed in his email.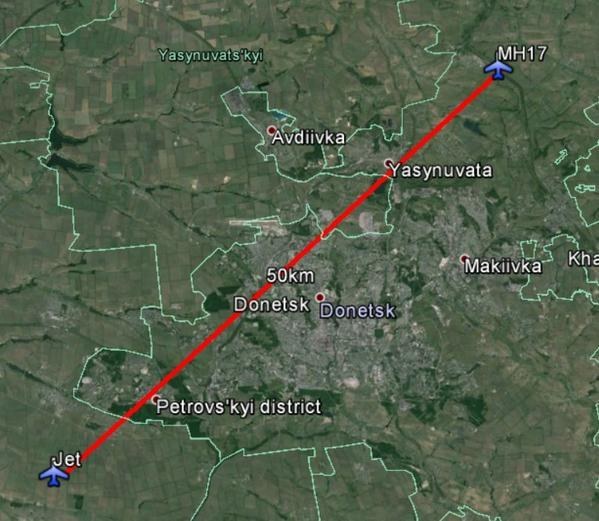 The image also said that the Boeing was shot down at 1:19 a.m. London time — a full 12 hours before the disaster actually happened.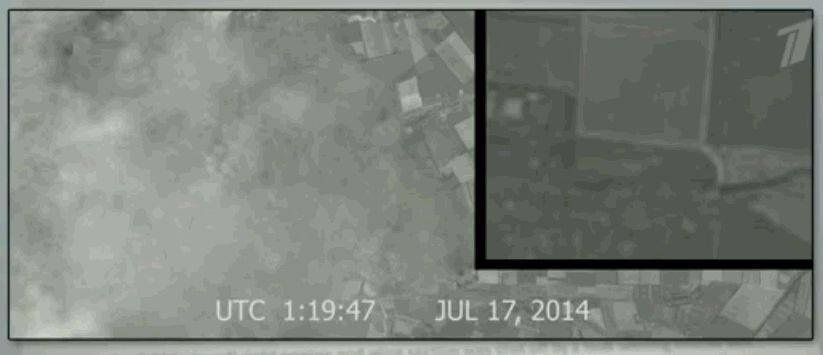 In fact, the photo dates back to at least October, when it appeared on a conspiracy theory forum attributed to "enthusiasts of Rusian [sic] Wikileaks."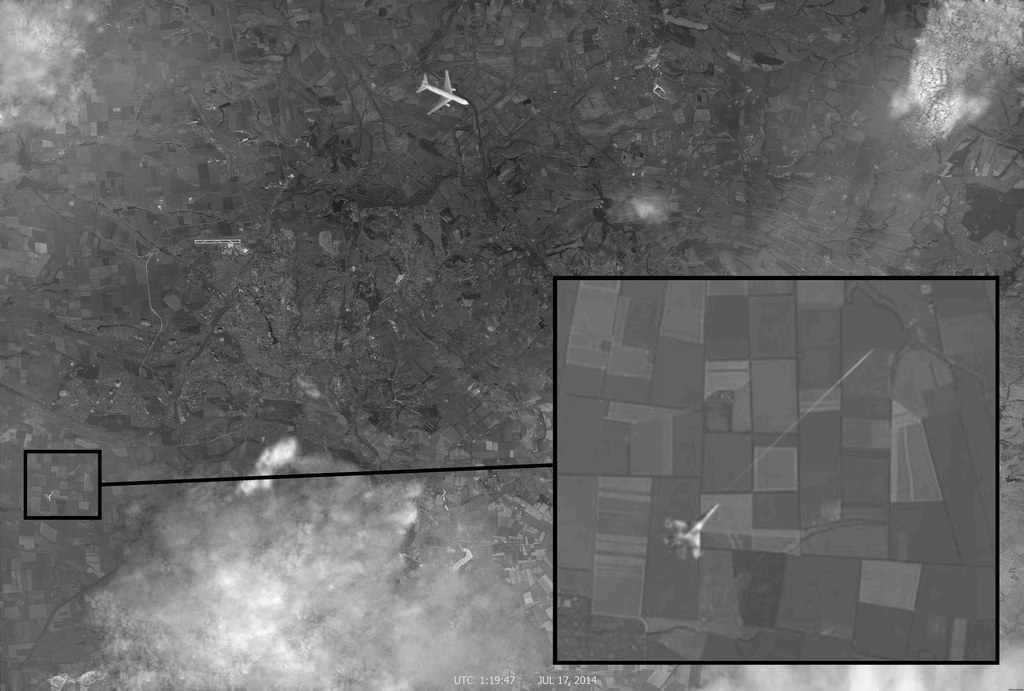 The Russian Union of Engineers turned out not to add up either. Ivan Andreyevsky, the "expert" quoted in the show, does not appear to have an engineering education. A quick analysis of his PhD turned up obvious signs of plagiarism.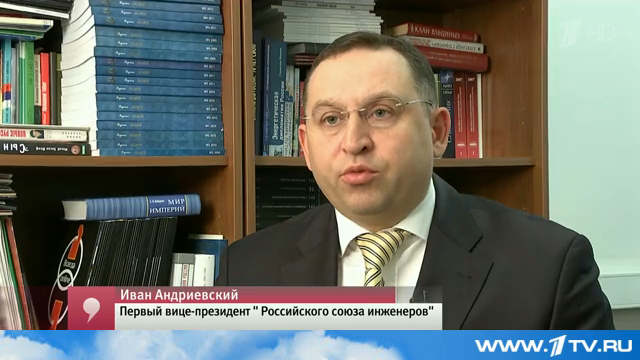 Mockery soon ensued. Several users posted photos of a Ukrainian Nazi flying saucer shooting down the plane.
This picture shows the fighter being flown by Ukrainian World War II nationalist leader Stepan Bandera, reviled in Russian state media for his influence on the Ukrainian far right.
This one shows the plane painted in the style of traditional Ukrainian vyshivanka embroidery.
The scandal comes at an awkward time for Vladimir Putin, who is still making bold-faced denials of Russia's involvement in the Ukraine conflict.
The G20 summit in Australia this weekend has fast dissolved into a debate on what to do about a resurgent Russia.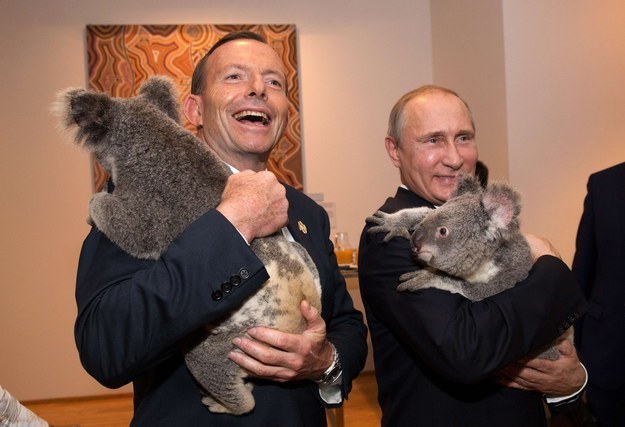 Putin's public comments have been unrepentant. But he'll have to do more to convince the rest of the world that he didn't shoot down MH17. (This caption says "Channel 1 published the real group photo from the G20 summit.")