Russian Troops Swarm Crimea
"This is the red alert, this is not a threat, this is actually a declaration of war to my country," Ukraine's prime minister says.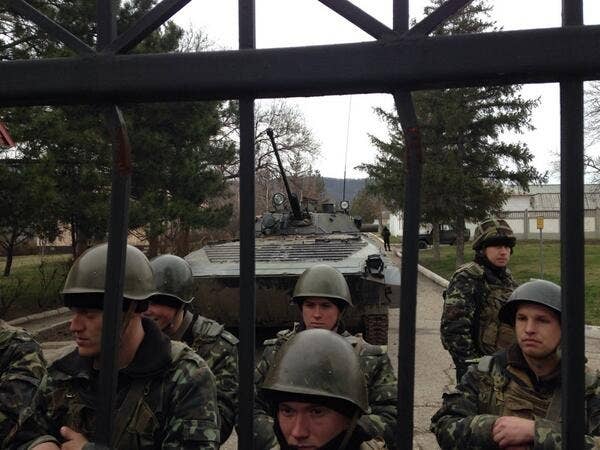 PEREVALNOYE, Ukraine — Ukraine put its armed forces on full combat alert Sunday and accused Russia of "military aggression" in Crimea after thousands of Russian troops swarmed across the peninsula and surrounded Ukrainian military bases demanding their surrender.
Ukrainian Prime Minister Arseny Yatsenyuk said Russia had deployed 6,000 troops to Crimea and "effectively declared war" on Ukraine by seizing the autonomous Russian-speaking province, where many favor closer ties with Moscow and where Russia maintains a naval base. Russian President Vladimir Putin announced his intention Saturday to send troops to Ukraine "until the normalization of the situation" after months of anti-government protests that turned violent overthrew his Ukrainian counterpart, Viktor Yanukovych, a week ago and replaced him with a pro-western government.
"This is the red alert, this is not a threat, this is actually a declaration of war to my country," Yatsenyuk told reporters in English. "If President Putin wants to be the president who started a war between two neighboring and friendly countries, between Ukraine and Russia, he has reached his target within a few inches. We are on the brink of the disaster."
Since armed, masked men seized key infrastructure in Crimea and presided over the appointment of a new, pro-Russian provincial government at gunpoint Thursday, Russia has insisted that the troops spotted around the peninsula were local "self-defense" units protecting against "fascists" sent from Kiev. That line looked increasingly absurd by the end of the week as local media reported Russian troops surrounded Ukrainian military bases throughout Crimea.
At least 150 masked troops in camouflage gear with automatic weapons, 14 trucks, and four jeeps with mounted machine guns massed around a Ukrainian base at Perevalnoye, 33 kilometers outside Simferopol, the provincial capital, on Sunday. The troops refused to identify themselves, but base commander Sergei Storozhenko said after negotiating with their leader that they had come from Russia's Black Sea naval base at Sevastopol.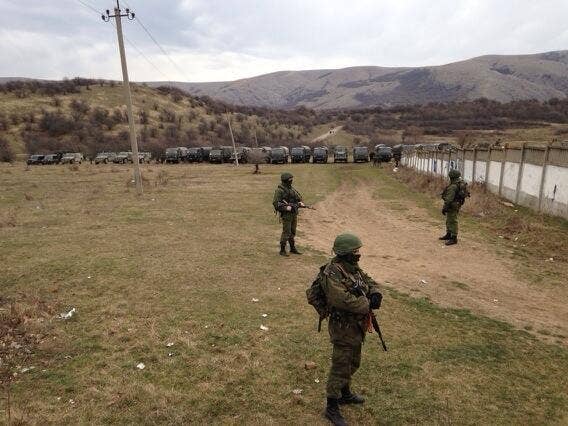 Storozhenko's troops stared down the Russians in front of an infantry fighting vehicle they drove to the gates. The two sides agreed not to point their weapons at each other. Village locals came to watch and take pictures. A few men waving Russian flags chanted "Ros-si-ya! (Russia!)" Priests from the chapel next door chanted prayers as foreign journalists desperately tried to get them in the same shot as the Russian troops. Storozhenko said his men would not surrender to the Russians.
Russia's three main news agencies, two of which are state-controlled, issued several simultaneous reports Sunday that Ukraine's armed forces were resigning en masse and going over to the side of Crimea's new provincial government, which refuses to recognize the new government in Kiev. According to local media, however, several bases around the peninsula had Ukrainian troops making vows to hold steadfast. At one base in Feodosia, on the eastern coast, Ukrainian marines were reportedly surrounded by Russian troops and Cossacks demanding they turn in their weapons.
At a makeshift square outside Crimea's provincial legislature, the armed men that had guarded it for the previous three days were conspicuously absent as members of Crimea's new government spoke at a makeshift rally to about a hundred supporters. Dmitry Polonsky, deputy chair of the Russian Unity party, whose leader Sergei Aksyonov now rules Crimea and which received four percent of the vote in the last local election in 2010, said Ukraine's security services in Crimea had joined the local government and that only 14 troops had so much as acknowledged Kiev's orders. The Kiev government denies this.
Polonsky claimed that Crimea's new government is not attempting to join Russia but return it to an earlier version of its constitution. Aksyonov said Saturday that the government would hold a referendum on "expanding its autonomy" on March 30, which effectively means secession from Ukraine.
Vladimir Konstantinov, chairman of Crimea's parliament, later said at a press conference that Crimea wanted to be recognized as an independent state.
"Nobody in Crimea takes orders from Kiev," Konstantinov said. "This land belongs to the Russian world. Don't ever let anyone forget that."
Max Seddon is a correspondent for BuzzFeed World based in Berlin. He has reported from Russia, Ukraine, Azerbaijan and across the ex-Soviet Union and Europe. His secure PGP fingerprint is 6642 80FB 4059 E3F7 BEBE 94A5 242A E424 92E0 7B71

Contact Max Seddon at max.seddon@buzzfeed.com.

Got a confidential tip? Submit it here.