Russian Soccer Teams Banned From Playing In Crimea
UEFA, soccer's European governing body, ordered three Crimean teams who defected from the Ukrainian league this year to be kicked out of the Russian league.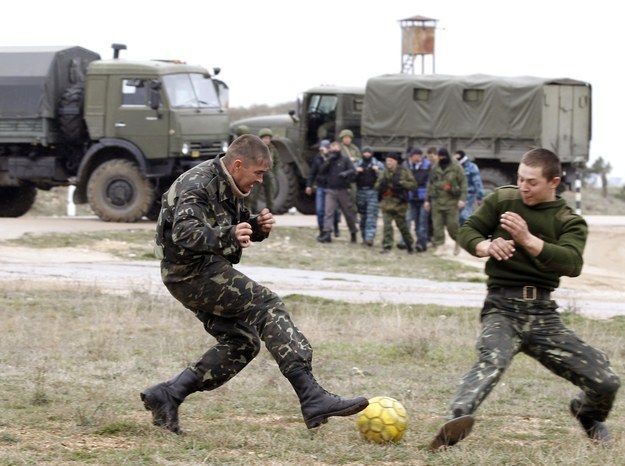 KIEV, Ukraine — Europe's soccer governing body has banned Russia from playing games in Crimea, essentially ruling the peninsula off limits as Moscow prepares to host the next World Cup.
The decision, which came a full nine months after Moscow annexed Crimea from Ukraine, saw three teams — TSK Simferopol, SK ChF of Sevastopol, and Zhemchuzhina Yalta — banned from playing in the Russian second division starting on January 1st. In an attempt to stop the sport dying out entirely on the peninsula while its status remains in dispute, UEFA is giving Crimea "special zone" status.
Russia will not be punished for allowing its teams to play in the league for the first half of this season, said UEFA general secretary Gianni Infantino, the Russian state newswire TASS reported. "We don't want to ban football in Crimea — on the contrary, we want to develop it, we're going to finance it," he said.
Viacheslav Koloskov, honorary president of the Russian soccer federation, told TASS that Moscow would appeal the "incomprehensible" decision to FIFA, the sport's governing body.
Alexander Krasilnikov, the head of the Sevastopol club, said that the decision was "against football and supporters," TASS reported. "UEFA has essentially combined football and politics by enacting sanctions," he said.
Thursday's decision is a rare soccer success for Ukraine and blemish for Russia, whose sporting fates have diverted sharply since the conflict between the countries began. Soccer in Ukraine, which successfully co-hosted Europe's top tournament in 2012 and whose best teams regularly beat major European clubs, is deteriorating fast. Five of the remaining 14 teams in the league cannot play home games because of the conflict in east Ukraine. Wealthy owners are now more reluctant to finance teams, foreign stars are more fearful to come, and fans are more diverted by the war.
Moscow, by contrast, had so far escaped any sporting sanctions for its actions in Ukraine thanks to smart lobbying and a close relationship with FIFA. The soccer elite's closeness to Russia — the country is to host the next World Cup in 2018, a move due in large part to Vladimir Putin's personal efforts — and willingness to flaunt external pressure of any sort led many Ukrainians to fear that it would essentially become the first global organization to recognize Crimea's annexation.
Sepp Blatter, president of world soccer's governing body FIFA. has vowed the issue would not affect Russia's hosting rights and publicly hobnobbed with Putin on multiple occasions since, including at the World Cup final in Brazil in July. A presentation video shown at the unveiling of the next tournament's logo in Russia even featured Crimea as part of a map of the country. (FIFA later apologized.)
When UEFA head Michel Platini visited Kiev for an unannounced visit with Ukraine's president, Petro Poroshenko, last month, fans interpreted it as an attempt to convince Ukraine to effectively hand over the peninsula. Fifty die-hard supporters rushed to congregate outside the presidential administration; Poroshenko walked to meet them and assured them that he would never surrender Crimean football.
Wrestlers, chess players, and volleyball teams from Crimea have all participated in international events on behalf of Russia since the annexation. UEFA, however, had little choice but to ban the Crimean clubs because soccer is the only sport that follows United Nations rules on international recognition. When one country occupies another's territory, matches can only take place with the permission of the occupied country's federation.
Some countries have learned to live with their separatist territories and welcomed teams from there into the national association. Though the small Russian-backed enclave of Transdnistria has been essentially separate from Moldova since the collapse of the Soviet Union, relatively free border controls allow its teams to play in the Moldovan league. Sheriff Tiraspol, Transdnistria's top team, has actually won the Moldovan league every year but one for the last 13 years.
Continuing tensions over Crimea make a compromise like that essentially impossible, Artem Frankov, editor of Ukraine's Football magazine, told BuzzFeed News. "It's legally very obvious," Frankov said. "Ukraine can't recognize it — you might as well shoot yourself — so there's no way to play matches in the Ukrainian league."
It's doubtful that UEFA's decision will have much of an effect on the Crimean teams, which occupy middle-to-low positions in Russia's third tier and have only existed for a few months.
After seeing out the end of the Ukrainian season in May, the teams' owners disbanded the clubs and created new ones under Russian law — free of their predecessors' debts.
Nearly all the players were also forced to go after Ukraine's federation refused to issue transfer certificates that would have enabled them to play for the new Russian teams. Many of them were Ukrainian and refused to acquire Russian citizenship, making them foreigners ineligible to play in the lower division. The teams' lineups now consist almost solely of Russian nationals who have no previous connection to Crimea.
In the end, however, the punishment means little for Russia. According to a leaked transcript of their meeting, league executives who voted to admit the Crimean teams had feared far greater sanctions, stretching to bans from lucrative European club competitions and even perhaps losing World Cup hosting rights. By comparison, Thursday's decision is a slap on the wrist, Frankov, the Ukrainian magazine editor, told BuzzFeed News.
"This is absolutely the most advantageous outcome for FIFA," Frankov said. "There's already too much money and effort invested in the Russian World Cup for them to conflict with Russia."
Max Seddon is a correspondent for BuzzFeed World based in Berlin. He has reported from Russia, Ukraine, Azerbaijan and across the ex-Soviet Union and Europe. His secure PGP fingerprint is 6642 80FB 4059 E3F7 BEBE 94A5 242A E424 92E0 7B71

Contact Max Seddon at max.seddon@buzzfeed.com.

Got a confidential tip? Submit it here.