Russian Opposition Leader Navalny Avoids Jail Time
An appeals court suspended Navalny's five-year sentence for embezzlement, a charge he says the Kremlin concocted to stop his anti-Putin activism.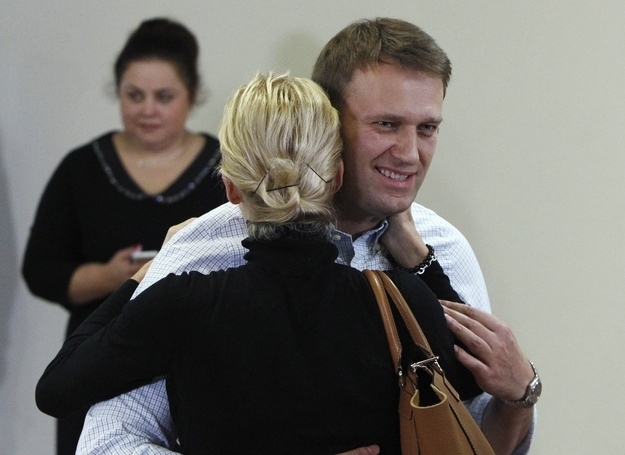 A Russian appeals court upheld an embezzlement conviction against anti-Putin opposition leader Alexey Navalny but suspended his five-year sentence Wednesday on charges he maintains were fabricated and aimed at keeping him from challenging the Kremlin.
A panel of three judges in Kirov provincial court issued a preliminary ruling confirming the conviction but overturning the sentences Navalny received in July for stealing 16 million rubles ($500,000) worth of timber from the province, about 1,000 miles northeast of Moscow, when he was an unpaid advisor to the governor, in 2009. Russia's state legal news agency RAPSI streamed the hearing live.
Navalny's supporters applauded nervously and exhaled in relief as the ruling was read out, evidently surprised after the court rejected all of the defense's motions and reached a decision in hours. A full ruling is to be issued on Friday.
An anti-corruption activist and blogger who rose to national fame during a protest movement against Putin's return to the Kremlin in 2011 and 2012, Navalny is by far the Kremlin's most popular critic and, on the results of the appeal ruling, perhaps too popular to jail. Navalny was led from the courtroom in handcuffs after his initial conviction in July, prompting several thousand people to protest outside the Kremlin in the largest unsanctioned protest in Moscow in years. Russia's general prosecutor's office then unexpectedly appealed the sentence, and he and co-defendant Petr Ofitserov were freed on bail the next morning. The unexpected and bizarre reversal was broadly interpreted as a move to let Navalny run for mayor of Moscow in elections held last month, thus allowing the election to appear competitive and legitimize the Kremlin's candidate.
"We showed that we can have sufficient influence on the authorities," Navalny told journalists after the ruling. Navalny vowed to continue his political activism despite the conviction, adding, "Now they're going to think that if a ridiculous criminal case ends in a suspended sentence, we should be grateful to them for it and forget about it. That's not how it works."
Relying almost solely on crowd-funded donations and volunteers, Navalny placed second with a surprising 27 percent in the mayoral vote, more than triple his poll numbers when he announced his campaign, and one of the highest totals for an anti-Kremlin candidate in a major election since Putin took office. Navalny and his supporters presented the campaign less as an attempt to win the election than a last-ditch push to prove he was too popular to jail. Gazeta.ru, a nominally independent news website whose new editor is close to Putin chief of staff Sergei Ivanov, cited an administration source Monday worrying about the widely believed "risk that he'd come out a ready-made Nelson Mandela" if he were jailed.
During the trial in spring and early summer, the judge in Kirov city court rejected nearly all defense motions, while the prosecution failed to produce any substantial evidence of his and Ofitserov's guilt. Putin said in August that "it seemed strange" that Navalny was sentenced to prison while a third defendant was given a suspended four-and-a-half year sentence under a plea bargain in a special procedure. In Russian law, plea bargains do not contest or discuss the validity of the charges and then can be used against other defendants as proof that a crime took place.
Navalny maintained throughout the trial that the Kremlin had devised the case to stop him running for office under a law, passed last year, barring people with felony convictions from the ballot for life. Russia's constitutional court ruled last week, however, that the law was unconstitutional and demanded the legislature amend it.
Navalny sardonically tweeted throughout his trial and the hearing from his phone, which has a sticker with a picture of Putin and the word "thief."
"Whatever that was, freedom's better than unfreedom," Navalny's campaign manager Leonid Volkov wrote.
"There's a feeling of relief, but actually we just saw another act of political repression," Vladimir Ashurkov, head of Navalny's anti-corruption foundation, wrote.
"Screw your motions, we're not going to play at a fair court here. Moscow said suspended, so it'll be suspended."
Many on Twitter expressed sentiments that "the scariest thing is that a SUSPENDED sentence for INNOCENT people makes people sigh with relief in the new Russia."
Max Seddon is a correspondent for BuzzFeed World based in Berlin. He has reported from Russia, Ukraine, Azerbaijan and across the ex-Soviet Union and Europe. His secure PGP fingerprint is 6642 80FB 4059 E3F7 BEBE 94A5 242A E424 92E0 7B71

Contact Max Seddon at max.seddon@buzzfeed.com.

Got a confidential tip? Submit it here.