Russian Foreign Minister Says No Plans To Invade Eastern Ukraine
How do you define "invade"?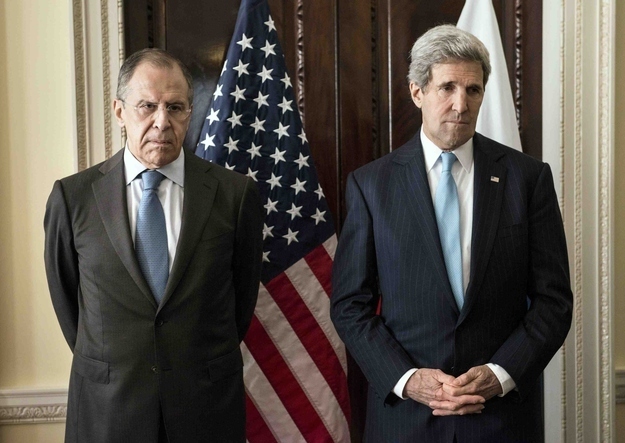 Russian Foreign Minister Sergey Lavrov says Russia has no plans to invade eastern Ukraine, following five-hour talks with Secretary of State John Kerry in London on Friday.
"The Russian Federation does not and cannot have any plans to invade the southeastern regions of Ukraine," Lavrov told reporters. Russia has insisted its actions in Ukraine are not an "invasion."
Fears Russia would send troops to eastern Ukraine rose late Thursday after Russian troops amassed on the border and pro-Russian protesters attacked pro-Kiev demonstrators in the city of Donetsk, leaving at least one person dead. The Russian Foreign Ministry issued a statement Friday claiming that the Ukrainian government was "not in control" of events there and "reserved the right" to protect its "countrymen" in the largely Russian-speaking region.
Lavrov indicated that the diplomatic standoff between Western governments and the Kremlin would continue, however, saying that he and Kerry had "no common vision" on how to resolve the Ukrainian crisis.
Lavrov's remarks suggested Kerry had failed to persuade Russia to abandon its support for a secession referendum set for March 16 in the Crimean peninsula. The U.S., European Union, and Ukraine say the referendum is illegitimate and have threatened Moscow with sanctions if, as expected, Crimea subsequently moves toward joining Russia.
Kerry said Lavrov told him that Russian President Vladimir Putin would make no further decisions on Ukraine until after the referendum. "There will be consequences if Russia does not find a way to change course," Kerry said, describing Russia's seizure of the peninsula and the referendum as a "backdoor annexation."
Putin announced his intention to send troops to Ukraine under the same pretext of protecting Russian speakers on March 1. Russia claims Putin has not yet availed himself of this right and says the 18,000 Russian troops who have swarmed across Crimea in recent weeks are local "self-defense" units. Moscow claims Russian speakers in Crimea and Ukraine's southeast are under threat from "fascists and neo-Nazis" encouraged by the central government in Kiev, but has yet to provide any independently corroborated evidence.
Max Seddon is a correspondent for BuzzFeed World based in Berlin. He has reported from Russia, Ukraine, Azerbaijan and across the ex-Soviet Union and Europe. His secure PGP fingerprint is 6642 80FB 4059 E3F7 BEBE 94A5 242A E424 92E0 7B71

Contact Max Seddon at max.seddon@buzzfeed.com.

Got a confidential tip? Submit it here.