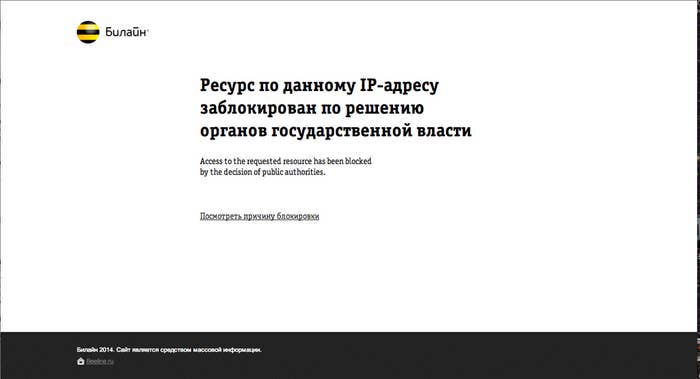 Russia has all but eliminated the free media as it fights an information war against the West over Ukraine, with prosecutors blocking independent websites and other publications making editorial changes under obvious Kremlin pressure.
Russia's general prosecutor's office announced late Thursday that it was blocking the independent news websites Kasparov.ru, run by chess champion and self-exiled opposition figure Garry Kasparov, EJ.ru, and Grani. ru for inciting "illegal activity" and participating in unsanctioned protests. Prosecutors also banned anti-corruption activist Alexey Navalny's blog, by far the country's most popular and a flashpoint for anti-Putin sentiment, on the grounds that posting to it violated the terms of his house arrest, which bars him from using the internet.
"I don't even know if anyone is reading this anymore," read a post on Navalny's blog. The post said Navalny's wife, Yulia Navalnaya, and his Foundation for Fighting Corruption have been running the blog since Navalny's bail was revoked Feb. 28. Numerous Twitter users reported that LiveJournal, the service hosting Navalny's blog, and the Ekho Moskvy radio website, which reposted it, were entirely unavailable on some internet providers, though Russia's internet registry said they had not been banned.
Russia passed a law late last year allowing prosecutors to ban websites that promote "rioting, racial hatred, or extremism" without a court order. The law also covers websites with foreign servers, which will be banned in Russia if their owner ignores a cease and desist letter. According to a list published by internet freedom activists, the only other websites to be banned under the law promote Islamic radicalism or white supremacism.
Russian President Vladimir Putin quickly moved to monopolize television, the majority of Russians' sole source of news, in the early 2000s shortly after he took power, but for years was largely content to allow the country's few dissenters space in print and online. After opposition activists bypassed an effective national media blackout through social and digital media to organize unprecedented demonstrations against him that catapulted Navalny to national fame, however, Russia began making steps to rein in the country's few independent publications and passed a law allowing it to block websites on request.
The political crisis in Ukraine has seen the Kremlin escalate its efforts to assert control over the flow of information, with every major independent publication making surprise masthead changes under obvious political pressure. Thirty-nine employees of Lenta.ru, the country's most popular independent news site, quit en masse Thursday after their owner unexpectedly fired its editor-in-chief. The founder of VK, Russia's wildly popular Facebook clone, was forced out of the company in January by Kremlin-linked investors after pressure over his efforts to resist censoring opposition pages.