Russia Reacts To The Refugee Crisis The Way It Knows Best — Trolling
Russia's foreign ministry said the European Union's "abject helplessness" over the flood of refugees was its just reward for demanding the ouster of Syrian dictator Bashar al-Assad.
As European countries struggle to deal with an unprecedented number of refugees heading mostly for Germany, Russia has indulged in a practice best known by a German word: schadenfreude.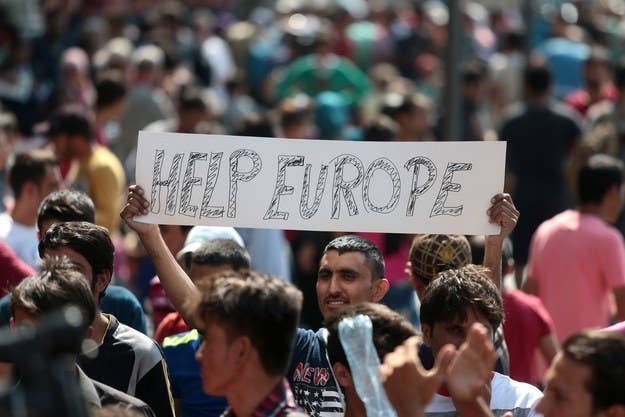 The wave of refugees fleeing the Syrian war has convinced Russia it was right to back dictator Bashar al-Assad and block Western attempts to intervene as the country slid into turmoil, foreign ministry spokesperson Maria Zakharova said on Thursday. "This unprecedented refugee crisis is a direct consequence of the completely irresponsible and thoughtless policy of political regime change in the region," Zakharova told reporters. Zakharova said the European response reflected "abject helplessness" and suggested they take after Russia, which has taken in more than a million refugees from the Ukrainian conflict, according to official statistics.
Ramzan Kadyrov, strongman ruler of Chechnya, a mainly Muslim republic in the Caucasus, took to Instagram to denounce the U.S. and Europe for "enabling tragedies for tens of millions of people" in majority-Muslim countries like Afghanistan and Libya.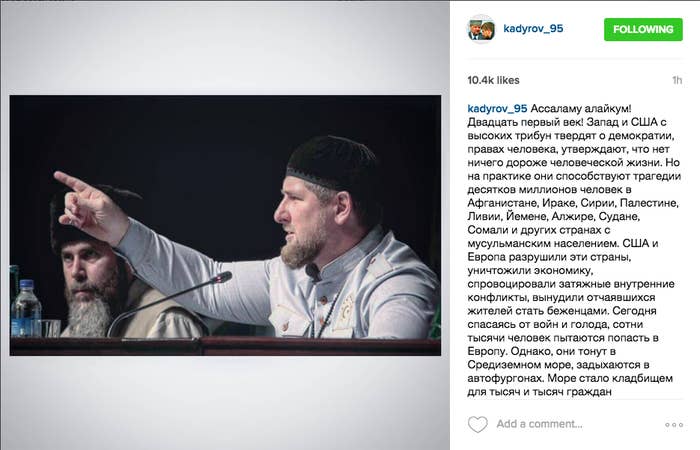 "The U.S. and Europe crushed these countries, destroyed their economy, provoked lengthy internal conflicts, and forced desperate residents to become refugees," wrote Kadyrov, who makes all his public pronouncements on Instagram for reasons nobody has ever quite been able to ascertain. "Today, fleeing wars and starvation, hundreds of thousands of people are trying to reach Europe. However, they are drowning in the Mediterranean Sea and suffocating in trucks," he said.
Beyond the urge to troll the U.S. at every opportunity, Russia has long opposed Western policy in the Middle East, which it blames for inciting radical groups like ISIS. (Elliptically, but unsubtly, officials have also voiced fears it could be a prelude to regime change in Moscow.) President Vladimir Putin opposed NATO action in Kosovo and the U.S. invasion of Iraq, and was critical of the Western bombing campaign in Libya, even though Russia did not formally move to block it in the UN Security Council.
Putin has also expressed sympathy to migrants from mostly Muslim countries, even as he flirts with Russian nationalism and promotes the Russian Orthodox Church. Russian speakers from the Caucasus and Central Asia make up the vast majority of the migrant labor force in Russia, home to the second-largest immigrant population in the world after the U.S. Though they often face discrimination and racially motivated violence, Putin frequently praises Russia's multi-ethnic status, which he sees as a key bulwark against radical nationalism.
Many Russians, however, share the hostile sentiment towards the refugees seen in some parts of Europe.
Alexei Pushkov, chair of the foreign affairs committee in Russia's lower house of parliament, tweeted that "Europe is reaping the fruits of its policy — the export of terrorism and refugees from Syria."
Some figures in the opposition in Russia, where anti-Muslim sentiment is strong after two separatist wars in Chechnya and a decades-long terrorist insurgency waged from neighboring Dagestan, have been less sympathetic. "Those nice Muslims aren't fleeing from Serbia because of war, but for social benefits from refugees from the EU taxpayer," internet pioneer Anton Nossik wrote in a blog post. "When they get them, they'll start building a new Syria for themselves — Islamist ghettos where the local police'll be afraid to show its face. After they get their residence permit they'll start demanding [European governments] build them mosques and madrassas there, let their children go to school in hijabs, or not go to school at all, and to live out their days on benefits."
Eduard Limonov, an ultranationalist punk novelist with his own political party, wrote that he hoped the refugee crisis would destroy Europe, thus allowing Russia to cement its control over Ukraine. "Look at the crowds at the Budapest train station, it looks like Baghdad, like Cairo, it's not Budapest! It's an invasion! Russian Ivans on tanks in Budapest are probably in demand now, I think elderly Hungarians miss those Ivans already," he said, referring to the Soviet invasion of the country to crush a democratic uprising in 1956.
Max Seddon is a correspondent for BuzzFeed World based in Berlin. He has reported from Russia, Ukraine, Azerbaijan and across the ex-Soviet Union and Europe. His secure PGP fingerprint is 6642 80FB 4059 E3F7 BEBE 94A5 242A E424 92E0 7B71

Contact Max Seddon at max.seddon@buzzfeed.com.

Got a confidential tip? Submit it here.