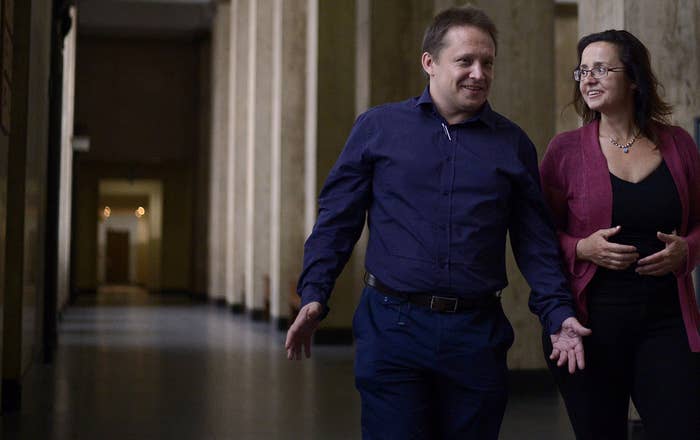 Nikolai Koblyakov left Moscow for Paris in 2010 when he was called as a witness in a murky fraud investigation, mindful of an adage about Russia's justice system: "You enter as a witness, and leave a suspect." On July 6, when police suddenly came to arrest him, he learned that the long arm of the Russian law has reach far beyond its borders.
Koblyakov, who faces an extradition hearing Wednesday on charges he says are groundless and politically motivated, is among a number of anti-Putin activists to become targets of international criminal warrants in recent years. Rights campaigners say Russia has learned to manipulate the levers of Western justice to put pressure on dissidents abroad — often with Western governments' unwitting help.
Fair Trials, a London-based organization that pushes for reform of Interpol's global arrest warrant, known as a "red notice," and has highlighted Koblyakov's case, says Russia is one of the worst abusers of the system. Several activists have faced charges of "hooliganism" — the statute used to convict members of the punk band Pussy Riot for a protest in a church — or "economic crimes" like those Koblyakov is accused of, then spent months in legal limbo fighting extradition. The practice has further clouded Russia's international role in recent years as the Kremlin clamps down on dissent while breaking off cooperation with Western institutions.
"It's like urinating in the kiddie swimming pool," Bill Browder, a British investor who became the target of a "red notice" when he campaigned for sanctions against Russian officials, told BuzzFeed News in 2013 after a court rejected the warrant.
The extradition proceedings became a nightmare for Koblyakov, 42, a mild-mannered owner of a company that builds homes for the elderly, over his involvement in Russie-Libertés, a group of expatriate Russians opposed to Putin's return to the presidency. Shortly after he set up the group in 2012, Russia filed charges against him in a fraud case dating back to 2004, but then kept them quiet. Koblyakov had no idea of the proceedings against him until 2014, when he received an invitation to travel to Bulgaria to share his experience building homes for the elderly. "I was flattered, so I went," he said.
Though Koblyakov had traveled to several other EU countries in the preceding months without incident, he was arrested immediately upon arriving in Bulgaria on July 29 last year, based on an Interpol warrant requested by Russia the day before. A court in Sofia released Kobylakov, but ordered him to remain in Bulgaria until October, when it dismissed the charges. "It was still not clear why he was wanted," the court ruled.
Koblyakov has his own suspicions. Stankimport, the company at the center of the fraud allegations against him, is linked to Rostec, Russia's giant defense technology conglomerate. Rostec is run by Sergei Chemezov, a friend of Putin's from their KGB days, who had recently been placed on U.S. and EU sanctions lists over Russia's involvement in Ukraine. Koblyakov's group had campaigned for Western measures against Russian corruption in France's National Assembly just weeks earlier.
Bulgaria, a member of the EU and NATO, is heavily dependent on Russian energy supplies, and retains many strong links to Moscow dating back to the communist era. The country has attempted to maintain its relations with Russia despite its support for the EU sanctions.
The day after Koblyakov was released, Russia began pressuring France to extradite him under a separate bilateral treaty. Even though the Bulgarian court threw out his case, eventually prompting Interpol to revoke his arrest warrant, Russian authorities filed essentially the same charges, his lawyer Kamila Mekhtiyeva said. "It's the same charges," she said, "but there's no way to prove if they are true or false because nobody has jurisdiction over Russia."
Koblyakov believes the charges against him are an attempt to scare part-time activists among Russians who live abroad. "For some people, it's their life," he said. "But people like me have the option to be quiet and mind our own business."
But Koblyakov says the extradition attempts have had the opposite effect on him. Since returning to France, he helped organize the translation of the murdered opposition leader Boris Nemtsov's report on the war in Ukraine, which Russie-Libertés presented at the National Assembly this year. "I had to get more involved in politics because I was getting so much support," he said.
Correction
Stankimport, the company Koblyakov is accused of defrauding, is part of Rostec, the giant state conglomerate. Galaxy, the company that invited him to Bulgaria, is not.