Russia Puts Opposition Leader Under House Arrest And Offline
Alexey Navalny is barred from communicating with the outside world for two months.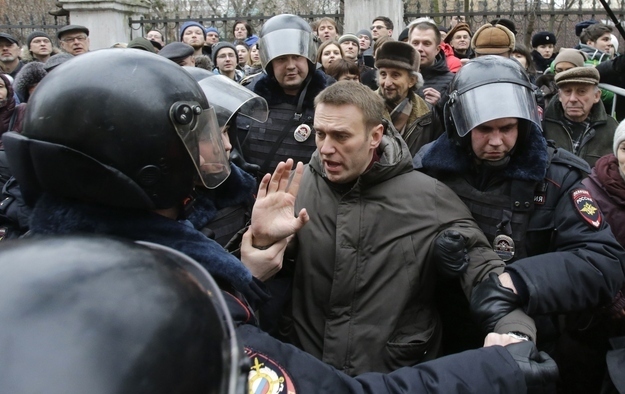 KIEV, Ukraine — A court in Moscow put Russian opposition leader Alexey Navalny under house arrest for two months Friday, effectively barring him from contact with the outside world in what he says is revenge for his campaigns against President Vladimir Putin.
Moscow's Basmanny district court found Navalny had violated his bail conditions, which barred him from leaving Moscow, and remanded him under house arrest on embezzlement charges until April 28, Russian media reported. During that time, Navalny will be forced to remain in what is essentially a vacuum, without the right to use the telephone, the internet, comment to the media, leave his house without investigators' permission, or speak to anyone bar his lawyers and close relatives.
Keeping Navalny offline seems to signal a hard tack in the Kremlin's approach to dissent after the Sochi Olympics after months of apparent conciliation. Though the Kremlin actively courts positive Western publicity, it has publicly fumed over criticism of its human rights record and preparations for Sochi, which Putin said was "anti-Russia propaganda" motivated by "the competitive struggle in international politics, maybe even geopolitics" earlier this week.
The Kremlin has also appeared eager to assert itself at home following the overthrowal of President Viktor Yanukovych in neighboring Ukraine last week. State television covering the trial of eight anti-Putin protesters repeatedly compared scuffles at a May 2012 demonstration with the violence in Kiev. Navalny was among about 400 arrested for protesting their conviction on Monday and sentenced to seven days in jail. Investigators said that arrest, an earlier conviction, and several allegedly unauthorized visits to suburban Moscow were grounds for revoking bail.
Losing Internet access is a major blow for Navalny, who bypassed an effective media blackout to win nationwide fame through a blog and Twitter account exposing staggering fraud in state-run corporations. "If investigators don't like me going to protests, then let them ban it. But they want to ban me from using the internet too - why?" Navalny said in court, according to his press secretary.
A charismatic lawyer and anti-corruption activist with a nationalist bent, Navalny, 36, has been embroiled in legal troubles since emerging as the leader of a mass protest movement against Putin's return to the presidency in late 2011. The embezzlement charges, which allege he and his brother Oleg forced the Yves Rocher cosmetics company's Russian branch to sign an uncompetitive contract which lost the firm 26 million rubles (about $725,000). Navalny is also under investigation in four other cases, all of which he says are revenge for his anti-Putin activism.
Under bail conditions for those cases, Navalny has not left Moscow in two years except to travel northwest to the city of Kirov for a separate embezzlement charge. A court there sentenced him to five years in prison last July on separate embezzlement charges, but a higher court held an extraordinary session the next morning to release him on bail pending appeal. Navalny was allowed to run for mayor of Moscow, where he placed an unexpected second, and his sentence was suspended in October.
The extraordinary shift reflected diverging views on how to deal with him: Moscow mayor Sergei Sobyanin later admitted asking Putin to let Navalny run in the election. That political schizophrenia in the Kremlin still seems to exist. Russia's Justice Ministry registered Navalny's political party earlier Friday after nearly two years of stalling and refusal.
Russian legal practice, where courts rarely contest investigators' accusations and often deliver apparently politically motivated verdicts, means Navalny is likely to stay under house arrest while the case remains open until July 17. The presiding judge in Thursday's hearing, Artur Karpov, was a major villain in several of the anti-corruption investigations that brought Navalny prominence.
A spokesperson for Navalny told BuzzFeed by phone that he would appeal.
Max Seddon is a correspondent for BuzzFeed World based in Berlin. He has reported from Russia, Ukraine, Azerbaijan and across the ex-Soviet Union and Europe. His secure PGP fingerprint is 6642 80FB 4059 E3F7 BEBE 94A5 242A E424 92E0 7B71

Contact Max Seddon at max.seddon@buzzfeed.com.

Got a confidential tip? Submit it here.