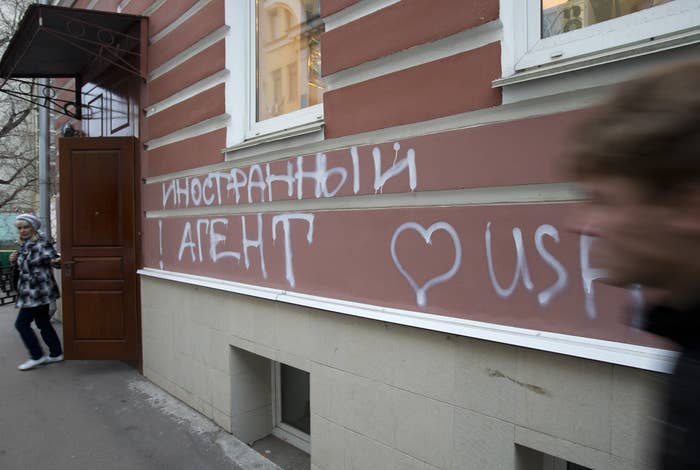 A recent spate of anti-American sentiment in Russia has seen a legal NGO labeled a "foreign agent" — a term heavily implying espionage — after one of its leaders gave lectures in the U.S.
The Russian Justice Ministry deemed Sutyazhnik, a civil litigation NGO, a "foreign agent" in May on the grounds that Anton Burkov, one of its directors, spoke at events at Harvard, the University of Massachusetts in Boston, and the University of Wisconsin last year. A court in Ekaterinburg, a city in the Ural mountains in central Russia, fined Sutyazhnik and a sister organization 300,000 rubles (about $5,300) each earlier this month for failing to register as a foreign agent.
Burkov told BuzzFeed News that the decision had nothing to do with Sutyazhnik's foreign financing, which is limited to a 2013 grant from the British consulate in Ekaterinburg for an unrelated training program for bloggers. "They care that the money has come in but they don't care where it is spent," he said. "They're committing a genocide of NGOs through bankruptcy."
Putin and senior Russian officials have repeatedly said that Washington is using NGOs in Russia to foment regime change, a charge U.S. officials deny. Last week, Russian lawmakers recommended the country blacklist 12 foreign NGOs, ranging from American heavyweights like the Open Society and MacArthur foundation to obscure Polish groups, under a new law banning "undesirable organizations."
The recent campaign against NGOs has been accompanied by a strong whiff of anti-Americanism. Last month, Russian state TV ran a documentary exposing what it said were U.S. attempts to use NGOs to overthrow the Russian government. LGBT activist Alexander Ermoshkin told BuzzFeed News he fled to the U.S. after the documentary team set him up with people it claimed were intelligence agents recruiting him to organize gay rights protests in Russia's remote far east. A university in Nizhny Novgorod, a rust belt city on the Volga River, fired an American professor, Kendrick White, after the documentary accused him of seeking to whisk Russia's top scientific talent away to the U.S. The university awkwardly reinstated him a week later.
Burkov said his talks in the U.S. focused on Sutyazhnik's experience filing strategic litigation, which seeks to change laws through individual cases where the plaintiff's rights have been violated. The organization has challenged Russian legal practice on restoring lost driver's licenses, the donation of organs without relative's consent, and election monitoring laws. Russian legal decisions, however, cite Sutyazhnik's seminars and lectures about their legal cases, rather than the cases themselves, as grounds for calling them "foreign agents."
Russia has targeted dozens of NGOs under its "foreign agent" law, passed as part of a broader crackdown on dissent when Vladimir Putin returned to the Kremlin in 2012. The vague wording of the law gives authorities carte blanche to go after any organization that receives foreign funding and is considered guilty of "political activity." The label has been applied to 78 organizations in total, ranging from election monitors to a conservation group for endangered cranes in Russia's far east. Last week, two prominent organizations shut down rather than work under the "foreign agent" label, which carries strong associations with espionage.
Burkov said Sutyazhnik and its sister organization, the Alliance for Human Rights, would crowdfund the sum of the fine and attempt to carry on. "We have people whose cases we've been working on for five, ten years — we can't just leave them because they've called us an agent," he said.