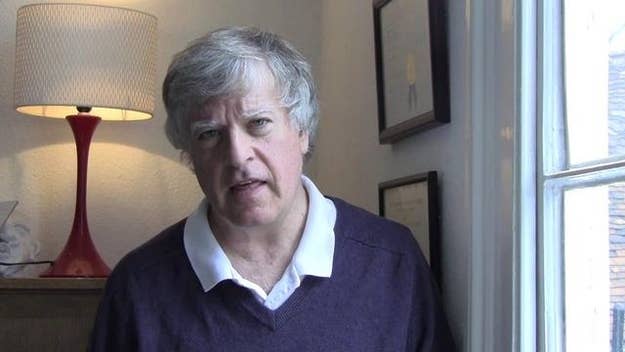 NEW YORK — Russia has declared Radio Free Europe journalist David Satter persona non grata, making him the first American reporter to be banned from the country since the collapse of the Soviet Union in 1991.
A veteran Moscow correspondent who has written several books on Russia and lived and traveled there extensively since 1969, Satter told BuzzFeed Monday that a Russian consular official said that "the competent organs" had decided his presence was "undesirable" and denied him entry on Dec. 26. When the U.S. Embassy in Moscow filed a note of protest, the Russian foreign ministry declined to discuss the details of his expulsion, citing Russian law, Satter said.
The Russian foreign ministry issued a statement in response to press reports in order to explain Satter's expulsion, saying he had failed to follow proper visa and migration rules. It said in late November a court had convicted him of overstaying his visa and ordered him to leave the country, adding a five year ban. The statement said 500,000 foreign citizens were currently denied entry to Russia for between three and ten years.
Satter said he received a two-day visa on Nov. 20 that he was supposed to convert to a long-term visa at a migration office when he arrived, but the ministry did not give him the requisite documents to do so until the following week. Despite official assurances that his new documents would be backdated, he was found guilty of overstaying his visa and then expelled. After his expulsion Satter, who was by then in Ukraine, was repeatedly told a new visa had been approved, but embassy officials in Kiev could not find the paperwork.
Though Russia's accreditation process for foreign journalists is labyrinthine and slow, few reporters have actually been expelled from the country since the collapse of the Soviet Union. Satter is the first American journalist to be banned from Russia in modern times.
Those journalists previously refused visas have claimed to have angered security services. Dutch journalists Rob Hornstra and Arnold Van Bruggen, the authors of a long-term multimedia project about the Winter Olympics in Sochi next month, were refused new visas last September under similar circumstances. Guardian reporter Luke Harding, a British citizen, was denied re-entry to Russia in February 2011 after what he said was a harassment campaign against him by security officials unhappy with his reporting. Following a public outcry, Russia offered Harding a new temporary visa two days later, which he declined. Photographer Mari Bastashevski, a Danish citizen, claims she was expelled a year earlier for her reporting from the volatile North Caucasus region.
Satter has accused the FSB, the KGB's successor agency, of killing hundreds in bombing attacks as part of a conspiracy to bring Putin to power in 1999, but denied to speculate on why Russia had expelled him. He is sending his son to Moscow to clear out his apartment.
Russia has made concerted efforts to clean up its public image in recent weeks in an apparent attempt to ward off bad publicity before the Winter Olympics in Sochi next month. President Vladimir Putin pardoned former oil magnate Mikhail Khodorkovsky, an arch foe who was Russia's richest man before he was jailed in 2003, in December. Putin also issued an amnesty that freed other prisoners who had attracted international criticism, including two members of the feminist punk group Pussy Riot and the "Arctic 30" environmental activists from Greenpeace.
Satter's expulsion is likely to strain already testy relations between the White House and the Kremlin ahead of the Olympics, which Putin has made a key personal project. President Barack Obama has relied on Putin for cooperation over the Syrian crisis and Iranian nuclear negotiations, but delivered him a major snub last month when he announced he would send a low-level delegation including three publicly gay people to Sochi in his stead. Obama's no-show was seen as a rebuke to Putin over controversial legislation banning "gay propaganda."
Satter, who says he was informally placed on a Soviet visa blacklist during the 1980s and then readmitted during perestroika, took up a formal advisory position at Radio Free Europe's troubled Moscow bureau in September and moved to Moscow full-time. Satter intended to refocus the bureau around "investigative journalism that focused on historical events" in order to "try to understand the sources of Russia's problems," he told BuzzFeed.
"Russia is a country that's buried its history. It did it during the Soviet period and it's done that in the post-Soviet period," he said. "Only by facing the truth about the past can Russia create the basis for a better future."
The Kremlin has been skeptical at best towards investigative journalism under Putin. One of his first major moves after becoming president in 2000 was to bring independent television under state control. Most independent news outlets are now owned by Kremlin-friendly magnates.