Russia Drops Piracy Charges Against Greenpeace Activists, Replaces Them With "Hooliganism"
The "Arctic 30" now face a maximum sentence of seven years, instead of 15.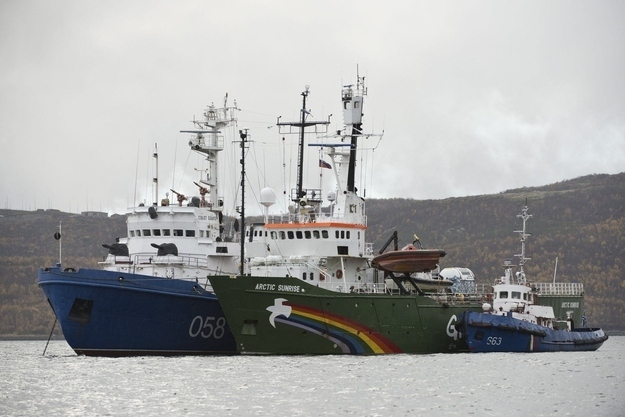 Russia has dropped piracy charges against 30 environmental activists, including several foreigners, arrested last month for attempting to scale an Arctic drilling platform and filed new ones for "hooliganism."
Investigative Committee spokesman Vladimir Markin said in a statement Wednesday that the activists would now be charged with hooliganism, which carries a maximum seven-year sentence. The charges are filed under a different part of the statute used to convict three members of Pussy Riot last year and are directed against organized "violations of social order." Markin added that some of the activists may also be charged with attacking law enforcement, which carries a maximum sentence of 10 years.
Russian coast guard officials arrested 28 activists from Greenpeace and two journalists accompanying them on the Dutch-flagged ship Arctic Sunrise in September when they tried to protest against the Prirazlomnaya drilling platform operated by state-run energy giant Gazprom. All 30 are being held without bail for two months in the city of Murmansk in Russia's far north while a criminal investigation is conducted.
The activists were partly to blame for the incorrect charges, Markin said, because they refused to give evidence against themselves. This, he added, "gives [investigators] every cause to check all possible versions of what happened meticulously, including seizing the platform for their own benefit, terrorist motives, illegal scientific activist, and espionage."
Greenpeace Arctic Russia head Vladimir Chuprov said in a statement that the activists "are no more hooligans than they were pirates. This is still a wildly disproportionate charge that carries up to seven years in jail. It represents nothing less than an assault on the very principle of peaceful protest."
Officials and activists suggested repeatedly in recent weeks that the piracy charges would not go through. After the activists' arrest sparked an international outcry, Russian President Vladimir Putin said that the activists were not pirates, but did intend to seize the platform. Russia pulled out of international court hearings filed by the Dutch government at a United Nations tribunal in Hamburg, Germany, earlier Wednesday, explaining that it had opted out of the U.N. Law of the Sea procedures in 1997 because it felt they infringed on the country's sovereignty.
On Tuesday, Mikhail Anshakov, chair of Russia's Consumer Protection Society, posted extracts from a 2009 decision in Russia's arbitration court which said that the platform was a "stationary construction." Mikhail Fedotov, chair of Russia's presidential human rights council, said earlier this month that the activists could not be charged with piracy because the Prirazlomnaya platform is not a ship. "Might as well have charged them with attempted gang rape of an oil platform," he added.
Max Seddon is a correspondent for BuzzFeed World based in Berlin. He has reported from Russia, Ukraine, Azerbaijan and across the ex-Soviet Union and Europe. His secure PGP fingerprint is 6642 80FB 4059 E3F7 BEBE 94A5 242A E424 92E0 7B71

Contact Max Seddon at max.seddon@buzzfeed.com.

Got a confidential tip? Submit it here.