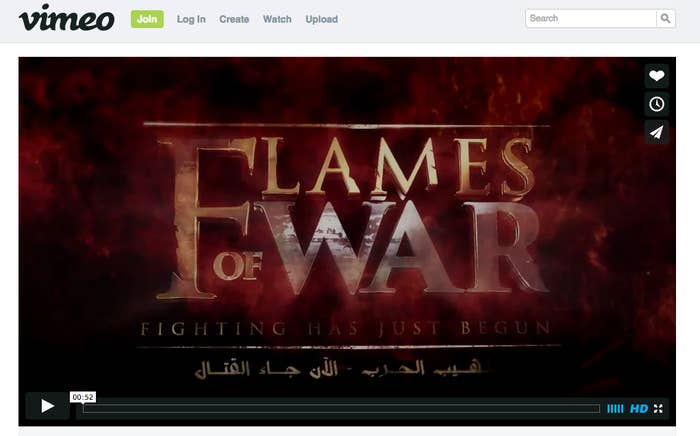 KIEV, Ukraine — Russia banned the high-definition video hosting service Vimeo on Monday after it failed to delete an ISIS propaganda video that violates the country's laws against "extremism."
Roskomnadzor, Russia's communications agency, wrote on Facebook that it had ordered internet providers in Russia to block Vimeo on Monday after the site ignored a request to delete Flames of War, a 55-minute film ISIS released in September. Russian prosecutors added the video — a slickly produced film that mixes in battle footage with clips of Barack Obama and George W. Bush while a man narrates in an American accent — to a list of domains banned under Russia's provisions against "extremism," the agency added.
Under amendments to a law passed late last year, prosecutors have discretion to ban any online material they deem extremist without a court order. The law is ostensibly targeted against neo-Nazis and radical Islamist groups but has been used to ban everything from Scientologists to South Park. Websites that do not remove offending materials on request are automatically banned in their entirety.
Officials have banned 512 websites since the amendments came into effect in February — many of them belonging to opposition groups that organized protest against Russia's military action in Ukraine, to antizapret.info, a website which keeps an unofficial tally of the blacklisted sites. Courts have banned a further 2,521 "extremist materials" since the law was passed in 2002, according to the justice ministry's website.
A spokesperson for Vimeo told BuzzFeed News that the company had missed Roskomnadzor's request due to the Thanksgiving holiday and removed the video on Monday. "It is Vimeo's long-standing policy not to allow videos that promote terrorism and we will remove such videos upon notice," the spokesperson said. "As of today, we have removed the video at issue and requested that the Russian government restore access to Vimeo." Roskomnadzor wrote in comments on Russian Facebook clone VK that it would remove Vimeo from its list of banned domains.
Vimeo's relatively long load times and high bandwidth have made it more of a destination for documentary filmmakers and music video directors than ISIS propagandists, whose work is usually low-definition and crudely slapped together. The film could no longer be accessed by Monday evening Russia time, though other ISIS-related materials were still available, including a trailer for Flames of War.