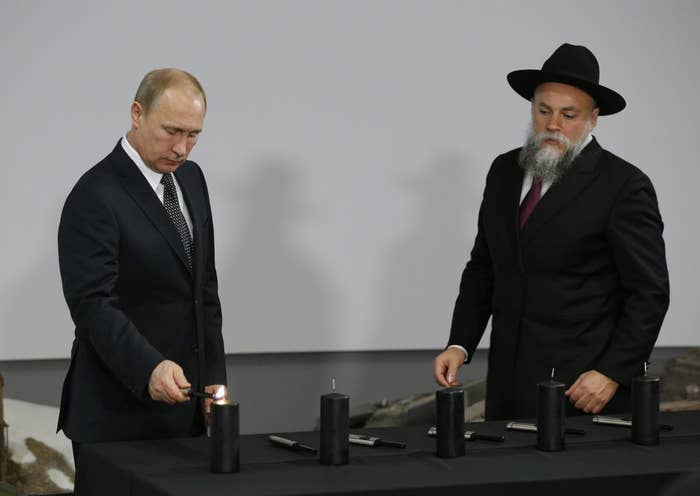 Godwin's Law holds that anyone who tries to advance an argument by comparing their opponent to Hitler automatically loses the discussion. The leaders of Russia and Ukraine tested the adage egregiously on Tuesday, using the 70th anniversary of the liberation of the Auschwitz-Birkenau concentration camp to trade barbs over the simmering conflict between them.
Russian President Vladimir Putin, who claims Kiev's pro-Western government is dominated by "fascist" elements, made a special point of equating Ukrainians with Nazis when he spoke at Moscow's Jewish Museum.
"Historical facts are incontrovertible," Putin said, according to a Kremlin transcript. Ukrainian nationalists, "Hitler's accomplices, participated in the destruction of the Jewish people, in the destruction of the Jews of Lviv, Odessa, Kiev, and other Ukrainian population centers," Putin added, referring to the Ukrainian Insurgent Army and its political leader, Stepan Bandera.
A controversial figure to this day, Bandera was a Ukrainian nationalist who fought the Nazis during World War II but later collaborated with them in an attempt to save Western Ukraine from Soviet rule. Bandera's troops took part in massacres of Russians, Poles, and Jews, and some went on to join the SS.
Reviled in Moscow today and viewed dimly by many American scholars, Bandera remains a popular figure in Western Ukraine and among the relatively small but prominent nationalist groups that helped overthrow a pro-Russian president last year. Putin and Russia's state propaganda machine have made Bandera a focal point of their rhetoric against Ukraine's armed forces, which include volunteer battalions with significant neo-Nazi elements.
"We all know well how dangerous and destructive are double standards and indifference to the fate of others," Putin said. "Like, for example, in the case of the tragedy today in southeastern Ukraine, where the peaceful population have been shot in cold blood for several months on end."
Tensions over Ukraine kept Putin from the main Auschwitz commemoration in Poland, even though he played a prominent role at the 60th anniversary in 2005. Warsaw — one of Ukraine's most vocal supporters in the crisis — conspicuously failed to send the Kremlin an invitation, which Moscow interpreted as a snub.
Poland's foreign minister, Grzegorz Schetyna, angered Russia further last week when he claimed that Ukrainian soldiers, and not the multi-ethnic but mostly Russian Red Army, liberated the death camp. Russian state TV called the ceremony, attended by Russian presidential administration chief Sergei Ivanov, an "anti-Russian PR stunt" and interviewed Holocaust survivors who thanked Russia for saving them and wished that Putin had come.
As the controversy stewed, Ukrainian officials were only keen to join in. Prime Minister Arseniy Yatsenyuk claimed that the Soviet Union invaded Germany and Ukraine. A senior presidential aide endorsed Schetyna's remarks.
Though Polish leaders sought to play down the spat in the lead-up to the ceremony, Ukrainian President Petro Poroshenko was in a pugnacious mood when he came to Auschwitz.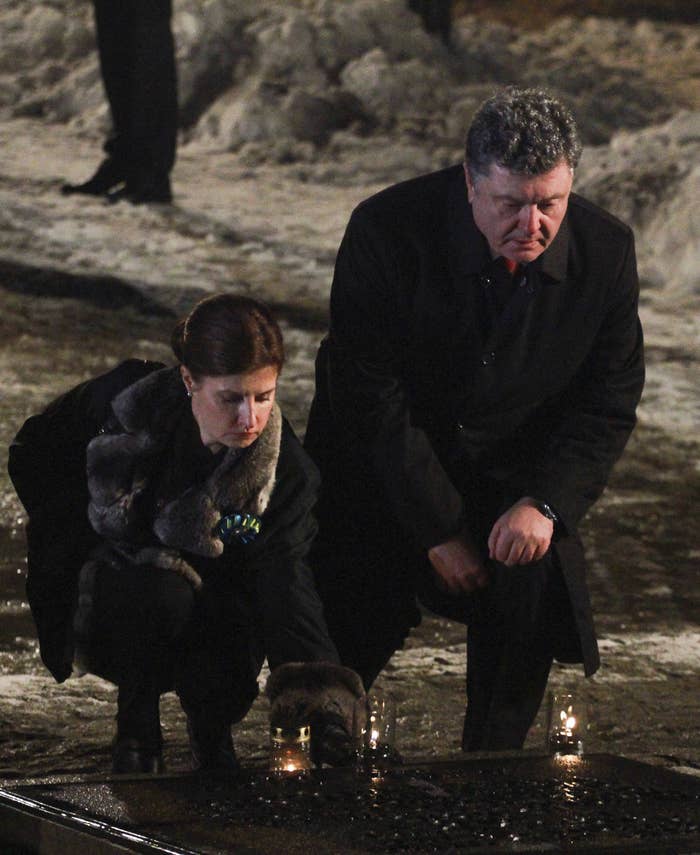 "Unfortunately, my country has come into the 70th year of the victory over Nazism, in which Ukrainians made a colossal input," Poroshenko said in a statement, "under conditions of Russian aggression and flagrant violations of international law.
"Today," Poroshenko continued. "the sons and daughters of those who defended Ukraine more than seven decades ago have left their homes to defend their relatives, loved ones, and the whole Motherland from the acts of the aggressor."
It's not entirely clear which ancestors Poroshenko was talking about: the Ukrainian nationalists who fought with the Nazis against the Soviet Union, or the numerous Ukrainians who fought in the Red Army against them.
But with Moscow and Kiev at war in all but name, it barely makes a difference.
At the ceremony at the Jewish museum, Putin produced an elderly Russian veteran of the Red Army who had taken part in the liberation of Auschwitz and Braindel Fleishman, a Russian Jewish woman who survived the camp as a child. "Thanks to Russia, I exist," she said, as she proudly showed off the youngest of her 99 great-grandchildren, according to the Moskovsky Komsomolets tabloid. "This is my revenge!"