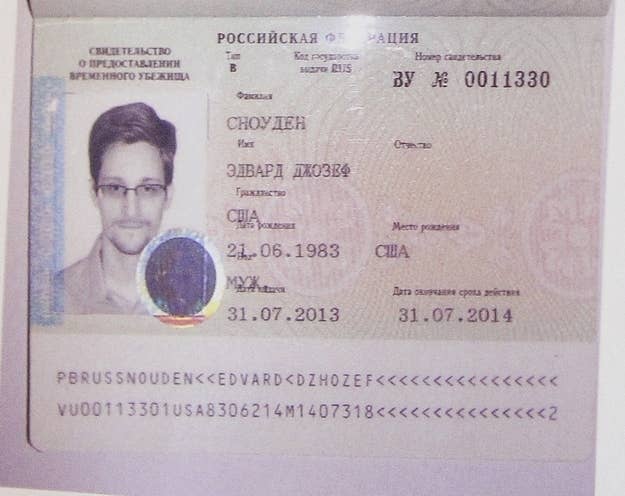 The respected Russian newspaper Kommersant is reporting that National Security Agency leaker Edward Snowden approached the Kremlin for support and spent a few days in the Russian consulate in Hong Kong before flying to Moscow in June.
Russia hoped to be rid of the whistle-blower a day later until the United States essentially blocked him from leaving Russia by threatening Cuba and other unnamed countries with "undesirable consequences" if they allowed him to land on their territory or helped him in any other way, Kommersant writes, citing Russian and U.S. diplomatic sources.
It was not immediately possible to confirm the accuracy of the report, written by veteran diplomatic correspondents Elena Chernenko and Alexander Gabuev, as well as Kommersant's U.S. correspondent Kirill Belyaninov. A rough equivalent of the Wall Street Journal, Kommersant has long been regarded as one of Russia's top independent news sources. In recent months, however, talk of politically motivated meddling and censorship by owner Alisher Usmanov, a close confidant of Russian President Vladimir Putin and the richest man in both Russia and Britain, has sparked talk of a crisis at the publication, prompting the departure of several top editors.
The report cites a source "in Snowden's entourage" as saying that Snowden spent several days in the Russian consulate in a rented office on the 21st floor of the Sun Hung Kai tower in Hong Kong. Snowden even celebrated his 30th birthday there on June 21, the unnamed source said. Snowden flew to Russia two days later.
An anonymous Russian official cited in the report confirmed that Snowden stayed in the consulate, but insisted that it was on Snowden's initiative, that it was only for two days, and that Snowden said he was doing so as part of his effort to seek asylum in South America. As the Kommersant reporters point out, this does not contradict Putin's statements that Snowden's arrival in Russia was a surprise for the Kremlin.
If true, the report indicates that Russia and Snowden were in contact far earlier than either camp has admitted. Snowden's reported actions indicate that he and WikiLeaks were eager to reach out to the Kremlin immediately after Hong Kong received an extradition request from the U.S. on June 20.
According to the Russian diplomat cited in the report, Snowden promptly reached out to Russia the next day, June 21, with a ticket to Havana via Moscow in hand.
It is not clear what kind of support, if any, Snowden and WikiLeaks representative Sarah Harrison, who accompanied him on the Hong Kong-Moscow flight, received from Russia. On the day that the pair arrived in Moscow's Sheremetyevo Airport, the Russian news agency Interfax, citing anonymous sources, reported that Harrison arrived with a required Russian visa in hand, even though one was not required to transfer to Cuba.
Harrison has not responded to a request from BuzzFeed about her visa status. Russia's foreign ministry and border authority have also not responded to requests. Snowden's Russian lawyer Anatoly Kucherena told BuzzFeed earlier this month that he did not provide Harrison any legal assistance, and only saw her at his first and last meetings with Snowden in Sheremetevo Airport.
Verifying anonymous Russian reports on Snowden is difficult due to the large amount of conflicting information officials disseminate to wire agencies under the guise of anonymity. Most notably, Russian agencies reported that Snowden and Harrison would fly to Cuba on June 24, prompting dozens of journalists to book seats on the flight.
Snowden and Harrison never showed because the U.S. threatened several governments with "undesirable consequences" if they helped him, Kommersant said, citing "several sources familiar with the matter," including an American diplomatic source. According to the report, Havana told Moscow the U.S. would not allow the plane to land in Cuba if Snowden was on board.
Snowden never showed up to claim seat 17A on Aeroflot's Moscow-Havana flight.