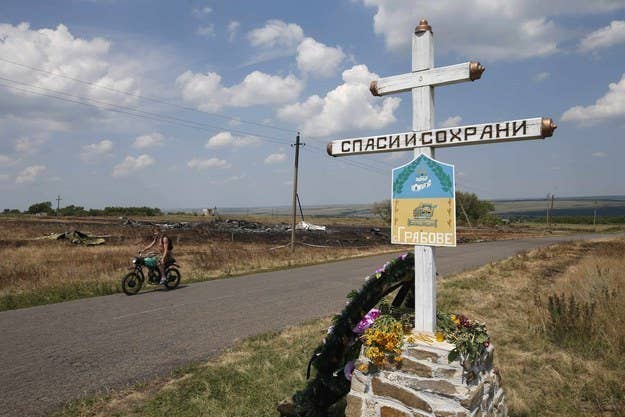 DONETSK, Ukraine — Rebels shot down two government fighter planes just 25 miles from the Malaysia Airlines Flight 17 crash site in eastern Ukraine from Russian territory, armed forces said on Wednesday. The downing raises fresh questions over the separatist militia's anti-aircraft capabilities and ties to Russia — potentially further complicating the investigation into last week's crash, which killed all 298 people on board.
Two Su-25 fighter-bombers came under fire from shoulder-launched anti-aircraft missiles returning from carrying out air strikes to support ground troops near the Russian border, national security spokesman Andriy Lysenko told reporters. The pilots successfully ejected and parachuted into rebel-controlled territory near Savur-Mogyla, a massive World War II monument that has been the center of heavy shelling in recent days.
The self-proclaimed Donetsk People's Republic tweeted what it said was video from the crash site. The video has been edited and cannot be independently verified.
Ukraine claimed that the planes were fired on from Russia because they were flying at 17,000 feet, a height outside the range of the man-powered portable air defense systems it claims the rebels in the east have. Kiev is struggling to seal its porous border with Russia in an attempt to surround the rebels and seal off the supply chain it says they receive from the Russian army.
The grounds on which Ukraine — which said it had not established the full details of the downing – pointed the finger at Russia were not immediately clear. Rebels have already shot down a dozen Ukrainian military aircraft since the conflict began in April with weapons Kiev says are provided by Russia. Some of those, including the Buk SA-11 surface-to-air launcher that Kiev and the U.S. claim was used to shoot down the Boeing 777, can fire at far greater altitudes. The Malaysia Airlines plane was flying at 33,000 feet — nearly double the height of the Ukrainian fighter-bombers. In the days before the Malaysian plane crashed last week, Kiev accused Russia of carrying out an airstrike on its territory; shooting down a transport plane with a surface-to-air missile; and sending a military jet to down a Ukrainian fighter.
The downing cast more doubts over claims from the leaders of the self-proclaimed Donetsk People's Republic that they do not have anti-aircraft capabilities. Those claims have been subject to heavy scrutiny since MH17 went down near the village of Hrabove last Thursday. Rebels say they do not have the sophisticated equipment required to down the airliner, though those claims have looked increasingly flimsy in the wake of strong circumstantial evidence including leaked phone conversations, eyewitness reports, and the rebels' own bragging on social media.
U.S. intelligence officials said Tuesday that they believe the rebels shot down MH17 by mistake using a Buk SA-11 surface-to-air missile, but had found no evidence of direct Russian involvement.