Rebels Advance In East Ukraine, Leaving Death And Destruction Behind
Russian-backed forces are sweeping across Ukrainian government territory, provoking a diplomatic crisis — and destroying the towns they capture. BuzzFeed News' Max Seddon reports from Vuhlehirsk, Ukraine, with photos by Max Avdeev.
VUHLEHIRSK, Ukraine — There was a thud from far off, then a sharp, high-pitched whistle, then a series of loud bangs as the mortars crashed one by one into Viktor Fomenko's apartment building. A few days later, with most of the buildings on his block reduced to rubble, he slumped outside in the cold on a stool, guarding the four plastic bags that hold all his possessions.
"They took my apartment from me. I wish they'd give me an hour of rest," Fomenko, a disabled 61-year-old with callused hands covered in elaborate, fading prison tattoos, told BuzzFeed News on Sunday as outgoing artillery fire boomed through this ruined town.
The Ukrainian crisis is reaching its most precarious moment yet as Russian-backed rebels encroach further into government-held territory, leaving a trail of death and destruction in their wake. Their surprise offensive, now in its third week, has claimed dozens of lives by the day, taking the official death toll to well over 5,000 since the conflict broke out last April, including at least 224 civilians. Over a million people have been displaced by the conflict, according to the United Nations.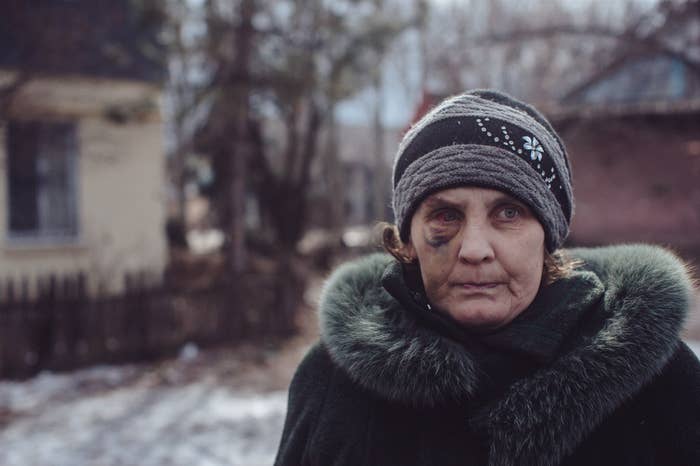 Kiev's Western allies are in disarray, more divided than ever over how to quell the conflict and contain Russian President Vladimir Putin. The White House is expected to announce whether it will provide lethal aid to Ukraine this week, a move Moscow warned could provoke "unpredictable consequences." French and German leaders, visibly rattled by the swell of support for arming Ukraine in Washington, are rushing to convene Putin and Ukrainian President Petro Poroshenko in Minsk on Wednesday in a last-ditch effort to stop the conflict.
The settlement is expected to include a 31- to 47-mile demilitarized zone between Ukrainian-controlled areas and the self-proclaimed Donetsk and Luhansk People's Republics. Any eventual deal will be based on the original ceasefire struck in Minsk in September, which failed to compel either side to actually cease firing or help Ukraine regain control over its territory.
Regardless of the outcome, it is already far too late to save freshly captured towns like Vuhlehirsk. Once a nondescript, sleepy mining town of 8,000, its location nine miles west of the strategically key rail depot at Debaltsevo saw it become a bloody battleground as rebels swarmed to encircle Ukrainian forces there. Burnt-out tanks still lie in the streets.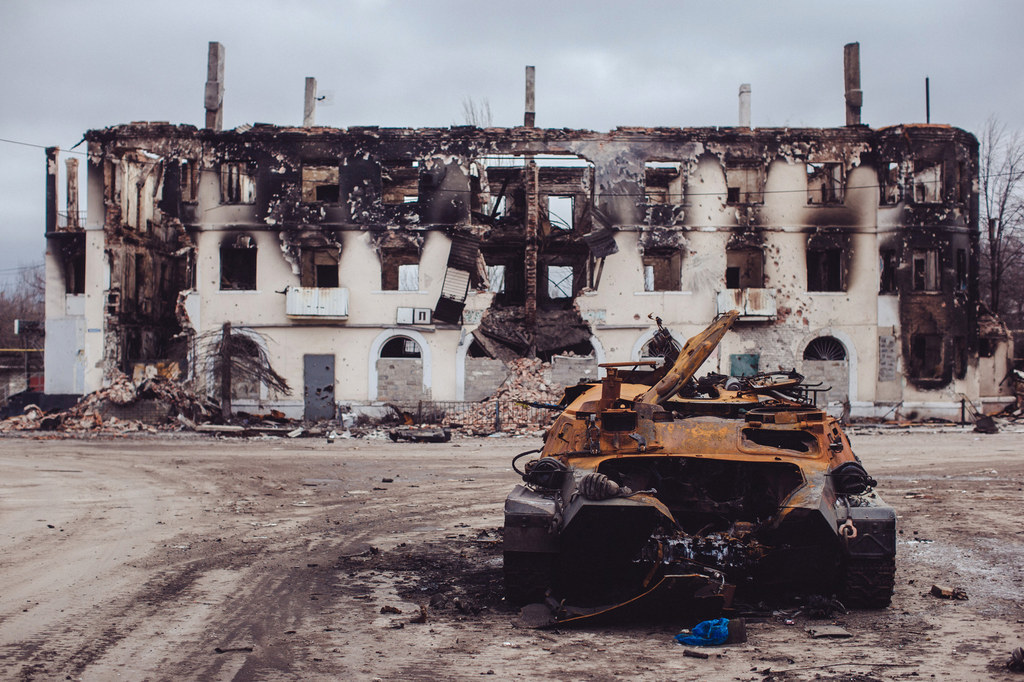 Weeks of constant artillery bombardment have left Vuhlehirsk in ruins. Rubble and broken glass line every block. Each window in the school — whose pockmarked wall bears a mural celebrating its construction in 1977, leading locals to proudly refer to it as "new" — has been smashed to bits. The entire ceiling of a white brick building on the corner of Nekrasova Street has completely caved in, taking most of the floors below with it. A solitary air conditioner still whirrs aimlessly on the wall of the top floor, though there is no longer an apartment connected to it.
The first thing the rebels did after they took over the town for good on Tuesday last week was clear away the dozens of bodies and body parts strewn across the streets after weeks of fighting. Sub-zero temperatures kept them from rotting. "It was so eerie," a rebel scout who gave his callsign, Quiet One, said. "Just all this meat lying around everywhere like at a butcher's."
Some of the rebels have set up camp in an abandoned coal mine just outside town that, until days ago, served as a Ukrainian base. Graffiti on the walls that read "Ukraine over all" and "Putin, fuck off" has been sprayed over. Rebels proudly threw a three-pronged trident, Ukraine's state symbol, onto the floor in a dingy basement barracks and took turns to stamp on a Ukrainian flag the soldiers had left. Streamers from their New Year party still hung from gas pipes on the ceiling.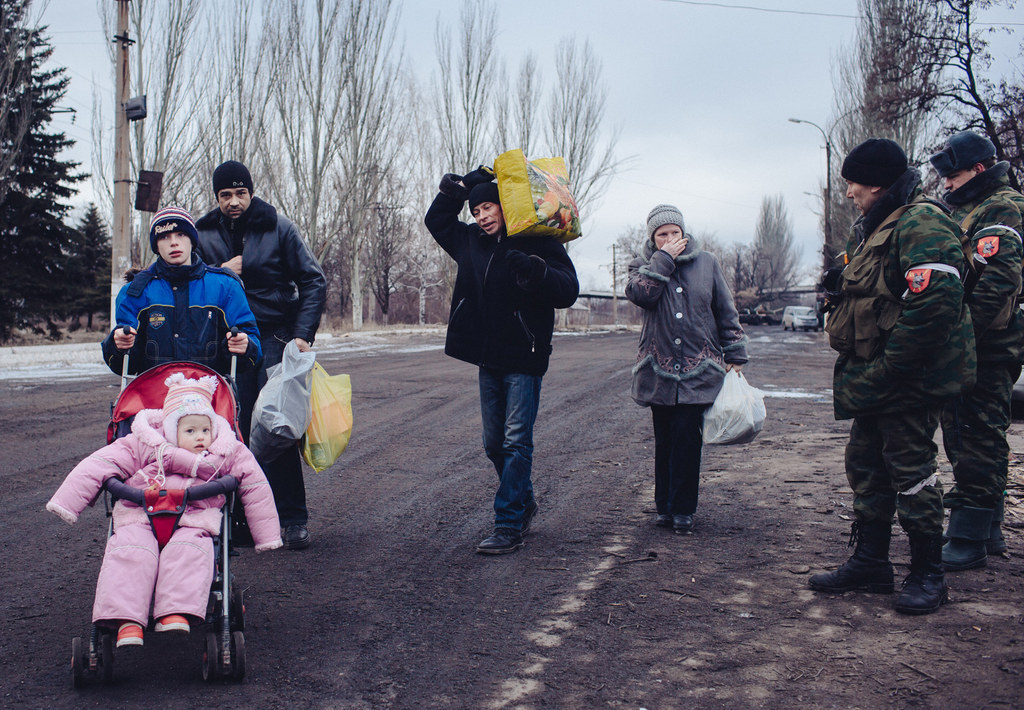 Most of the town's residents fled to nearby towns on either side of the frontline during the peak infighting two weeks ago, when control of Vuhlehirsk changed several times. Natalia Ivanova, a 65-year-old retiree, drove in from rebel-controlled Yenakieve on Sunday to reclaim three green plastic bags containing her most prized possessions, which she had stashed in the basement — icons of Orthodox saints she had painstakingly assembled from shiny bright-colored beads, despite her near-blindness.
"This is all I have left," she said as she held an icon framed in plastic painstakingly embroidered in fake gold leaf to make it look like it had been carved from wood. A cardboard cutout of Jesus Christ looked out from inside in a gold-and-blue-beaded crown and red-and-green-beaded robes.
Only those too poor or vulnerable to escape remain in Vuhelhirsk. Nikolai, 51, who still lives in a half-ruined building across the yard even though half of the roof is gone, said he had to stay in Vuhlehirsk to take care of his elderly mother, who is paralyzed and unable to move on her own. "I don't even care if they bring food — I just want some Pampers," he said. "She's 85, and I have to clothe her in soiled rags."
Rebels have yet to evacuate the remaining residents or provide them with food. The relatively intact neighboring town of Kondratiivka, which has the nearest functioning grocery store, has not had heat or running water and only sporadic electricity throughout the winter. Locals made homeless by the shelling huddle around a foul-smelling Soviet clubhouse, ready to hide in its basement if more barrages come.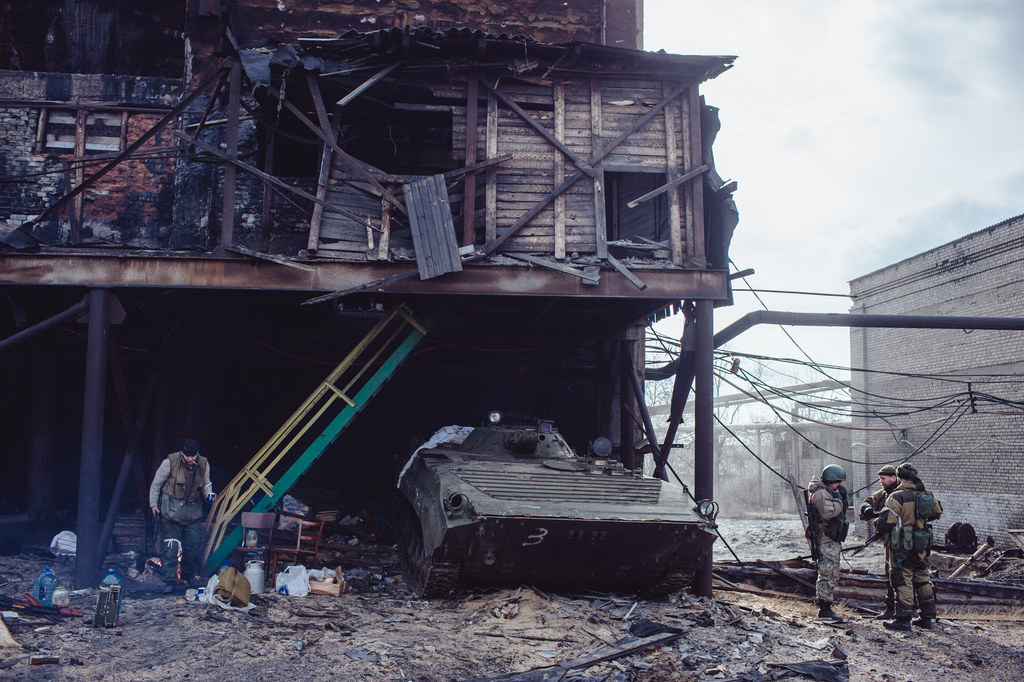 Indiscriminate fire by both sides in this increasingly retrograde artillery war makes that more likely. On Sunday, BuzzFeed News saw a column of four rebel trucks fire multiple salvos of Grad rockets — a notoriously inaccurate weapon designed for blanketing wide areas, whose name means "hail" in Russian — just across the street from a row of houses in Kondratiivka. Rebels quickly drove away to escape the inevitable return fire, but made no effort to evacuate the residents.
With no help on the way, Viktor Fomenko and his wife, Elizaveta Voronova, now drag their bags around Vuhlehirsk in a shopping cart, scavenging for food. "I'm 37, but how would you know?" she said, pointing to a huge bruise on her face and her right eye, swollen with blood from a broken vessel she sustained during the bombardment.
"We would love to leave, just so as not to hear the bang bang," she said.
Around the corner, two elderly women stood idly at a bus stop, watching a stray cat gnaw on a charred human femur.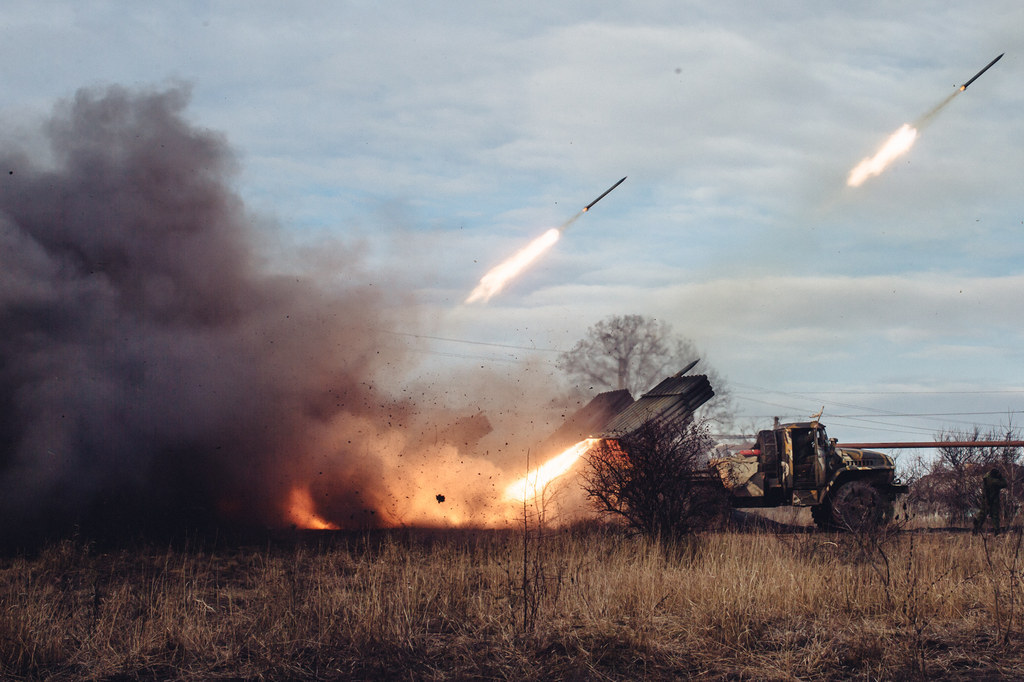 Max Seddon is a correspondent for BuzzFeed World based in Berlin. He has reported from Russia, Ukraine, Azerbaijan and across the ex-Soviet Union and Europe. His secure PGP fingerprint is 6642 80FB 4059 E3F7 BEBE 94A5 242A E424 92E0 7B71

Contact Max Seddon at max.seddon@buzzfeed.com.

Got a confidential tip? Submit it here.