Racist Group Cited By Charleston Shooting Suspect Attended Pro-Putin Conference
Jared Taylor and Sam Dickson, members of the Council of Conservative Citizens, were flown to St. Petersburg by a pro-Kremlin nationalist party for a shambolic far-right forum in March.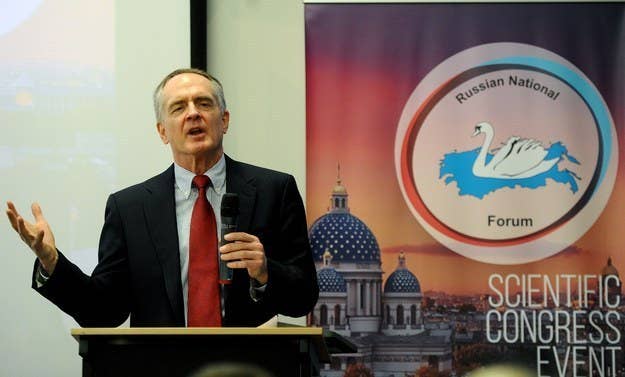 Two members of the white supremacist group whose website allegedly inspired the suspect in last week's Charleston church shooting visited Russia earlier this year on the invitation of a Kremlin-tied far-right party.
Jared Taylor, who has appeared in the media representing the Council of Conservative Citizens in the days following the shooting, spoke at the Russian Conservative Forum in St. Petersburg in March, where they railed against the "alien traditions" of non-white people. Sam Dickson, a member of the group and lawyer for the Ku Klux Klan, also attended the conference.
"The religion of the U.S. is no longer Christianity, it is diversity," Taylor said at the forum. "We are to believe this crazy idea that the wild mix of language, religion, people, and races that that is a great and wonderful thing. In effect the United States is committing suicide."
A manifesto apparently written by Dylann Roof, the suspect arrested in the June 17 shooting of nine people in Charleston, cited the Council of Conservative Citizens' website about "black-on-white crime" as a turning point in his decision to "take it to the real world."
In interviews, Taylor has condemned the shooting, but broadly agreed with the racist views expressed in the manifesto. Republican politicians have come under fire in recent days for their ties to the group.
"I'm exhausted," Taylor told BuzzFeed News in an email. "Big waste of time for everyone involved. Or maybe they just don't want to pass along what I want to say."
The forum in St. Petersburg aimed to link up Europe's rising far right — which broadly supports Vladimir Putin's embrace of "traditional values," his rejection of "Euro-Atlantic liberal hegemony," and his intervention in Ukraine — with like-minded Russians. A storm of negative media coverage in the run-up to the event, however, saw many of the participants and even some of the organizers drop out, leaving only the most extreme of Europe's minor far-right parties in attendance.
Taylor and Dickson told BuzzFeed News at the time that they were surprised by their invitation to the conference, whose ideological purview fell outside their campaign for a majority-white America. "We don't understand why we're here," Taylor said. "It's a very strange lineup." Though organizers' refusal to tell them who else would be speaking in advance made them suspicious, they decided to go on the trip anyway.
Taylor was dismissive of the other attendants, including former British National Party leader Nick Griffin and Udo Voigt, a neo-Nazi member of the European Parliament. "They have no idea. Well, they have an idea, but it's the wrong idea," he said.
Taylor, 63, co-organized a similar event in Budapest last year that attempted to build bridges between American and European white nationalists. Viktor Orbán, Hungary's autocratic prime minister, banned the conference and barred some of the speakers, including the Russian "Eurasianist" philosopher Alexander Dugin, from entering.
Max Seddon is a correspondent for BuzzFeed World based in Berlin. He has reported from Russia, Ukraine, Azerbaijan and across the ex-Soviet Union and Europe. His secure PGP fingerprint is 6642 80FB 4059 E3F7 BEBE 94A5 242A E424 92E0 7B71

Contact Max Seddon at max.seddon@buzzfeed.com.

Got a confidential tip? Submit it here.