MOSCOW — Over the course of a 10-year career, Boris Rotenberg played so little that, outside his soccer club's dressing room, he was known only for his famous last name. But now the Dynamo Moscow right back finds himself the talk of Russian soccer after a series of unassuming starts caused a national scandal.
Rotenberg's father is Boris Rotenberg (senior), one of Russia's richest men, with a fortune estimated by Forbes at just under $1 billion. He also happens to be Dynamo's president. Both he and his brother Arkady boast close relationships with Russian President Vladimir Putin, dating back to childhood, when they learned judo together in postwar St. Petersburg. The brothers have earned vast fortunes, largely from government contracts, since Putin came to power in 2000, and were placed on U.S. and EU sanctions lists last year for their alleged roles as his "cronies."
But they've remained largely behind the scenes. Now a very public spat over Boris Rotenberg's career has become the latest scandal to hit Russian soccer as the country prepares to host the 2018 World Cup. With corruption allegations still swirling over Russia's winning bid — which was spearheaded by Putin personally — the furor over something as ostensibly minor as Rotenberg's run of games shows that personal interests and political connections may still count more here than fair play.
"You have the owner of the team and you have his son, who's not really doing the right thing with his life but doesn't want to admit that to himself," Yuri Dud, editor of the popular Sports.ru website, told BuzzFeed News. "It's more typical of an Asian country. But Russia today is more Asia than Europe."
After 10 years on the bench, Rotenberg's five starts at right back for Dynamo in the last few weeks have sown chaos in the team's ranks. When coach Stanislav Cherchesov surprisingly dropped Russian national team defender Alexei Kozlov for a key match against Lokomotiv Moscow, the teams played to a 2–2 draw that dented Dynamo's chances to qualify for the lucrative Champions League. Russian media reported that Igor Denisov, the team's captain, flew into such a rage at Cherchesov over his decision to play Rotenberg that he was dropped from the team and put up for transfer.
"I play as much as I'm allowed — the main thing is to help the team. The coach decides how much I get to play," Rotenberg told the Sovetsky Sport newspaper after a recent game.
Russian soccer has weathered a number of scandals in the run-up to the 2018 World Cup. Corruption allegations over Russia's winning bid, spearheaded by Putin personally, were whitewashed in a report by FIFA, the sport's governing body. Top officials dismiss the racist chanting that frequently mars games as insignificant. The national team's coach went several months without pay before an oligarch stumped up the cash in February.
Rotenberg's run in the Dynamo team appears more to reflect a pattern already tried and tested in Russia's economy, which is heavily dominated by a small number of massive state corporations. The sons of a tight-knit group of former KGB officers widely believed to form Putin's inner circle have all risen to management positions in major state-owned banks despite what campaigners say is a lack of obvious qualifications other than their last names. Petr Fradkov, son of the head of Russia's foreign intelligence service, even replaced one of his father's colleagues as deputy head of Russia's state-run Vnesheconombank in January after Alexander Ivanov, whose father, Sergei, is head of Putin's presidential administration, drowned while on vacation last year. Putin's youngest daughter, Ekaterina, was recently discovered to be in charge of a major state project to clone Silicon Valley.
"It's not so much nepotism as neo-feudalism. They've built a system whereby the fathers control the politics and the children control the business side," Alexei Navalny, a leading Russian opposition figure and anticorruption campaigner, told BuzzFeed News. "If the son is appointed deputy head of the bank, people understand that he's been appointed by a higher power and you can't get rid of him."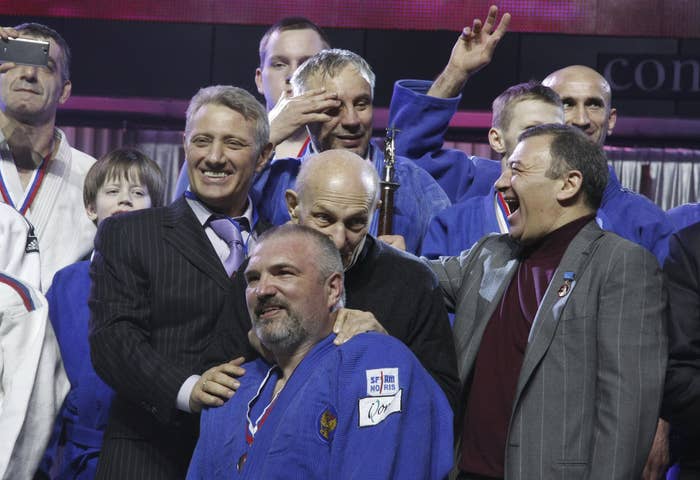 Before the Lokomotiv game, Rotenberg, 28, had spent nearly his entire career sitting on the bench. As a young player, he was given a tryout by Chelsea, one of England's top sides, owned by Russian oligarch Roman Abramovich. His first professional team, Zenit St. Petersburg, which is owned by Russia's gas monopoly Gazprom, never played him at all. After a series of loans to other teams in which he played a total of five minutes, he found a spot on FC Khimki, a Moscow side then sponsored by the elder Rotenberg brothers' SMP Bank. The team finished the 2009 season in last place, with Rotenberg in the starting lineup.
Despite more unsuccessful loans at minor clubs in Russia and Israel that hardly gave him game time, he found a spot at Dynamo in 2011 after Konstantin Sarsania, sporting director of Khimki when Rotenberg was there, joined the club. He never actually played for the team, however, until 2013, when his father became the club president.
Since the draw with Lokomotiv, Rotenberg has started every game for Dynamo, usually making way for Kozlov with about half an hour to go and playing without obvious distinction. "He didn't make any obvious defensive mistakes, and he didn't really have much influence going forward," Artur Petrosyan, editor of the Sport Express newspaper, told BuzzFeed News. In a scoreless draw against Chechen side Terek Grozny, Rotenberg faced off against Khalid Kadyrov — the nephew of local strongman Ramzan Kadyrov. "It's the logic of the system: you just put your own people forward all the time," Navalny said.
Though Dynamo went through the five-game period without a loss, they only won two games, eventually ceding chances at a Champions League place. Rotenberg's play, however, was apparently enough to catch the eye of the Finnish national team — he holds Finnish and Russian passports — which called him up for a first appearance this week. Boris Rotenberg Sr., who is also a Finnish citizen, and Arkady Rotenberg transferred their Finnish assets to Boris' elder son, Roman, last year after the billionaire brothers were placed on U.S. and EU sanctions lists.
The younger Boris Rotenberg's appearance for Finland, however, seems to owe everything to Russia. "He really tries. But at this level, trying's not enough — you need a lot more, " Dud said. "Russian soccer's set up in a way right now that basically everything is possible."