Putin Says LGBT People Should Feel "Calm" In Sochi But "Please Leave Children In Peace"
Less than a month before the Sochi Olympics, the Russian leader assured visitors that gay people "won't be grabbed off the street.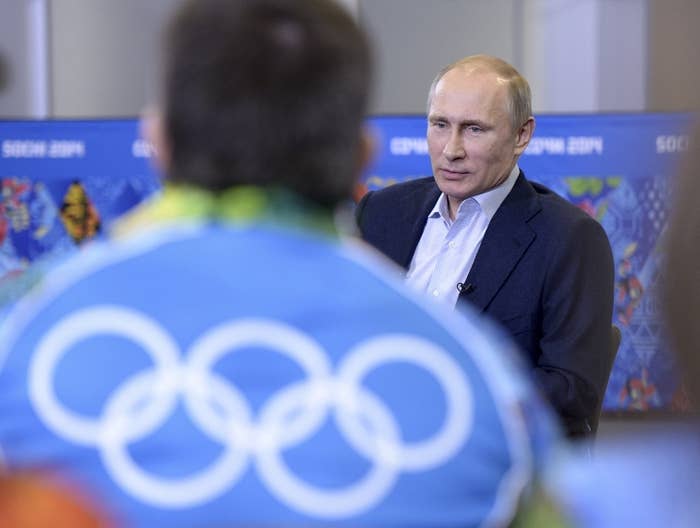 LGBT people are welcome at the Winter Olympics in Sochi next month so long as they keep a wide berth from any children, Russian President Vladimir Putin says.
Putin told a group of Olympic volunteers that Russia's controversial ban on "gay propaganda" was not discriminatory and that the U.S. had far worse laws against LGBT people, Russian state media reported.
"We don't have a ban on non-traditional forms of sexual interaction between people, we have a ban against promoting homosexuality and pedophilia to minors, against propaganda," Putin said during a tour of Olympic sites at the Krasnaya Polyana ski complex. "They're totally different things - a ban on something and a ban on promoting that thing," he added.
Russia's law, which Putin signed in June, essentially bans any positive or neutral mention of gay people in any public setting. Evidently not expecting the storm of international controversy around Russia's hosting the Olympics the law provoked, Putin and other Russian officials have been at pains to stress that the law is not discriminatory and is solely intended to protect children from the harmful influence of homosexuality, a distinction they claim the West has neglected.
"We're not banning anything. We're not grabbing anyone [off the street]. We don't have any [criminal] penalties for these relations, unlike many other countries of the world, I want to stress, including the U.S., where some states have criminal penalties for non-traditional sexual orientation," Putin continued.
"You can feel relaxed and calm [in Sochi], but leave children alone, please," he added.
Putin was evidently referring to the sodomy laws in 14 states invalidated by a 2003 Supreme Court decision, Lawrence v. Texas. The laws remain on the books until the states repeal them, but are no longer enforceable.
Recently, Russian officials have responded to criticism over the "propaganda" law by saying the situation in Western countries is the same or worse than in Russia, a favorite Putin rhetorical dodge. Russia's foreign ministry accused Germany of not doing enough to protect LGBT rights earlier this week in a report which said the EU "aggressively [promotes] homosexual love" in the same paragraph.
Asked by one of the volunteers why their uniforms were in rainbow colors, despite the law, Putin replied by saying that some countries were discussing legalizing pedophilia. "It's no secret, look on the internet, and you'll find it," he said. "And so what, should we patter after them like poodles in the direction of unknown consequences? We have our own traditions, our own culture, we respect all of our partners and ask them to respect our traditions and our culture just the same," Putin added.
Max Seddon is a correspondent for BuzzFeed World based in Berlin. He has reported from Russia, Ukraine, Azerbaijan and across the ex-Soviet Union and Europe. His secure PGP fingerprint is 6642 80FB 4059 E3F7 BEBE 94A5 242A E424 92E0 7B71

Contact Max Seddon at max.seddon@buzzfeed.com.

Got a confidential tip? Submit it here.