Putin Calls Off Threat To Invade Ukraine, But Downed Chopper Threatens Ceasefire
Ukraine's president says he may call off a ceasefire after separatist rebels in the east downed a helicopter, killing all nine on board.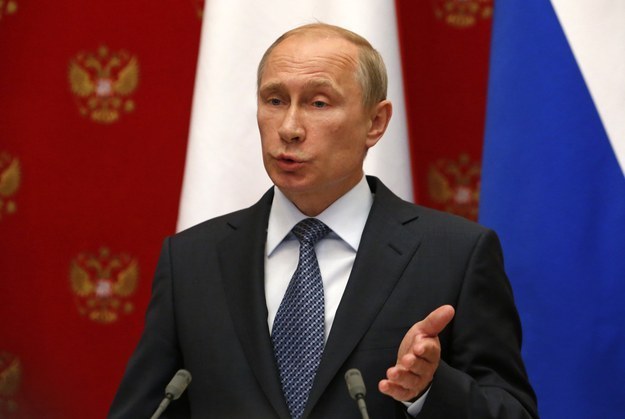 KIEV, Ukraine — Russian President Vladimir Putin asked parliament to repeal a resolution granting him the authority to deploy troops to Ukraine on Tuesday, raising hopes of a political settlement to quell the conflict in the country's east troubled east. By evening, however, the ceasefire looked to be under serious threat after rebels downed a Ukrainian helicopter, killing all nine on board.
Ukrainian military spokesman Vladislav Seleznyov wrote on Facebook that the rebels shot the helicopter, a Mi-8, from a man-powered air defense system (MANPAD) as it was returning from a supply run. The nine men on board included specialists who were setting up equipment to monitor for possible ceasefire violations, Seleznyov added.
The attack, carried out with sophisticated equipment that requires special training to use, threatens the ceasefire declared by Ukrainian President Petro Poroshenko last week that was scheduled to last until Friday. Rebel leaders — some of whom are from Moscow and have no obvious connection to the region — initially rejected it, but declared their support for it on Monday after Putin partially endorsed it over the weekend.
The agreement followed the start of tripartite negotiations in Donetsk involving Ukrainian representatives, separatists, the Organization for Security and Cooperation in Europe, the Russian ambassador to Ukraine and Viktor Medvedchuk, a pro-Russian Ukrainian politician known as the "Prince of Darkness" whose daughter's godfather is Putin himself. Putin told reporters in Vienna after meeting with Austrian President Heinz Fischer on Tuesday afternoon that Poroshenko should extend the ceasefire deadline past Friday so that the negotiations could continue.
Before leaving for Vienna, Putin wrote a letter to the chair of the Federation Council, Russia's upper house of parliament, asking to repeal the March 1 resolution in order to "normalize the atmosphere and regulate the situation" in east Ukraine after multi-party negotiations began this week, the Kremlin said in a statement. A rubber-stamp institution pliant to Putin's every wish, the Federation Council passed the initial resolution in just 103 minutes and is expected to repeal it tomorrow, according to state media.
Poroshenko said Tuesday evening that he could envision ending the ceasefire early if needed and had ordered Ukrainian soldiers to return fire if attacked. Putin, Poroshenko, French President François Hollande, and German Chancellor Angela Merkel will discuss the peace plan on Wednesday, Poroshenko added in a statement on the presidential website, saying he hoped the conversation would lead to "practical steps from Russia on disarming and recalling mercenaries from Ukrainian territory, as well as putting a reliable security regime in place on the border."
Putin's decision appears to have been influenced by a round of telephone diplomacy with Merkel, Hollande, and U.S. President Barack Obama on Sunday and Monday. Ukrainian and U.S. officials say Moscow is supplying the rebels with high-tech equipment, including MANPADS of the sort used to shoot down the helicopter, and have revived a long-standing but dormant threat of greater sanctions against broad sectors of Russia's economy if it does not take greater steps to de-escalate the conflict. Russian stocks and the ruble rose sharply after Putin's announcement, reflecting belief that all 28 European Union leaders will be reluctant to agree on sanctions when they meet on Friday.
Max Seddon is a correspondent for BuzzFeed World based in Berlin. He has reported from Russia, Ukraine, Azerbaijan and across the ex-Soviet Union and Europe. His secure PGP fingerprint is 6642 80FB 4059 E3F7 BEBE 94A5 242A E424 92E0 7B71

Contact Max Seddon at max.seddon@buzzfeed.com.

Got a confidential tip? Submit it here.