Pussy Riot's Nadya Resurfaces In Siberia After Nearly A Month Incommunicado
Band member Nadezhda Tolokonnikova called her husband Pyotr Verzilov from a prison in Siberia Thursday, the first contact any of her family had had with her in 26 days.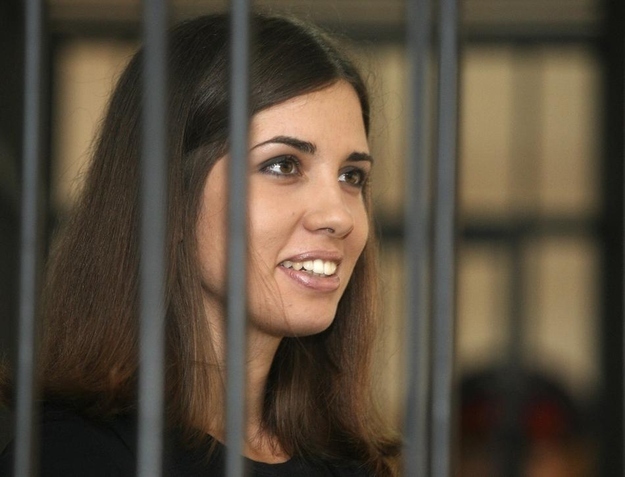 KIEV, Ukraine — A jailed member of punk group Pussy Riot who went incommunicado for nearly a month while being transferred to a new prison finally made contact with her family Thursday from a prison in Siberia.
Nadezhda Tolokonnikova's husband Pyotr Verzilov told BuzzFeed that she called him from a prison in the central Siberian province of Krasnoyarsk, the first he or her supporters had heard from her in 26 days. Tolokonnikova disappeared Oct. 21 when officials transferred her to a new prison after she went on hunger strike in protest at what she said were "slavery-like" conditions at the prison where she was being held in the central republic of Mordovia. She also said wardens had made death threats against her.
Tolokonnikova is in a prison tuberculosis hospital in the provincial capital but is only undergoing a routine medial check, Verzilov said. She spent the past several weeks on trains from Mordovia and in transfer prisons, but her only complaint to her husband was about being isolated from the world the entire time. Verzilov said he would try to see her tomorrow.
Russian law only requires officials to disclose transferred prisoners' whereabouts 10 days after they arrive at a new prison. Verzilov had to rely on informants within the prison system to keep track of his wife and flew to Krasnoyarsk last week on a tip she was being sent to a prison in the village of Nizhny Ingash 300 kilometers from the provincial capital. Russian officials did not disclose her whereabouts until Tuesday. They justified the choice of location on the grounds that Tolokonnikova is registered as living at her mother's apartment in the province, even though she has not been there for seven years.
Max Seddon is a correspondent for BuzzFeed World based in Berlin. He has reported from Russia, Ukraine, Azerbaijan and across the ex-Soviet Union and Europe. His secure PGP fingerprint is 6642 80FB 4059 E3F7 BEBE 94A5 242A E424 92E0 7B71

Contact Max Seddon at max.seddon@buzzfeed.com.

Got a confidential tip? Submit it here.