Pussy Riot Could Be Out Of Prison Tomorrow
An amnesty passed by Russia's parliament Wednesday is expected to free 2,000 prisoners, including group members Nadezhda Tolokonnikova and Maria Alyokhina.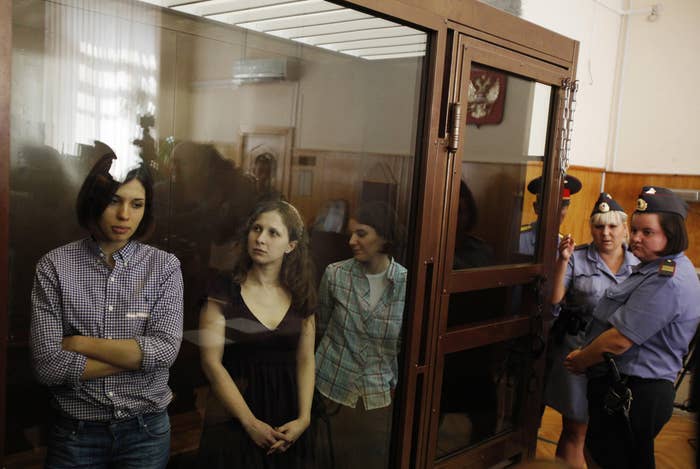 KIEV, Ukraine — Pussy Riot's Maria Alyokhina and Nadezhda Tolokonnikova could be free from prison within hours after Russia's parliament unanimously passed a sweeping amnesty bill Wednesday.
The bill was introduced by Russian President Vladimir Putin to mark the 20th anniversary of the country's constitution, which was Dec. 12. It is widely viewed as an attempt to sanitize the country's human rights record ahead of the Sochi Olympics in February. Other high-profile prisoners, including the "Arctic 30" Greenpeace activists arrested in September for scaling an oil rig to protest drilling, are also covered under the amnesty.
Lawmakers say it would free as many as 25,000 people after the bill became law late Wednesday, although rights activists claim that all but about 2,000 of those covered by the amnesty are not currently serving time. The amnesty mostly covers pensioners, juvenile offenders, women with small children, and first-time offenders convicted of various misdemeanors, including hooliganism, which the Pussy Riot members were convicted of in August 2012. Last-minute amendments added those currently standing trial for hooliganism to the amnesty, which would include the Greenpeace activists, who saw initial charges of piracy downgraded when they were bailed in November.
It remains unclear when the prisoners covered under the bill will be freed, since it allows a six-month window for its implementation. Alyokhina's and Tolokonnikova's sentences run out in March, but Pavel Chikov, the head of the AGORA legal foundation that represents them, told BuzzFeed that they could be released Thursday and "almost 100 percent" before the end of the week, depending on bureaucratic procedures.
Russia's Supreme Court ordered their two-year sentence to be reviewed last week on the grounds that they should have been allowed to defer it because they both have young children. Moscow City Court will hear the case on Jan. 24, according to state-run legal news agency RAPSI. A third member of the group, Katya Samutsevich, was handed a suspended sentence in October 2012 and allowed to walk free.
The fate of the crew of the Greenpeace ship Arctic Sunrise, 26 of whom are foreign, also remains in doubt, since the investigation against them has not been concluded. Investigators have previously suggested charging some of the activists with other crimes, including assaulting a police officer, which would exclude them from the amnesty.
British crew member Alexandra Harris shared her feelings from the ship's Twitter account:



Human rights activists greeted the amnesty guardedly and criticized it for not including several people widely considered to be political prisoners. Amnesty International's Russia director Sergei Nikitin said in a statement that "the current amnesty cannot replace an effective and independent justice system. In reality it simply shows how politicized justice is in Russia."
Former oligarch Mikhail Khodorkovsky, once Russia's richest man, and his business partner Platon Lebedev are not covered under the amnesty. Khodorkovsky was jailed in 2003 on tax evasion charges he says were retribution for his opposition to Putin and convicted on separate embezzlement charges in 2010. He is scheduled to be released in August, but prosecutors said earlier this month that they are investigating several new cases against him.
Only eight of the 26 defendants in the "Bolotnaya case," a mass trial against those accused of violence at an anti-Putin rally last year, are expected to fall under the amnesty — those who are not charged with assaulting a police officer or organizing the violence. Activists say the case is designed to scare Russians away from protesting against Putin.
Max Seddon is a correspondent for BuzzFeed World based in Berlin. He has reported from Russia, Ukraine, Azerbaijan and across the ex-Soviet Union and Europe. His secure PGP fingerprint is 6642 80FB 4059 E3F7 BEBE 94A5 242A E424 92E0 7B71

Contact Max Seddon at max.seddon@buzzfeed.com.

Got a confidential tip? Submit it here.