KIEV, Ukraine — They massed outside the square in the thousands in the dead of a freezing night, wielding batons and riot shields. They hacked away at barricades with chainsaws. They formed phalanxes across the square like an invading army.
Then, by noon, they were all gone.
Troops from Ukraine's elite riot police force, Berkut, or Golden Eagle, slinked away humiliated Wednesday morning after a failed attempt to clear protesters from Independence Square, which has been occupied for the last 10 days in opposition to President Viktor Yanukovych's government. Thousands of protesters thronged the square, known as the Maidan, to restore their fortifications and celebrate victory.
Others put up tents.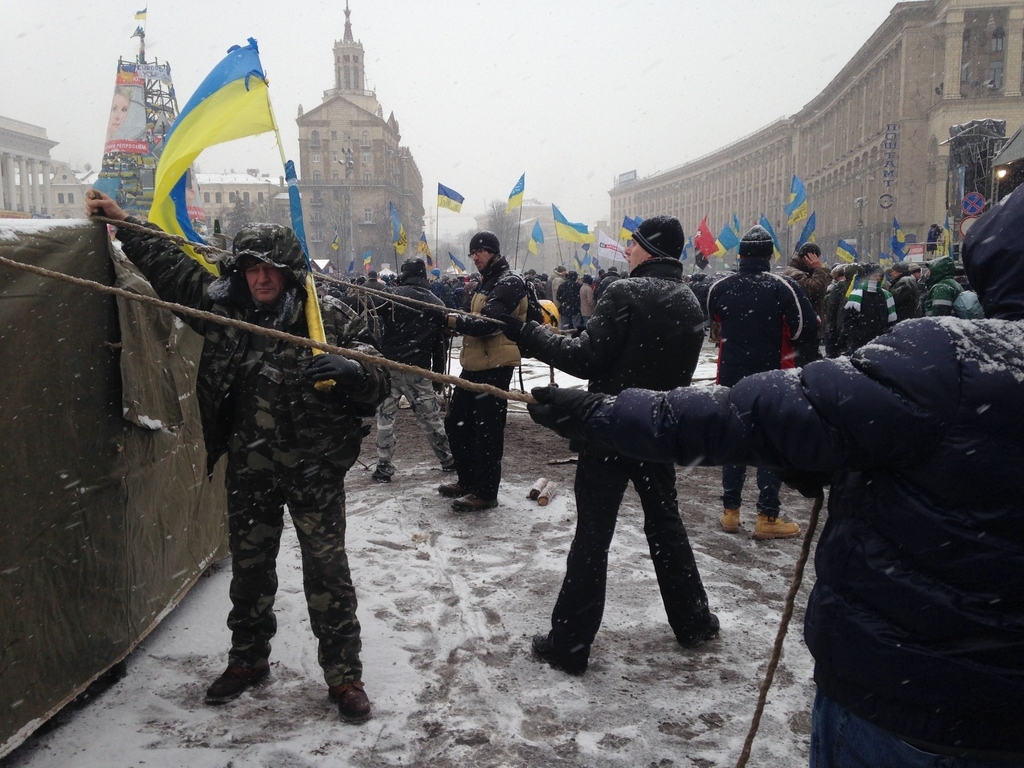 By midday Wednesday, the square had filled with people.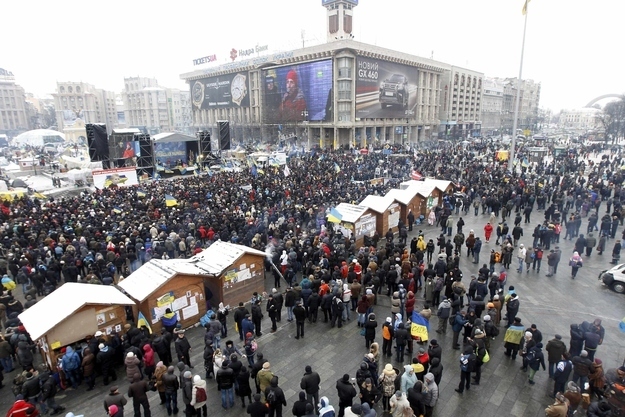 Riot police who attempted to clear Kiev's occupied City Hall were met with showers of cold water.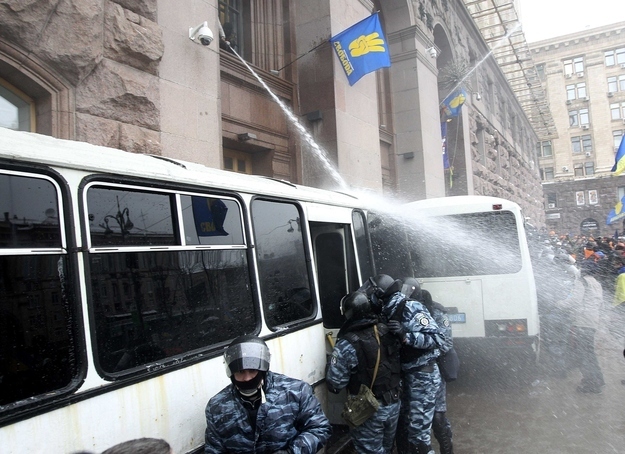 "They won't try running through here again, and if they do, we'll fight back against them until the bitter end," Sergei, 20, an unemployed college graduate who declined to give his last name, said after staying up all night to defend City Hall. "The only way for this to end is in Yanukovych's resignation."
Police had been given orders to clear the streets surrounding the square, but not to clear the square itself or clash with protesters. Only 11 people were arrested during the evening's surreal clashes, which saw officers use force. Interior Minister Vitaly Zakharchenko said police had been deployed in an attempt to clear up Kiev's traffic.
Western diplomats condemned the attempted crackdown in unusually strong terms, but insisted that the door was still open for Yanukovych to move toward Europe. Protests broke out in late November when Yanukovych reneged on a long-mooted deal with the EU in favor of better relations with Russia, and exploded after police violently removed a student tent city from the Maidan.
U.S. Assistant Secretary of State Victoria Nuland was in Kiev overnight after meeting with opposition leaders and spent her morning handing out cookies on the Maidan.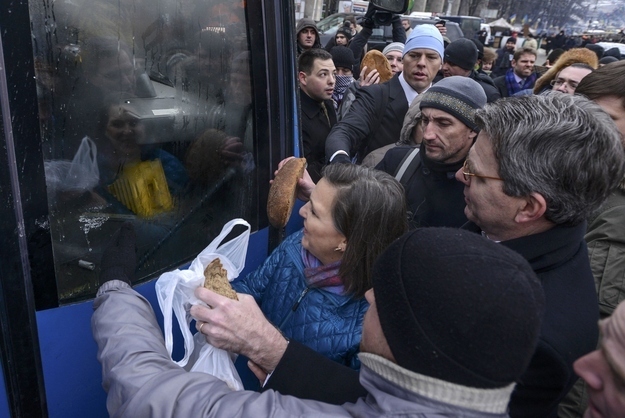 Later, after meeting with Yanukovych, Nuland told reporters she "made it absolutely clear to him that what happened last night [was] absolutely impermissible in a European state and in a democratic state," but said it was "still possible to save Ukraine's European future."
European Union Foreign Policy Chief Catherine Ashton, who had also been in Kiev overnight and visited the Maidan to a rapturous and surreal reception, met with Yanukovych Wednesday afternoon.
Ashton also held crisis talks with ambassadors from 25 EU countries.
Swedish Foreign Minister Carl Bildt, one of the EU's point men on Ukraine, made no secret of where his sympathies lie.
Government representatives had invited the opposition to a roundtable discussion Wednesday to find a way out of the political crisis, but dialogue looked increasingly untenable after the crackdown. Opposition leader and former interior minister Yuri Lutsenko said that Yanukovych was unprepared to move toward Europe or negotiate with protesters. "He's getting ready to surrender Ukraine to Russia," he said.
Buses of protesters set out from several cities across the country for the Maidan, Ukrainian media reported. Lutsenko urged Ukrainians to come out Sunday for Kiev's biggest demonstration yet, which he said would be a "Rubicon."
"It is here, on EuroMaidan, that European integration is happening," Lutsenko said. "It is here that Ukraine is being built as a nation."