Hundreds of Ukrainian anti-government protesters enraged by repressive new laws fought pitched battles with riot police in sub-zero temperatures Sunday amid flaming buses and billowing clouds of tear gas.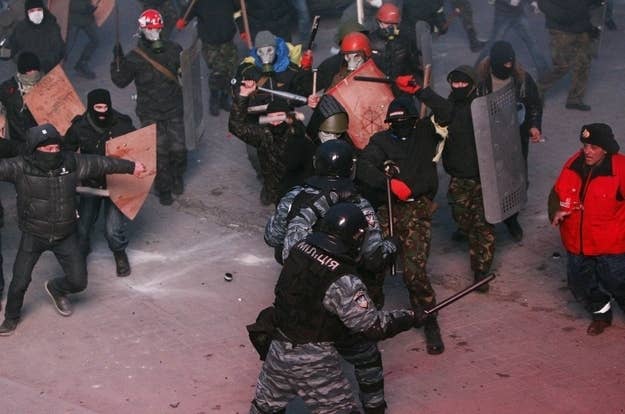 Clad in helmets and gas masks, wielding sticks and shields, and chanting "Re-vo-lu-tion!," protesters in Kiev, the capital, rushed a police bus blocking their way to parliament and set it on fire with Molotov cocktails, local media reported.
Earlier, up to 100,000 people gathered on Independence Square, the Maidan, for a weekly protest against President Viktor Yanukovych. Ukrainians have gathered at the Maidan for two months since Yanukovych backed out of a deal with the EU in November.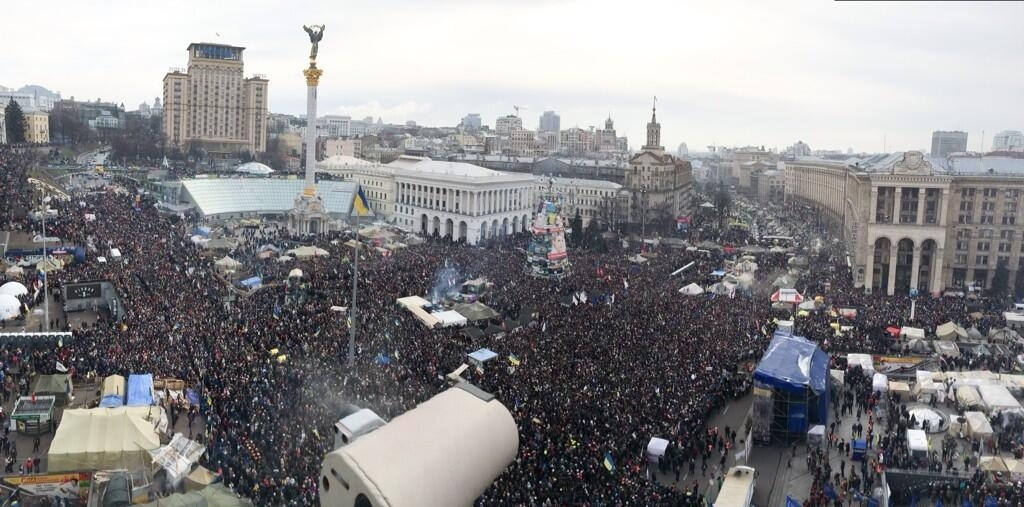 Protesters are furious over a rash of new laws passed Thursday that essentially ban all forms of public protest in the country. Western governments have roundly condemned the laws, which the opposition has called a "coup d'état."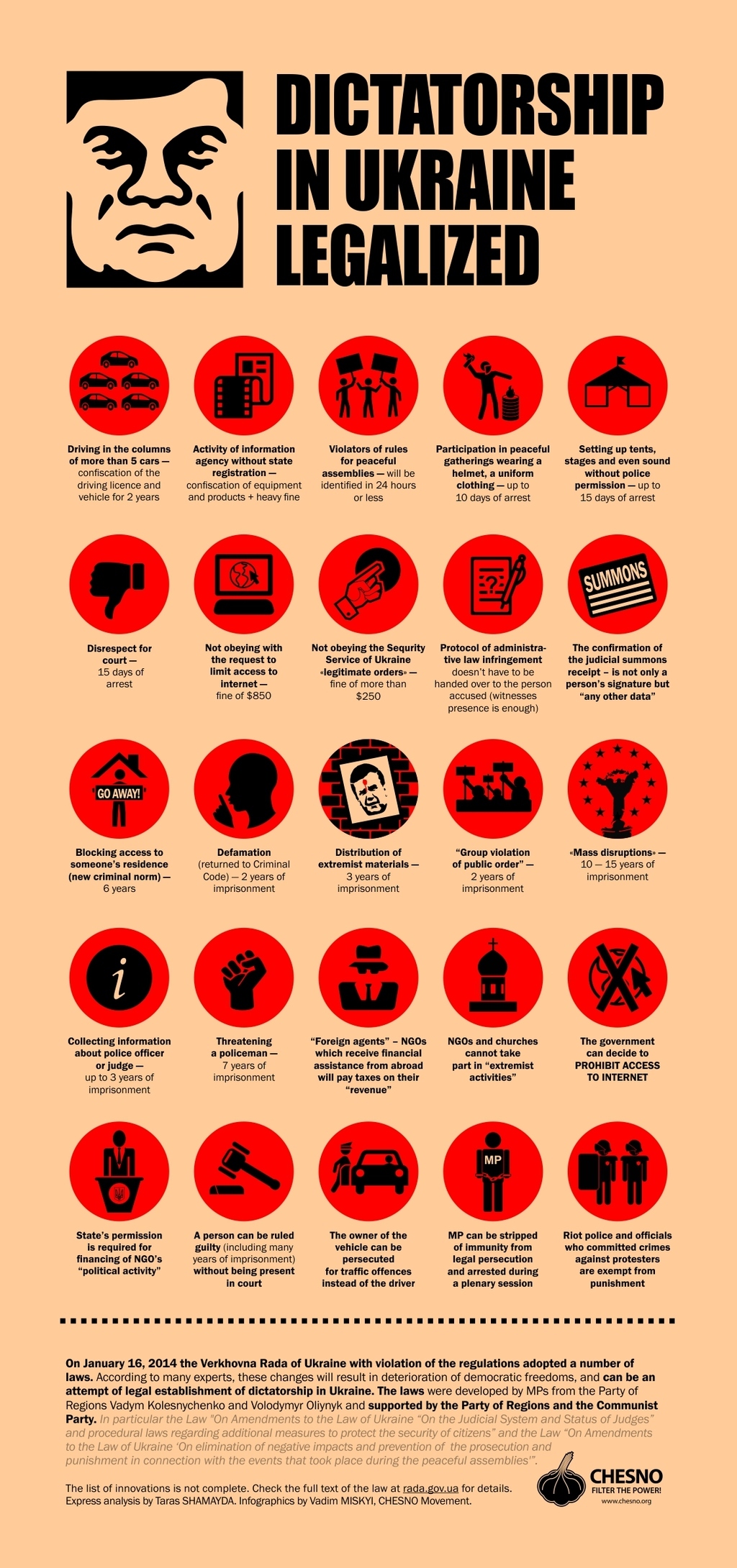 Some protesters wore pots on their heads in defiance of one of the new laws, which makes it illegal to wear a helmet at a protest.
Protesters were also growing impatient with the leaders of Ukraine's three main opposition parties, who have failed to form a coherent plan of action. Crowds chanted "Give us a leader!" during the rally.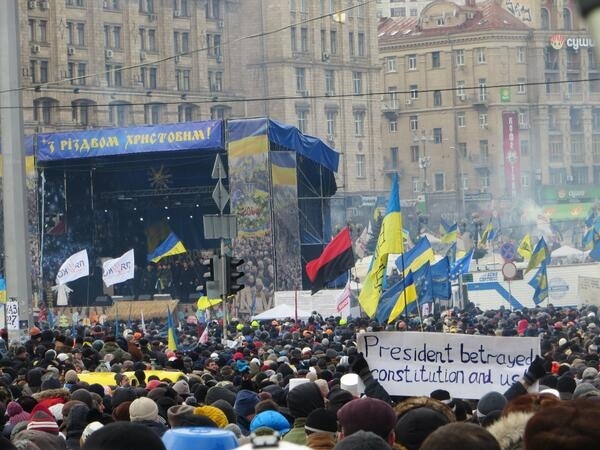 Journalist Tatiana Chornovol, who nearly died when several men stopped her car and viciously beat her in December, made her first public appearance since leaving the hospital. Chornovol accuses Yanukovych of ordering the attack on her, which he denies.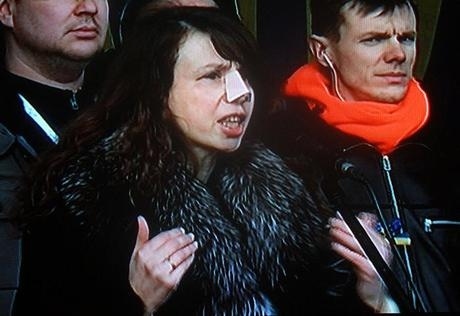 Chornovol later claimed to have discovered that Yanukovych is building a new luxury residence for himself. Protesters are furious over what they say is staggering, wholesale corruption involving Yanukovych and his family.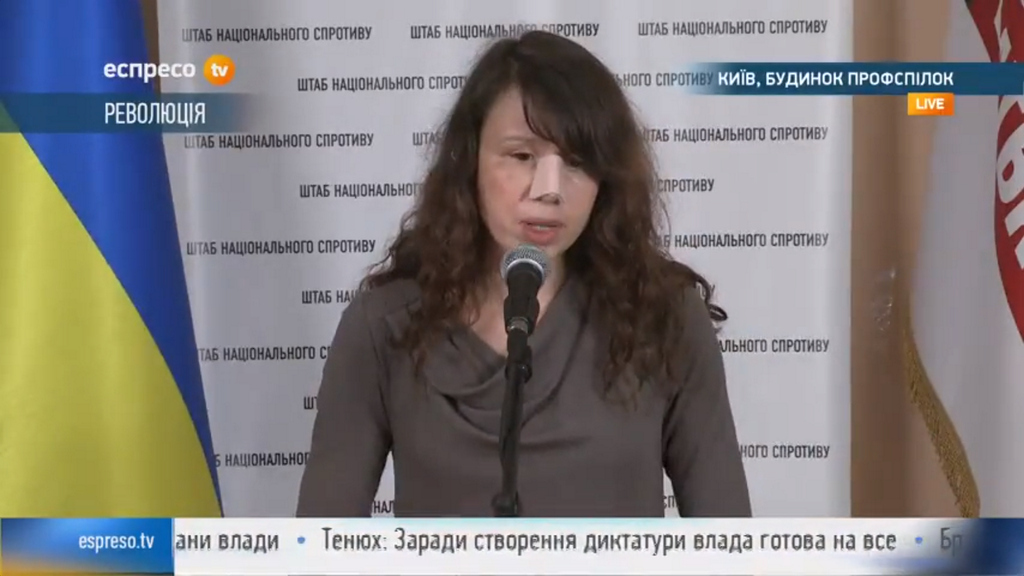 Tens of thousands of people then moved towards parliament after the rally and attacked police blocking their way down Grushevskogo Street.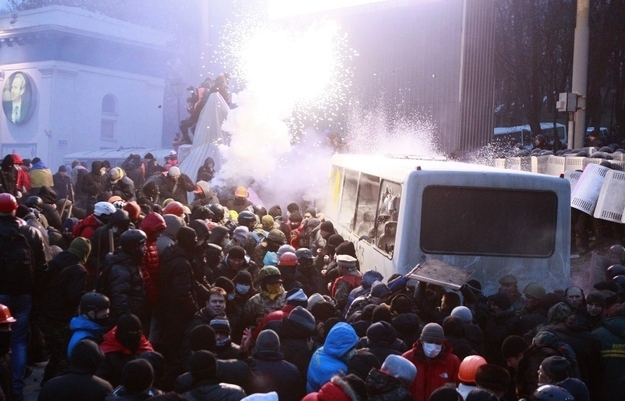 Some of them threw flares and Molotov cocktails.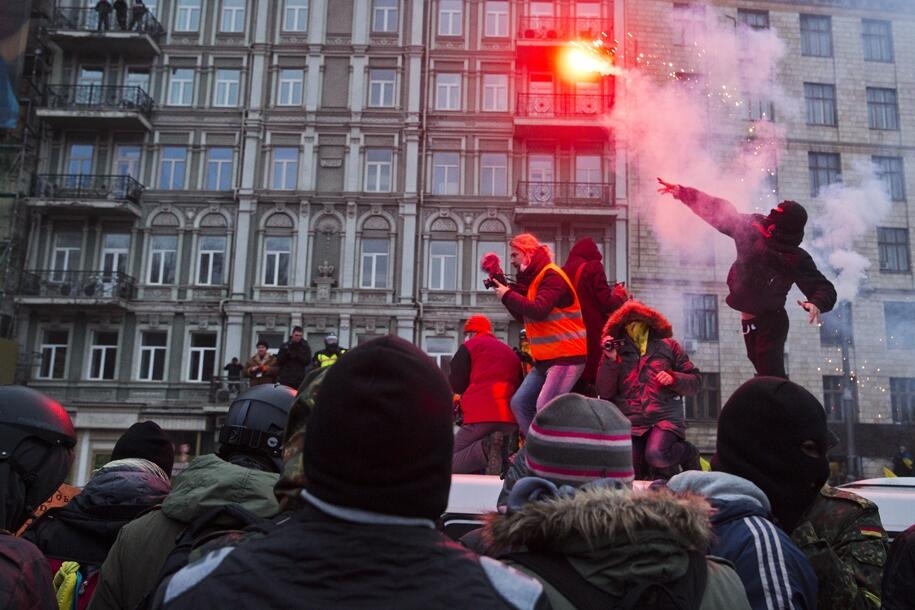 Others chanted "Ukraine over all!" and wielded equipment with white supremacist slogans. "14/88" is a popular neo-Nazi term.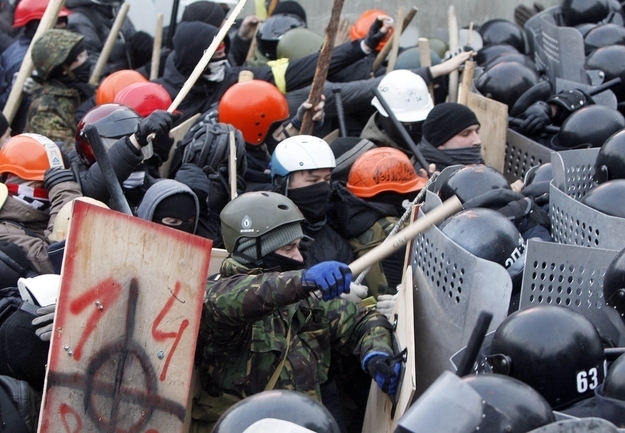 Vitaly Klitschko, a former heavyweight boxing champion and the most popular opposition leader, tried to calm down protesters, but one of them attacked him with a fire extinguisher.
One of them burned to a crisp.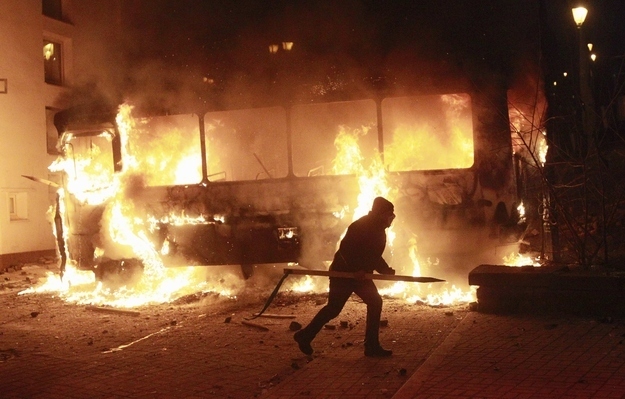 Several riot policemen were driven away from their phalanxes and beaten by protesters. At least one of them was taken captive, police said.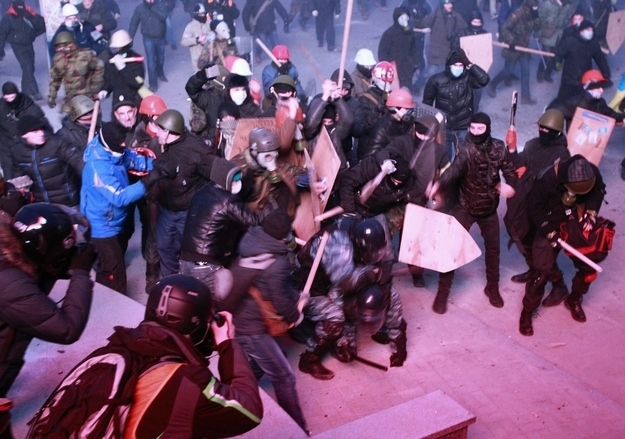 They also deployed a water cannon in temperatures as cold as -8 Celsius. Using a water cannon in temperatures below freezing is illegal in Ukraine.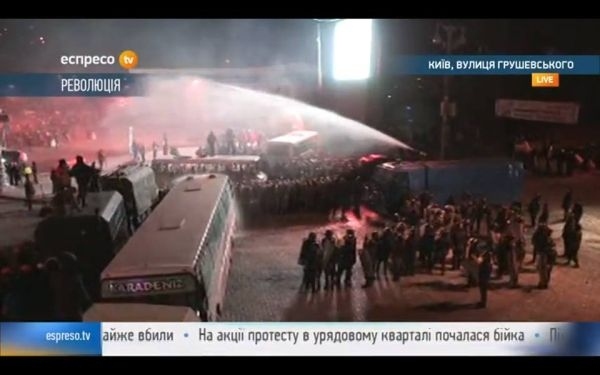 Later in the evening, they fired rubber bullets, according to a reporter for the Kyiv Post, the local English-language newspaper.
Activists from the Automaidan drivers' rights group tried to stop 25 buses of reinforcements as they drove into Kiev. Riot police smashed one of the cars and dragged the driver away.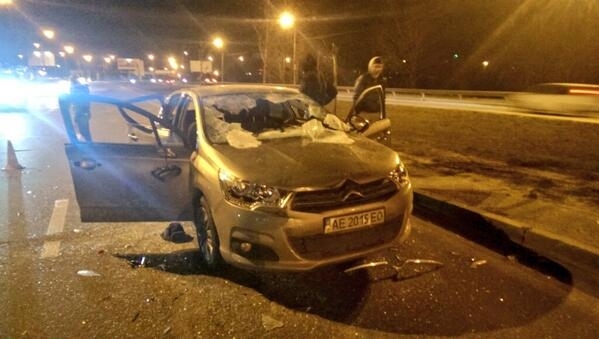 At times the riot looked more like a medieval battle.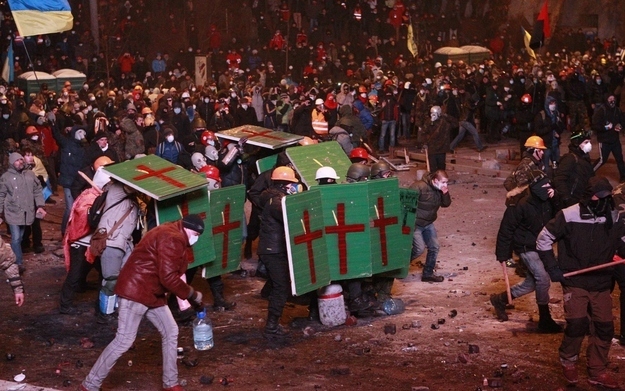 "You're fighting a war against your own people," Klitschko said in a video appeal to Yanukovych. Klitschko later went to Yanukovych's palatial country residence to negotiate an end to the conflict.
This man threw rocks at police.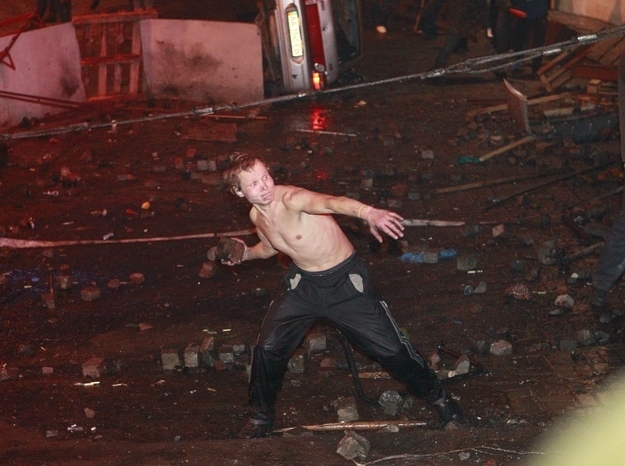 It didn't end well.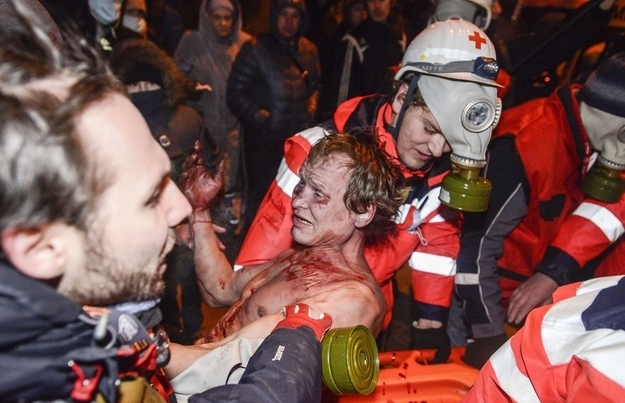 Some police walled themselves in like Roman soldiers to stay safe. At least 70 riot police were injured, according to the interior ministry.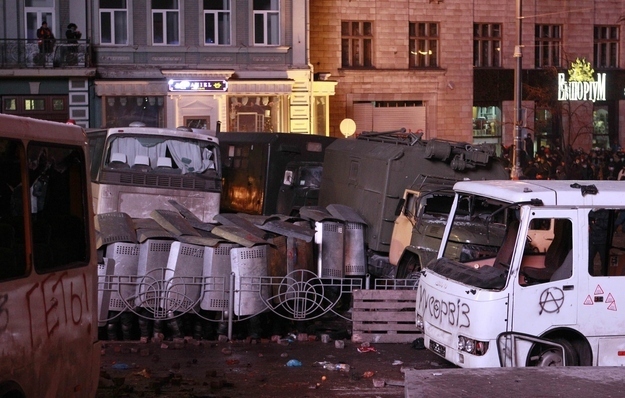 Western officials called for an end to the violence.
The European Union said earlier this week that it was not considering Ukrainian officials involved in earlier outbreaks of violence.
The State Department told BuzzFeed Sunday that "all diplomatic tools are on the table" if the situation deteriorates, including sanctions.
Ukrainians, however, are furious with foreign governments for professing moral support but doing little to back it up.
Opposition leader Arseny Yatsenyuk said Yanukovych called him late Sunday and offered to begin negotiations to end the crisis starting the next day.
But that didn't seem to have any effect on the rioters. As midnight approached, nearly everything in the square by the Dynamo stadium was ablaze.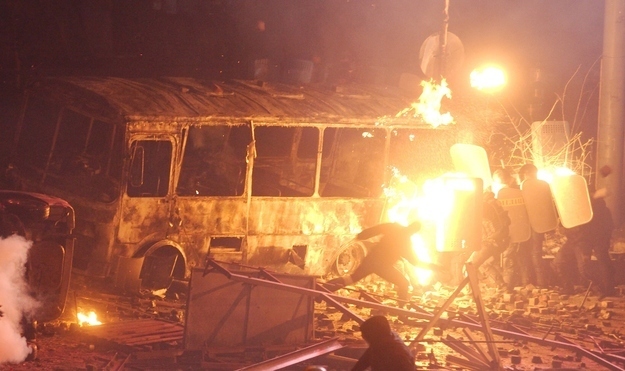 Police opened a criminal investigation under a new law against "mass rioting," which carries a sentence of up to 15 years in prison. That didn't seem to deter protesters either.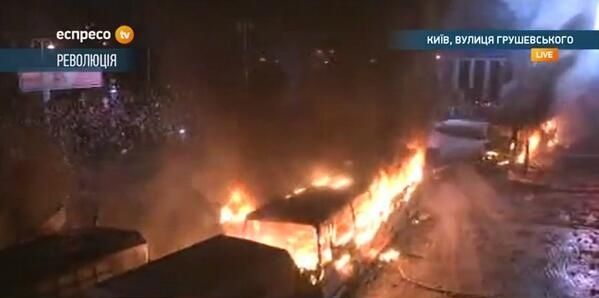 Some protesters put up fresh barricades. The Maidan nearby has been walled off and controlled by protesters since Dec. 1.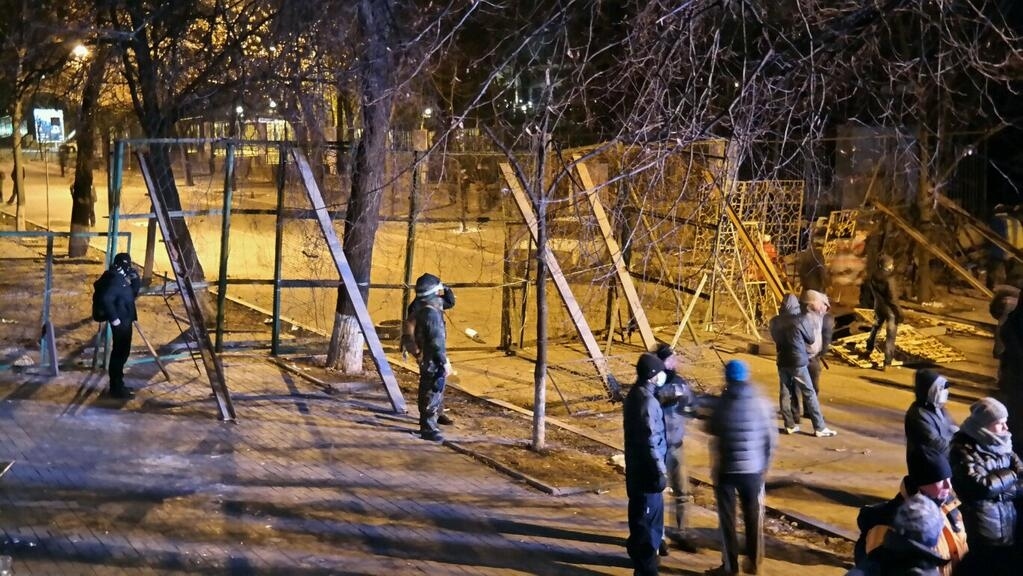 Klitschko said in a late-night interview with an independent internet TV station that he was worried about the possibility of civil war.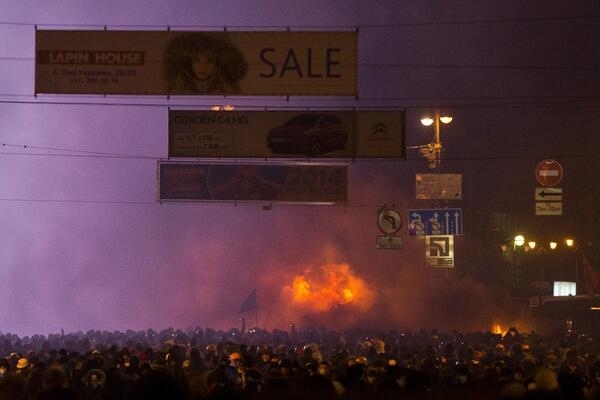 State TV ignored the riots entirely.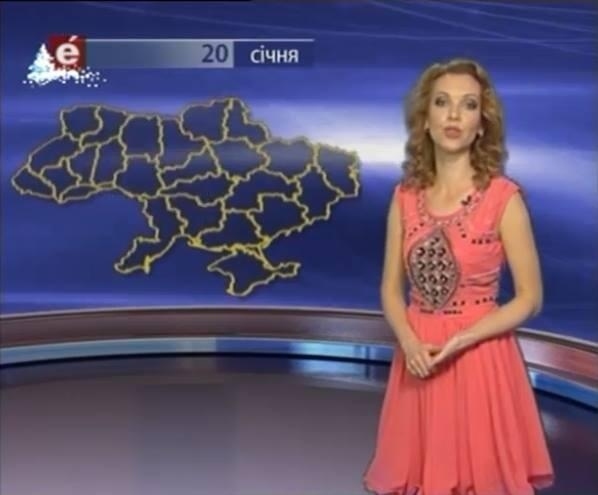 The future of Ukraine, which was set to sign the EU deal only two months ago before Russia pressured Yanukovych into reneging, now looks more uncertain than ever.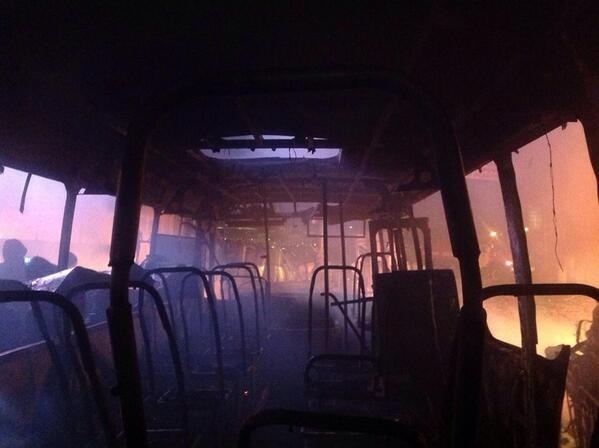 "War's finally started," opposition lawmaker Olesya Orobets wrote on Facebook. "Laws don't apply anymore."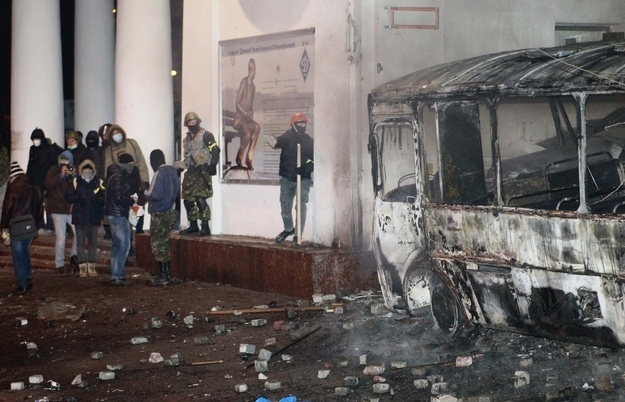 We are deeply concerned by the violence taking place today on the streets of Kyiv and urge all sides to immediately de-escalate the situation. The increasing tension in Ukraine is a direct consequence of the government failing to acknowledge the legitimate grievances of its people. Instead, it has moved to weaken the foundations of Ukraine's democracy by criminalizing peaceful protest and stripping civil society and political opponents of key democratic protections under the law. We urge the Government of Ukraine to take steps that represent a better way forward for Ukraine, including repeal of the anti-democratic legislation signed into law in recent days, withdrawing the riot police from downtown Kyiv, and beginning a dialogue with the political opposition. From its first days, the Maidan movement has been defined by a spirit of non-violence and we support today's call by opposition political leaders to reestablish that principle. The U.S. will continue to consider additional steps -- including sanctions -- in response to the use of violence.