Pro-Russian Activists Declare Independence In Ukraine's East
Ukraine's acting president accused Russia of implementing a "Crimean scenario" to overthrow the government and "break our country into pieces."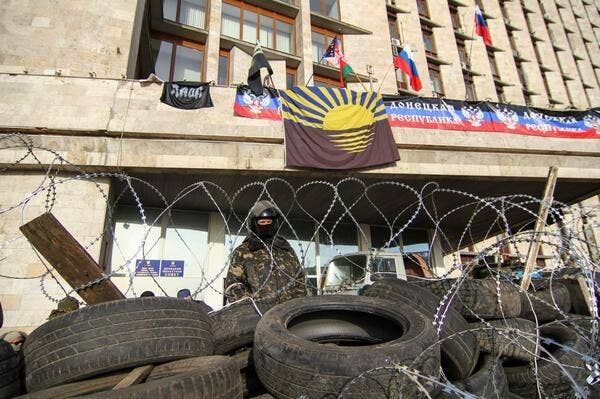 Tensions in Ukraine rose to their highest since Russia seized Crimea after activists in the Russian-speaking east declared independence Monday and asked the Kremlin to send in troops to ensure a separatist referendum.
Ukraine's leaders accused Russia of trying to sow unrest, saying Russia's security services had sent the activists to seize government buildings in three cities a day earlier. The Ukrainian government said it would launch counter-terrorism operations against those responsible for raiding weapons stockpiles.
"Yesterday was the start of the second wave of the Russian Federation's special operation against Ukraine," acting President Oleksandr Turchnyov said in a statement published on his website. Turchynov accused the Kremlin of trying to disrupt the country's presidential election, overthrow its temporary government, and "break our country into pieces."
Earlier, acting Prime Minister Arseny Yatsenyuk told a cabinet meeting Russia had enacted an "anti-Ukrainian plan … under which foreign troops will cross the border and seize the territory of the country," agencies reported. Russian President Vladimir Putin did not comment on the unrest in his annual speech to the FSB, the successor to the KGB, Monday.
Ukraine's industrial, mostly Russian-speaking southeast has been a flashpoint for turmoil ever since protesters in the capital, Kiev, overthrew former President Viktor Yanukovych in late February. Putin refused to recognize the new government subsequently appointed by parliament, annexed the Crimean peninsula, and declared the right to send in troops, claiming Kiev's pro-European leaders were persecuting Russian-speakers.
Yanukovych, who is wanted by the new government on mass murder charges for allegedly ordering snipers to shoot over 80 protesters, drew most of his political support from the southeast but is now largely unpopular. He fled his palatial estate outside Kiev in late February for safe haven in Russia, where he has called for every province in Ukraine to hold a secession referendum like Crimea's and asked Putin to send in troops. Russia says Ukraine's government is incapable of holding the country together and wants it to become a federation with greater autonomy for its Russian-speaking provinces, which Kiev says would be tantamount to collapse.
It remained unclear, however, whether events in the cities of Donetsk, Kharkiv, and Lugansk were following what Turchynov called the "Crimean scenario," whereby Russian special forces seized key infrastructure and stood watch as local lawmakers voted to hold a referendum.
In Donetsk's occupied provincial government building, several hundred men said they intended to hold a referendum by May 11, two weeks before early presidential elections Moscow says are illegitimate.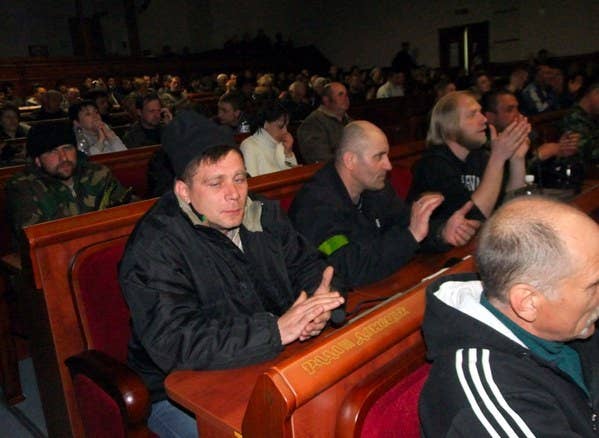 "Without your support, without the support of Russia, it will be hard for us to resist the Kiev junta on our own," an unidentified activist said. The men unanimously supported his request for Russia to send in troops and chanted, "Putin! Putin!"
Activists also seized the regional government building in Kharkiv, Ukraine's second-largest city, and raided weapons stockpiles after capturing security services offices in Donetsk and Lugansk. Interior Minister Arsen Avakov traveled to Kharkiv, his hometown, and claimed that police had cleared the building by early morning.
Local media reported, however, that the pro-Russian activists retook the building and then beat up a group of pro-Ukrainian protesters who came to demonstrate against them. Ten people were hurt in the fighting.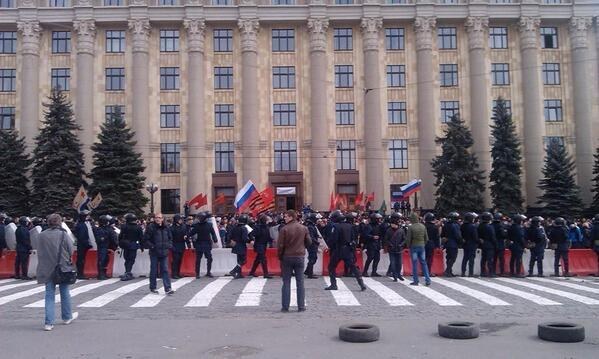 In Lugansk, pro-Russian activists barricaded into security offices said they were part of a "united headquarters of the South-Eastern Army" and prepared to send a "reserve division" to Donetsk.
Security services announced they had arrested a Russian citizen, Roman Bannykh, on charges of organizing disturbances in Lugansk as he attempted to cross the border. The agency published audio of what it said was Bannykh discussing organizing groups of "Russian tourists" masquerading as pro-Russian activists whom he supplied with weapons and explosives.
All three cities are just a stone's throw away from the border with Russia, where Moscow has massed 100,000 troops, according to Ukrainian national security council chief Andriy Parubiy. Western officials have quoted far lower figures. Unlike Crimea, which is predominantly ethnic Russian, most people in the southeast are ethnically Ukrainian but speak Russian almost exclusively, and popular support for union with Moscow is much lower. Protests flashed in early March when pro-Russian activists briefly seized government buildings, but had largely died down since Kiev appointed powerful local oligarchs to run key provinces.
Parubiy and Ukraine's Security Chief Valentin Nalivaichenko flew to Lugansk. Deputy Prime Minister Vitaly Yarema went to Donetsk, as did charismatic former prime minister and current presidential candidate Yulia Tymoshenko, who is said to have amassed considerable influence behind the scenes since being released from prison on the heels of Yanukovych's ouster.
Putin told German Chancellor Angela Merkel last week that Russia was partially withdrawing its troops, which he said were there as part of a military exercise. Officials from the Ukrainian government and NATO, the U.S.-European military alliance, said, however, that Russia had not pulled its forces back.
In an unrelated incident, Ukraine's defense ministry said Monday that Russian troops in Crimea killed a Ukrainian soldier who was preparing to return to the mainland and arrested one of his colleagues. Crimean police said the men were part of a group of five "drunken hooligans" who attacked a Russian military outpost, Russian state news agency RIA Novosti reported. Ukraine's foreign ministry accused Russia of "extrajudicial retribution" against troops who had refused to switch sides and take an oath to Moscow.
Max Seddon is a correspondent for BuzzFeed World based in Berlin. He has reported from Russia, Ukraine, Azerbaijan and across the ex-Soviet Union and Europe. His secure PGP fingerprint is 6642 80FB 4059 E3F7 BEBE 94A5 242A E424 92E0 7B71

Contact Max Seddon at max.seddon@buzzfeed.com.

Got a confidential tip? Submit it here.