President Of Azerbaijan Takes To Twitter To Warn Of Potential Imminent War
The cold conflict between Azerbaijan and Armenia over the disputed territory of Nagorno-Karabakh has the potential to explode.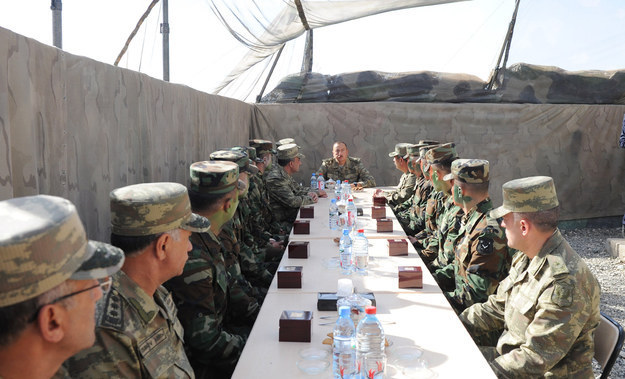 Azerbaijan's president has threatened all-out war to reclaim the disputed enclave of Nagorno-Karabakh from Armenia, raising fears that the two Caucasus countries could resume long-dormant hostilities after skirmishes over the weekend.
President Ilham Aliyev told soldiers in the frontline city of Agdam on Wednesday that Azerbaijan was ready and willing to seize the mountainous breakaway territory of Nagorno-Karabakh from Armenia "either by military or peaceful means." At least 13 people died in the clashes, the first in many years, though the Armenian defense ministry claims as many as 30 people died, 25 of them from Azerbaijan.
The two countries have been in a suspended state of war since an inconclusive end to a three-year struggle for Nagorno-Karabakh ended in 1994 with a Russian-brokered ceasefire. Both sides constantly accuse each other of trying to undermine efforts by the Organization for Security and Cooperation in Europe to mediate a peace, as well as attempting to reclaim the region by force.
Nagorno-Karabakh, a remote, mountainous area, is mostly populated by ethnic Armenians and relies almost solely on money from Yerevan and the global Armenian diaspora. Baku believes the land is historically Azeri.
The speech, which can be read on Aliyev's website, caught international attention on Thursday after Aliyev's press team posted excerpts from it, making it appear as if he were going on an unhinged, bellicose rant.
Though outright hostilities are rare, Aliyev frequently threatens to destroy the "fascist leadership, the military junta of Armenia" as a matter of course.
Russian President Vladimir Putin has invited Aliyev and his Armenian counterpart, Serge Sarkisyan, to his residence in Sochi over the weekend for separate meetings and tripartite negotiations to defuse tensions. Aliyev, however, does not sound interested.
Aliyev's Twitter page boasts his motto, clumsily translated from the neo-Sovietese as "We Turn Initiatives Into Reality!"
Max Seddon is a correspondent for BuzzFeed World based in Berlin. He has reported from Russia, Ukraine, Azerbaijan and across the ex-Soviet Union and Europe. His secure PGP fingerprint is 6642 80FB 4059 E3F7 BEBE 94A5 242A E424 92E0 7B71

Contact Max Seddon at max.seddon@buzzfeed.com.

Got a confidential tip? Submit it here.