Police Move In On Protest Camp In Kiev, But Opposition Hold Firm
Thousands of helmet-clad riot police stormed the Maidan to clear barricades set up by protesters who came out against President Viktor Yanukovych.By late morning, they were all gone.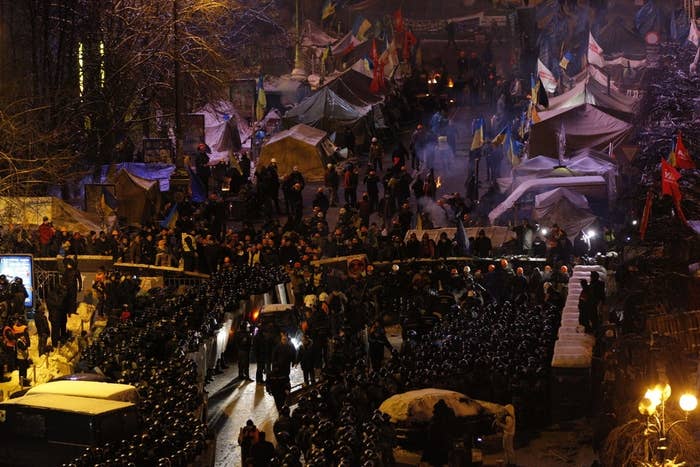 KIEV, Ukraine — Thousands of helmet-clad riot police stormed Kiev's central square but were held back by demonstrators protesting the government of President Viktor Yanukovych, as an apparent attempt to clear an encampment galvanized the opposition.
Protesters stood their ground and declared victory in the early hours of Wednesday, surrounded by huge phalanxes from Ukraine's elite riot police unit, Berkut ("Golden Eagle"). "They attacked us, but we drove them back," opposition leader and former interior minister Yuri Lutsenko declared from a stage set up at the center of the protest, to huge cheers. "Yanukovych's plan didn't work!"
The bizarre scenes on Independence Square, known as the Maidan, capped off a day of perplexing moves from Yanukovych, whose strategy of playing his counterparties off against each other is backfiring more and more. Late Tuesday morning, he met with Ukraine's three ex-presidents and vowed to refrain from using force against protesters. In the afternoon, he spent three and a half hours with European Union foreign policy chief Catherine Ashton discussing a way to resolve the political crisis gripping the country since he reneged on a deal with the EU late last month.
Wednesday's attempted crackdown, however, weakened his standing with Western governments, who condemned police actions in unusually strong terms. U.S. Secretary of State John Kerry expressed "disgust" with Yanukovych's move, which he said was "neither acceptable nor does it befit a democracy." Kerry's deputy for European and Eurasian affairs, Victoria Nuland, was in Kiev and had planned to meet with government officials Wednesday. Ashton, who toured the Maidan to rapturous applause Tuesday evening and also remained in Kiev overnight, said in a statement she was "sad" to see police use force.
Despite the condemnation, Berkut troops were under clear orders to refrain from using force while dismantling barricades protesters had set up encircling the Maidan. For all the battle atmosphere as huge cordons of police wielding shields and protesters in orange hard hats shoved at each other, the scenes were far more orderly than the clearings of many Occupy encampments in the U.S.
Protesters had vowed for days to defend their positions, including by force if need be, amid rumors that the government would order the camp be stormed. Many gathered cooking oil - which remains a liquid even in the freezing temperatures gripping Kiev - and prepared to douse the steps of City Hall and the trade union federation headquarters, which they occupy, to prevent Berkut from storming them.
Most of the barricades, however, went down without a fight as protesters allowed Berkut to push them further back into the Maidan. Even the tensest confrontations on Institutskaya Street looked more like a shoving match for the future of Ukraine as police and protesters pushed each other back and forth, each side taking care not to attack the other.
Instead, the atmosphere was a culmination of the days of tension each side's obvious reluctance to see the political conflict through to the end. Priests led prayers from the stage and walked out towards riot police bearing crosses and singing. Protesters let out shouts of "Peaceful protest!" while singing Ukrainian classic rock songs and the country's stirring national anthem. Lutsenko's triumphant speech at 6 a.m. Wednesday was inexplicably backed by jaunty brass band music in the style of Benny Hill.
The government's simultaneous show of force and reluctance to use it underscored Yanukovych's precarious position as Ukraine's political crisis continued for a third week. Yanukovych has insisted since spurning the EU agreement that he still intends to sign it and said Tuesday that he was open to dialogue with protesters, who were invited to a round table discussion with the government set for today. But Wednesday's crackdown seemed to make it all but impossible.
The bizarre spectacle of Yanukovych provoking the wrath of Western governments while their representatives were in Kiev suggested he believed he had tacit approval to go after the demonstrators, at least in part.
Yanukovych said during the meeting with his predecessors that a high-level White House official, who he implied was Vice President Joe Biden, whom he spoke to by phone Monday, had told him that the U.S. would remove a similar encampment near the White House "within minutes," and said calls on the Maidan for a revolution were "a threat to national security." U.S. Ambassador to Ukraine Geoffrey Pyatt denied to BuzzFeed that Biden said this to Yanukovych.
Protesters have been in the streets for more than two weeks, initially enraged by a last minute decision by Yanukovych to halt plans to sign an association agreement with the European Union that would have pointed to greater ties with the west. He has since met with Russian President Vladimir Putin, growing suspicion that he could side with his country's Soviet-era master instead.
Police violently cracked down on a protest that brought more than 100,000 people into the streets, further enraging demonstrators.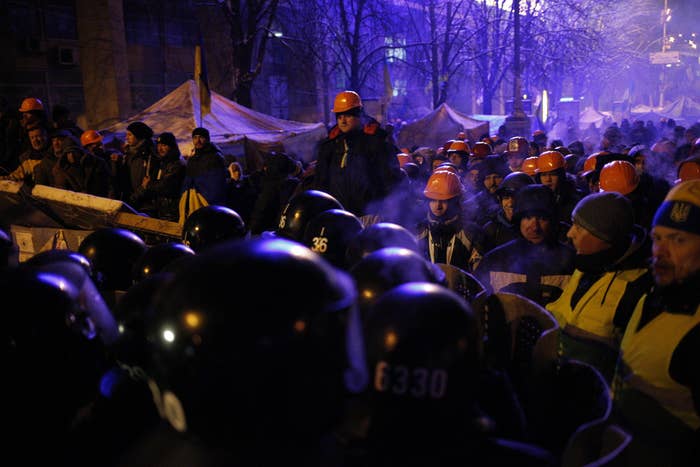 Max Seddon is a correspondent for BuzzFeed World based in Berlin. He has reported from Russia, Ukraine, Azerbaijan and across the ex-Soviet Union and Europe. His secure PGP fingerprint is 6642 80FB 4059 E3F7 BEBE 94A5 242A E424 92E0 7B71

Contact Max Seddon at max.seddon@buzzfeed.com.

Got a confidential tip? Submit it here.